Over two days of assessment and discussion, industry judges helped CRN to whittle down the finalists, spot the exceptional and decide the awards winners.
Paul Mansfield
"When you looked at the entries, a lot of it was built on relationships. People were picking suppliers they trusted and continued to deal with them.
"I liked Workforce Empowerment: how your workforce in the field does their job. There is such disruption; people are going to have to understand how to engage and help those people complete their jobs. Some of those problems were solved in that category."
Paul Mansfield is the former APAC Managing Director of Cloud Sherpas, which was acquired by Accenture in November 2015. Paul is now consultant focused on M&A and advisor to technology startups.
---
Susan Sly
"Business outcomes are critical. As an industry, we are moving away from product delivery and towards customer centricity – the outcome, not how much they like the product.
"These awards are critical in that regard because we need to recognise the companies that make that transition successfully, that go beyond the sales cycle to implementation and service delivery."
Susan Sly is a former public sector Chief Information Officer and 2013 CIO of the Year. Susan now runs Lueur, which helps business executives and technical professionals implement strategies that exploit technology for business success.
---
Scott Atkinson
"There were some great examples in there of how multiple players in the industry have come together to really drive a singular outcome for an end customer. It's really important.
"These days, it's hard to find one organisation that can do everything end-to-end. If you could, you probably wouldn't be in the best position to do all that well.
"You've got to be able to rely on other people in the industry, other systems and other companies between the vendors and your partners.
"It's really about pulling all of that together to deliver the outcome. These were great examples of projects over the last year to achieve that."
Scott Atkinson is CTO for Cloud and Managed Services at BigAir. Scott's credentials include roles at Dimension Data and BlueFire. Scott was not present for judging of the IP, Product and Platform category featuring vendor partner NETCRYPT.
---
Oscar Trimboli
"The ones that really stood out showcased the best of what Australian technology providers have to offer. They showed imagination, they showed the ability to adapt, and they were very customer-centric.
"Some were automating paper-based scenarios into technology – that was one of the first things that stood out. Others that stood out had very big constraints.
"Some submissions were working in low-bandwidth or no-bandwidth environments with mobile workforce applications, they really stood out because they had to use some imagination to make a difference for their customers."
Oscar Trimboli is a mentor, leadership coach and former director of the Office division at Microsoft. He has coached, mentored and advised people in a wide range of roles from founders, CEO, CFO, COO, CMO, CTO and a variety of other leadership roles.
---
George Kazangi
"With the Digital Transformation category, the submissions that really stood out to me were the projects that set a foundation for further digital transformation projects and had the highest impact in the very near future.
"I can see the industry moving more towards sharing risk and sharing the outcome for both the supplier and the end user or the customer. I think that's an important shift that the technology space needs to adopt.
"The outcome will more likely achieve business success if both partners are in sync."
George Kazangi has spent his career on both the end-user and the supplier side of IT, including as managing director of leading Sydney MSP Blue Central.
He now runs fournines, which provides infrastructure and technology consulting services to the channel.
---
Keith Masterton
"The standard was high. There's a lot of innovation in there. I found it difficult to differentiate some of the entries, because there they are all high standard.
"It's always important to stimulate innovation and competition and focus on the customer. Sometimes this industry can get a little bit excited about technology for technology's sake and forget that it's actually about customer outcomes that need to be defined and delivered and reinforced. That's what I'm looking for."
Keith Masterton is a senior leader with deep experience of direct and indirect sales channels gained through leadership positions across Telstra's portfolio of Corporate & Enterprise customers over more than 25 years, both in Australia and Europe. Since leaving Telstra, Keith set up PartnerEXEL. Keith was not present for the judging of any categories featuring Telstra products and services.
---
Jake Wynne
"When you look at the vendor awards and the way you were judged in the past, it's just based on vendors and revenue.
"The Impact Awards are actually based on something; you're making a change to the market and to a business and not necessarily to a vendor. It's important that the customer gets an outcome with a partner.
"It's really about the partner and the customer – the customer's requirements and what the partner did for them and their relationship."
Jake Wynne is the former MD of Oriel Technologies, which was acquired by publicly listed BigAir Group in November 2014.
---
Keith Price
"I'm a big fan of industry awards. They are a great vehicle to talk about successes and for companies to get visibility about these successes. The CRN Impact Award entries always had partners involved – technology partners, integration partners – and clients. Part of the success story is how they came together to deliver outcomes and how that integration effort was successful in the end.
"I was inspired by some of the stories in the submissions because of what they have shown is possible."
Keith Price is a Director at Black Swan Group and a cybersecurity expert with more than 25 years' IT experience.
---
Patricia Nance
"What stands out is some of the complex things smaller companies are doing – particularly in the healthcare and government sector, where it's not easy to bring things together, for multiple reasons including regulatory and legislative reasons, geography and those sorts of things.
"What stands out is the really amazing, first-class bits of work that we often wouldn't know about."
Patricia Nance is a highly accomplished and deeply experienced IT senior executive, having built, managed and led multiple sales and support teams across Australia, New Zealand and Asia Pacific, including multiple leadership roles at Oracle in APAC.
---
Ian Poole
"I was very excited to see Australian organisations and Australian companies that are doing state-of-the-art deployments in technologies that are making a big difference.
"In past years, a lot of technology was based around refreshing something that was already there. Now, technology has moved on and evolved.
"There's a lot of innovation. And with that innovation, and driven by things like mobility, the internet of things and big data, technology is now an enabler for a customer outcome."
Ian Poole is the former CEO of UXC Connect, part of UXC Limited, now owned by CSC. Ian was not present for judging of the Trusted Systems category, which was won by his former company UXC Connect.
---
Sonia Cuff
"In the Australian market, customer and supplier relationships are even more important because we're such a small country.
"We're seeing some great examples of people using global technology and things that are out there on the global stage to get real results here in Australian businesses.
"In the Digital Transformation category, there were some really great examples of some big names and technology being used really effectively here in the local market."
Sonia Cuff is a Microsoft MVP and the co-founder of The Missing Chair consultancy, providing virtual CIO services that help small businesses make technology decisions and adopt Microsoft solutions.
---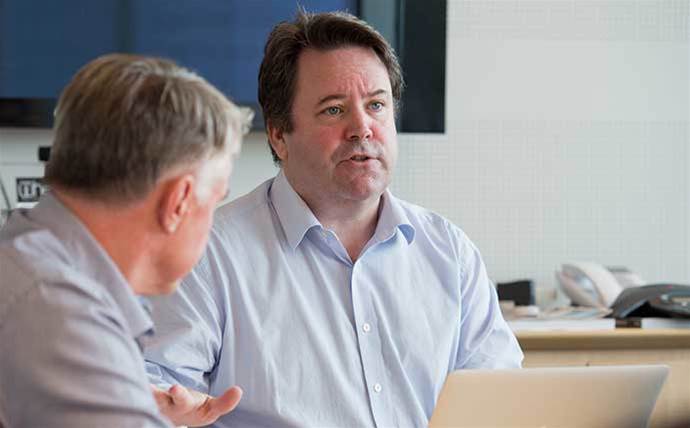 Nate Cochrane
"It's important to recognise the transformational work the channel does. It's often forgotten when you see IT that there was often a partner sitting behind that, that was driving it in concert with the customer.
"You've got to start at the end. If there is not a business outcome, well, why would you do it? The strongest projects were the ones that very clearly enunciated why they were there in the first place."
Nate Cochrane is the former Editor in Chief of CRN and iTnews. His work in tech and business journalism has appeared in the Sydney Morning Herald, BRW, The Age, BBC, The Australian and more.
---
A note on judging: All judges were asked to declare potential conflicts of interest and in some cases excused themselves from judging to ensure transparency and credibility.