The age of IP telephony has been predicted many times, but small and medium businessses have refused to heed the call. Until now.
"We used to sell TDM [phone exchanges] but we migrated to [internet protocol]. There wouldn't be too many SMBs not wanting at least IP capability," says Nick Touzeau, strategic alliance manager at Wavelink Communications. He has seen TDM systems finally take a back seat.
He says the percentage of PBXs sold with TDM cards has fallen from 50 percent to 30 percent in the past six months. In most cases it is deployed for redundancy when the internet connection fails.
He estimates that less than a fifth of TDM phone exchanges sold today have no IP connectivity.
The supposedly imminent death of PSTN phone lines and the telcos that owned them were clearly a little premature at the turn of the century. However, it looks like the tide is slowly - and irreversibly - turning. The technology, hardware and business models behind IP telephony provision and manufacture have reached a stage where every enterprise sale is now an IP system.
The conventional TDM or keystone systems favoured by small business are still around but their value is slipping against the feature-packed alternative in lower-end IP PBXes.
Eddie Mahdi, director of Centrix Solutions, has watched the ratio of IP to TDM handsets increase. Mahdi has been selling phone systems for nine years; he sold his first IP system in 2004. An interesting factor was the rise of open standards. When he began in IP telephony there were two competing protocols, one of which became the open standard, SIP, that led to the acceptance of IP telephony, Mahdi says, because it of fered companies flexibility and protection of their investment.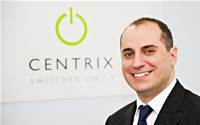 Eddie Mahdi, director of Centrix Solutions
Most devices now are SIP compliant. Softphone clients for iPhones and Blackberrys can connect to a SIP-based phone exchange.
An early driver towards IP telephony was call savings. However, this is becoming less common in the business case to move to an IP system, Mahdi says. Aggressive pricing on calls and reduced rental fees from telcos have reduced the gap. And VoIP providers such as Engin give businesses lower call costs without requiring businesses to change from a TDM system.
"Coupled with the upfront investment on the IP systems [call savings] becomes a less attractive proposition," Mahdi says.
The biggest driver these days to move to an IP system is simplified management. A single set of wiring, the ease of moving devices and making changes without calling an expensive technician are attractive.Centrix resells Zultys, an all-in-one solution that has storage for voicemails, call recording and features which would require separate boxes in a conventional phone system.
"It's all in the one box, managed from the one console," Mahdi says.
Next: When IP isn't exactly IP