One of the highlights of the CRN Fast50 was the panel session, at which leaders from rhipe, OBT, Telstra, Tquila ANZ and Channel Dynamics shared their thoughts about the challenges facing today's channel.
Simon Sharwood: Ahead of the Fast50 we contacted attendees to ask what we should ask. One of the things we asked was, "What is the biggest opportunity they could grasp today?" It was the question that gathered the greatest response.
Of several possible answers the majority of responding partners chose, "If we can just be competent and courteous and do what we say we would do, we will have as much of an opportunity to grow as doing anything else."
Is that just the basics of business or is something else going on here?
Moheb Moses: My first response is that this really surprises me that people say showing up is important. I would expect that if you asked people about tradespeople who install bathrooms.
The bit about doing what you promise is more interesting, because in this industry what we think we are doing is largely technology-based and may not align with what our customers want, which is to know how our work improves their company.
Jo Masters: I was surprised when I read that as well. Customers are looking for so much more than that. They're looking for us to be thought leaders, to be trusted advisors.
They don't want us to just show up and do the job. To be relevant we have to guide them, become specialists in their industry and show them how technology can make a difference to their end-customers.
Nevash Pillay: I think being courteous and competent gets you a ticket to the dance.
Today customers really want thought leadership and that means technical accreditation. To digitise a customer requires a good understanding from the network to the cloud to unified communications. And when you can take that capability in a value-adding way to a customer, you see much more success than just showing up.
Shane Muller: I think we are in a season where service is not the thing people are looking for. To use an airlines analogy, a great safety record won't help you to beat rivals who play on price.
Finding something that the best in the field don't already do is the key.
Jennifer Lilley: One of the things we see is the ability to differentiate yourself with a specialisation, as well as being competent and delivering on promises. Developing a specialisation and working on it matters.
Simon Sharwood: That's borne out in the Fast 50 actually: as we interviewed many of them we learned that they often occupy niches.
Another question we asked was about the next big challenge that channel players perceive. And the runaway response to that question was that selling beyond the IT department is their biggest new challenge.
Why? And what do channel players need to learn?
Jo Masters: They need to make sure they understand their customers' business and what their customers are trying to achieve.
Ever since we started Tquila we sold outside the IT department, to the marketing director, to the CEO, and what matters there is the return on investment.
Shane Muller: We started business never selling to IT. We learned that it is quite comfortable staying in the IT box.
We also learned there are some simple things you can do selling outside IT that join the dots, like selling intelligence and decision-making capability to a chief financial officer, or selling to a board member by explaining what brand protection could look like from a cyber-security angle.
Nevash Pillay: Not every business has a CIO. The tier ones and the tier twos have CIOs. But look at the number of midmarket customers and I think that's where the channel has a very big role to play. And the channel has a big role to play explaining what's available.
Moheb Moses: I think the comments above are all right, but they come from business owners or business people. If you are a salesperson in the channel, you may not have run a business. You may not know that customer retention is a key metric or conversion metrics for marketing, because you haven't done that.
And then if you look at what vendors educate about, it is mostly product, which is IT.
So I think as an industry, we need to change the way we provide education for salespeople in partners.
That's a challenge because you need the partner managers inside vendors ready to do that.
Jennifer Lilley: There are some partner managers who do a fabulous job of doing that today.
There are so many different technologies now that span so many areas, the ability for partners to be skilled in them all can be really challenging.
This brings me back to the need to develop specialisations.
Simon Sharwood: When I look at the channel I sometimes feel like I can perceive a bit of a generational split. Many channel companies grew up in the hardware and licensing world. And now we're seeing partners who started in the cloud and the as-a-service world. What do we think each generation of partners can teach the other?
Nevash Pillay: We have partners from both generations, those who grew up selling carriage and the born-in-the-cloud generation. And I think the biggest opportunity for them is to work together, because at the end of the day if you go to the cloud you need a network. There is so much convergence and the partners who do that proactively are seeing better growth.
Jo Masters: The world is changing now. In the past as a Salesforce partner or a Telstra partner, you would not necessarily partner with other partners. I think now we are very open to coming up with the best solution for a customer. So I think yes, we can learn from each other. Let's just get together to provide the best solution.
Simon Sharwood: Shane – I know your business sold cloud before it was widely known or understood. What do you think?
Shane Muller: What we have tried to do is not embrace what has made us successful. We try to re-invent about every three years. We don't hold dear to things, we are open-minded to the next wave. Culturally.
Simon Sharwood: Rhipe is a born in the cloud organisation and one of the reasons you're doing well is that you are of the now. So to Jennifer: do you learn from previous generations of channel organisations and feel the need to evolve?
Jennifer Lilley: Continual evolution is something I think we've managed to do quite well. For example the role I'm in as ISV manager is brand new because we see an opportunity to support partners that are building their own technologies on top of cloud solutions.
It's about branching beyond the traditional technologies that traditional disties consider, finding ways to grow and new ways to do business.
There is such a great opportunity to get the rest of the channel involved and move beyond what they have traditionally sold to their customers. To get industry and vertically focussed and to look for new opportunities.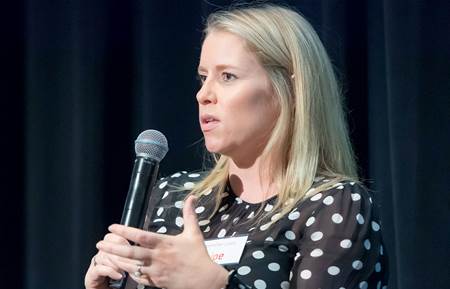 Moheb Moses: They can learn from each other but they are also merging.
But if I think of the traditional ways of selling, I think the new technologies mean smaller players can sell things they could not before. The power required for something like business intelligence, they just couldn't do it.
So cloud lets companies do things they could not before. It moves at a much, much faster pace.
And that's something traditional companies learn from.
The other thing that traditional companies did incredibly well was build relationships. But with the new IT, users can say if they don't like it they can switch.
Traditional companies knew they only survived by building long-term relationships. And I think there is an element of that that is neglected by new partners and that it will become more important as vendors create more and more products that are essentially undifferentiated.
Simon Sharwood: So does the move to everything-as-a-service change the way you engage with customers?
Shane Muller: Running a SaaS business well can get you to a point where you never need to see the customers. We have sold to customers we have never met before and they trusted us with their data.
But our learnings over the years have shifted. We now look for excuses to send technical people to meet those clients, even if there is no agenda, to spend time with customers.
And they spend more time there and speak to more people than an account manager. So we look for excuses to get among the customers.
Jo Masters: We have to be in front of our customers all the time even though they use software that is in the cloud.
If we don't guide them and don't advise them on what else is up and coming, then we are not staying relevant.
We want to be sticky and to be a partner for life to our customers.
So I think relationships are everything and you need to be in front of your customers as much as you can be.
Simon Sharwood: I had a conversation with a bit of an IT veteran the other day and he told me that when he started in tech, it took six months and 20 people to do a proof of concept and it was probably close to a million dollars of work. And what he does now is two developers, for two weeks, $5000, and at the end of that period there's a minimum viable product based on SaaS.
That's great for customers. But how does that kind of engagement work for the channel?
Jo Masters: It is a foot in the door and we always see that as an opportunity. It might be a small amount of revenue to begin with but if you show relevance and that you can be a trusted adviser, you'll keep getting their business. It's a chance to articulate we can do so much more than that first phase, but that's where we prove we are a good fit for each other.
Jennifer Lilley: SaaS and the regular billing cycles give you an excuse to talk to a client. We look at the next logical purchase and help partners to learn more about providing the additional services on top of the initial services.
Moheb Moses: I think smart partners know that you don't look at the initial order, you consider total customer value.
And there's a few interesting things you can do with total customer value in an annuity model. The big difference is that if you can add efficiencies in the way you operate, you increase your profit. In the traditional model when you sell something the profit is the profit.
Now you can make it even more profitable. You can build a total profit model.
I think the telcos understand this better than anyone. Once you have a number of services – for telcos the magic number is three – you are more likely to stick with me.
If the only thing you have is the mobile phone, you'll churn me after two years. If I have your mobile, your broadband, your Foxtel, your landline, you are less likely to get rid of me.
So don't just look at the initial order.
Nevash Pillay: I wouldn't be sure three is the magic number, but that is where we are going.
What we find is that 75 percent of our partners do sell across at least three products.
We can't look at each order and think it is the total value of the relationship with the client.
The better you service your customer and the better you provide thought leadership – ultimately to show them the difference you can make to their business, how they can serve their customers better and the technology that underpins that – at the end of the day is significant, but the value add is more important.