Sales of big data hardware, software and services are expected to reach US$28.5 billion this year and US$50.1 billion in 2015, according to market research organisation Wikibon. AT Kearney forecasts that global spending on big data technology will grow at a CAGR of 30 percent a year through 2018, reaching US$114 billion.
There are a lot of cool big data products out there - it seems like new products hit the market every day. Here are 10 that particularly caught our attention in 2014.
Alpine Data Labs Chorus 5.0
Data analysis isn't an easy task for trained data scientists, let alone everyday business users. Alpine Data Labs touts its Chorus advanced predictive analytics software as sophisticated, and yet easy to use, thanks to the web-based software's "code-free" visualisation capabilities and collaboration features. Chorus can work with data in Hadoop, as well as other data sources, such as the Oracle database and Microsoft's SQL Server.
Alpine Data Labs introduced the first Chorus release in February. Chorus 5.0 debuted in October with a new framework for integrating and managing R, Spark and other technologies. It also offered new tools that business executives use to oversee and manage their analytics ecosystems.
Apache Spark
Apache Spark is a powerful in-memory, data-processing engine that's getting a lot of attention in the big data arena.
The open-source Spark turbo-charges big data platforms like Hadoop or runs on a stand-alone basis. While Hadoop is a de facto standard for big data computing, it has its shortcomings, including its reliance on the MapReduce architecture that's more suitable for batch-processing rather than working with realtime, streaming data.
Developed by the Apache Software Foundation, Spark can run large-scale data-processing applications 100 times faster than Hadoop MapReduce. Spark 1.0 was released in May, and Spark 1.1.1 is the current release.
Cloudera Enterprise 5
Most of the leading Hadoop distribution vendors, including Hortonworks and MapR Technologies, launched product updates in 2014. But we're zeroing in on the April launch of Cloudera Enterprise 5, a major release of Cloudera's Hadoop-based platform, because of its significant advances in centrally managed security, tools for corporate governance and compliance, and comprehensive data management - the latter thanks to the inclusion of Hadoop YARN resource management technology.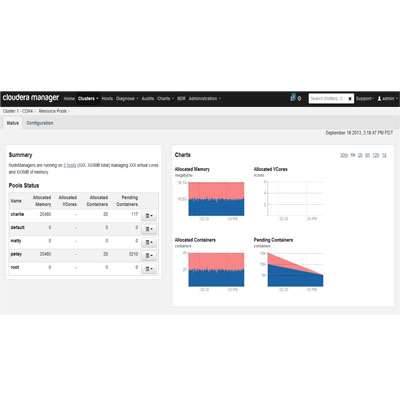 Cloudera also scores points for its Cloudera Connect partner program: When Cloudera Enterprise 5 debuted, the vendor announced that 96 partner products were integrated with the software. And if that weren't enough, Cloudera gained lots of attention by scoring a whopping US$900 million in venture funding around the same time.
Next: DataGravity and more