Intel showed the futuristic ripples in the tech industry that its newest products are making this week at the Intel Developer Forum 2015 (IDF).
The Santa Clara, California-based company, a longtime traditional player in the PC market, shunned desktops at this year's San Francisco conference, instead playing up cool new form factors and technology surrounding sensitisation and personalised experiences.
"Now [today's world] is expanding to include more human-like sensors, providing new and immersive experiences for users," said CEO Brian Krzanich during his keynote speech.
Following are 20 cool products, developed both by Intel and by developers utilising Intel's technology, at this year's IDF.
1. OSVR Headset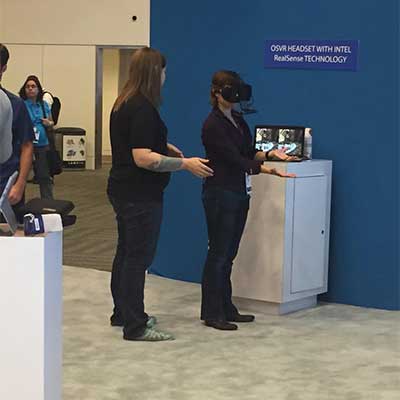 Razer, a gaming hardware manufacturer that promotes the open-source virtual reality (OSVR) ecosystem through its open platform dev kit, showed off its virtual reality headset at IDF.
Users strap the headset over their faces, and the OSVR framework allows them to enter a 3D virtual world.
Intel's RealSense technology adds another layer of reality as users are able to reach out in the virtual space and move objects with their own hands. The RealSense 3-D camera works by understanding sensory input and movement-supported platforms.
2. Savioke's Robot Butler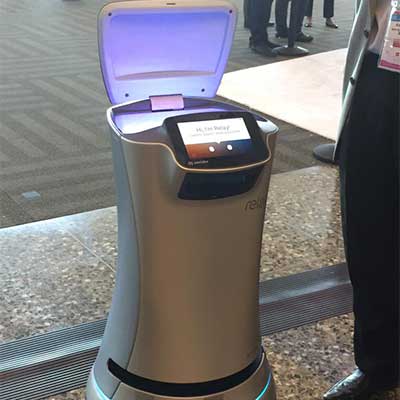 Savioke's robot butler, Relay, also made an appearance on the IDF technology floor. Savioke is a Santa Clara, California-based company that specialises in robotic solutions for the hospitality industry.
Three-foot-tall Relay is already on the market, working in Crowne Plaza hotels as a delivery machine to bring hotel guests food, drink or anything else they may need.
Utilising Intel's RealSense technology, Relay is able to carry items in its top compartment from hotel desks to the room that is programmed into it. Once at the room, the small robot will alert guests that it is there, open its compartment for guests to take their items, and ask how their stay is doing.
3. Sensor-Equipped BMX Bikes
Intel showed off how its Internet of Things-targeted Curie platform was opening new possibilities with sports, specifically, BMX.
Curie sensors attached to bikes can help create real-time pictures of bikes and other athletic tools while they are in motion, helping athletes to get a better sense of how they can improve on their athletic skills.
For instance, data from a BMX trick called "Foot Jam Tail Spin" will show up on compute devices, where the trick can be identified and evaluated.
4. Intel Wireless Charging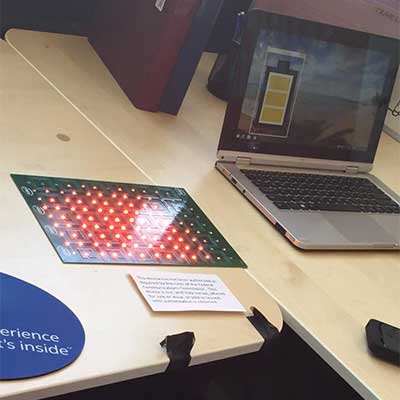 Intel showed demonstrations of wireless gigabit technology, first unveiled a year ago at IDF, which enables cable-free device charging. The wireless charging capability, which is based on Rezence technology, a wireless charging standard, can fit under surfaces so that users can place their multiple devices onto tables in order to charge them.
Wireless charging is part of the cordless ecosystem Intel wants to promote through its new sixth-generation 14nm Skylake architecture. In addition to wireless charging technology, Intel has also been promoting its wireless docking and wireless display technology.
According to Intel, these wireless charging capabilities will appear in devices starting next year.
5. VRX Advanced Simulators iRacing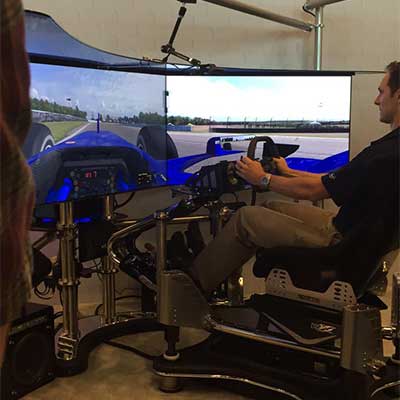 VRX advanced simulators iRacing sensors create an immersive driving game experience through a series of technologies, including Intel's RealSense Technology for head tracking, and Intel's sixth-generation Core processors.
The hardware simulator creates an ultra-realistic driving simulation experience, so users feel as though they are actually speeding down the raceway. This immersive experience includes Dolby 5.1 surround sound, a professional racing wheel and pedals, four full motion actuators, and an ultra-HD triple screen array.
6. Nabi Car Seat Clip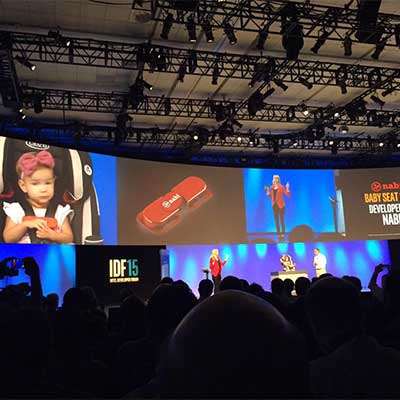 During CEO Brian Krzanich's keynote speech at IDF, one Internet of Things application that developer Nabi showed off was the Nabi car seat clip. This clip harnesses a child into the seat, but it is also designed for a more intensive purpose: making sure that babies aren't left in the sweltering heat of locked cars unintentionally.
Sensors on the clip detect when it is strapped on and alerts users on their phones when they walk away from the car without unstrapping their children.
7. Smart Greenhouse Solution Platform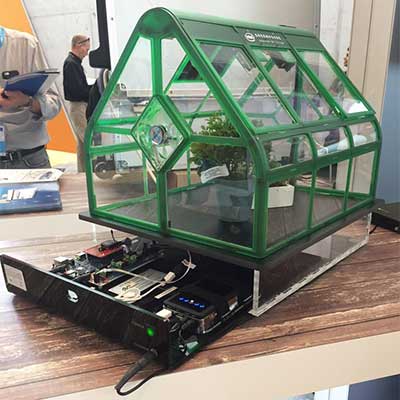 Another industrial use for the Internet of Things is the agricultural vertical, where Intel has taken steps to increase efficiency through its IoT gateway products.
This solution uses sensors for temperature, humidity, pH, and other data that are pulled into Intel's Atom processor-based gateway. This data then passes through a Wind River EMS portal and is uploaded into the cloud system.
The system will work to turn on fans or sprinklers or open windows if the heat becomes too much.
8. Bionic Arms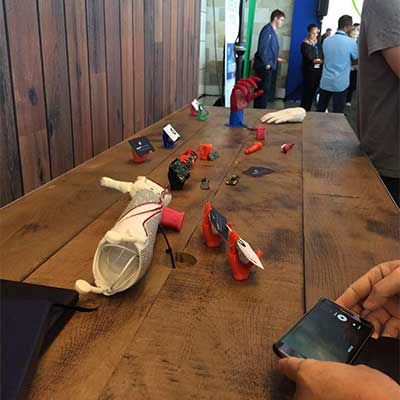 Open Bionics showed off its portfolio of bionic arms and hands at Intel Developer Forum. The company developed low-cost, modular prosthetic hands for amputees by using an anthropomorphic kinematic model and bio-inspired finger actuation and transmission system, along with Intel technology.
Open Bionics was a finalist in Intel's 2014 wearables contest for the best low-cost bionic hands category.
9. Automatic Docking
In addition to wireless charging features for enterprise customers, Intel also showed off its innovations with automatic docking.
Automatic docking is powered by Intel's Wireless Gigabit products, which are intended to ensure for automatic docking between products like Hewlett-Packard's Elite X2-1011 device and the monitor.
When the users walk away from the wireless dock holding their portable notebooks or tablets, for example, the monitor will automatically become disconnected. This feature enforces security in the workplace.
10. Mini PCs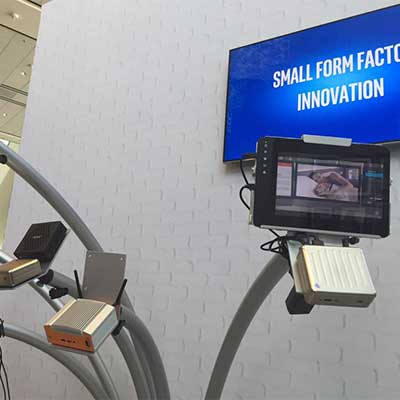 Intel showed off its variety of new small form factors beyond traditional desktops, displaying "all the power without the tower," according to Intel.
These Mini PCs contains the performance of desktop towers in an ultra-small form factor. One of Intel's more popular small form factors, the NUC, runs on a fifth-generation Intel Core i5 vPro processor, contains 16 GB of memory, and uses Intel HD Graphics 5500.