With the launch of the Samsung Galaxy S8, the Korean tech goliath is venturing into the hybrid desktop game with the Samsung DeX. So what is it? Is it a desktop PC, a mobile device? Neither or both depending on how you look at it. In fact, the Samsung DeX is a docking device that allows you to turn your Samsung Galaxy S8 smartphone into a home PC. The product acts as a hub which lets a user slot in their phone and immediately work on a full-sized monitor with keyboard and mouse.
Samsung isn't the first to offer such a device, Motorola came up with a similar tool back in 2011, but you could be forgiven for not remembering the 'Atrix' as it was hardly a barnstorming success. But just because a single device failed doesn't mean nothing like it can ever succeed. Think about the iPad which succeed despite the failure of previous tablets.
Why buy a Samsung DeX?
With the DeX, Samsung is trying to improve productivity by letting users work anywhere. Apps like Office and Google Drive are available on mobiles, but some things are easier when you have a keyboard and mouse to hand. Whether it's formatting long emails, writing reports or preparing presentations, even larger smartphones screens don't always feel big enough.
How does Samsung DeX work?
The DeX is a simple device to behold, and Samsung appears to be opting for a pretty simple set of functions to manage it. A DeX has an ethernet port, HDMI port, USB Type-C and USB 2.0 ports. An HDMI option can be used to charge the device, though that is sold separately, yes that means Samsung want even more of your hard-earned cash.
Samsung's DeX works as a Virtual Windows machine via VDI(Virtual Desktop Infrastructure) solutions such as Citrix Receiver, VMware Horizon Client and Amazon WorkSpaces. Samsung is pushing its software with the launch; Samsung Pass removes the need to type in passwords, while functionality with Secure folders and Local Files should make transitioning between both modes easier.
Samsung DeX: Device specs
Aside from the ports, the Samsung DeX has a cooling fan to ease concerns about your mobile overheating while it functions as a desktop. As you'd expect when docked DeX also acts as a phone charger for the S8 so power usage shouldn't be an issue. The Samsung DeX weighs about 230g, so if you're carrying one around with the Samsung Galaxy S8 it's going to be just under 400g, not too much given you'll have a mobile and potential desktop at arms reach.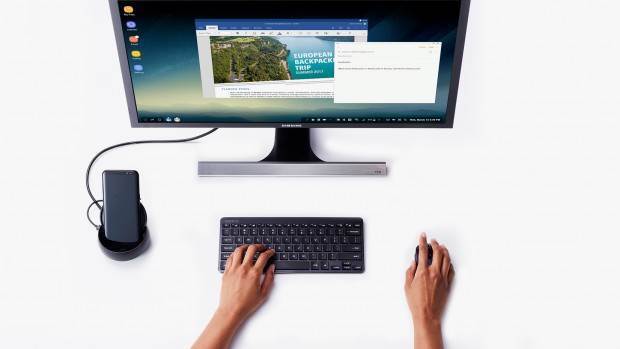 How much is Samsung DeX and where can I buy one?
The Samsung DeX is being marketed in tandem with the Samsung Galaxy S8, but it is not bundled with Samsung's latest smartphone (unless you can grab the 128GB S8 Plus in Asia). So you're going to need to fork out extra cash if you want to take advantage of the DeX dock with that new S8. The Samsung store is offering the product in Australia, currently priced at $199. It's not the most expensive gadget in the world, but for those who decide to spend $1349 on the Samsung Galaxy S8 Plus, and then splash out on a Dex, that's almost $1600 gone in a heartbeat.