Google parent Alphabet is bringing its flagship wearable back with a new look, a new target audience, and a new focus around channel partnerships.
The new device, Google Glass Enterprise, will have a tighter focus on vertical markets including the connected manufacturing and health-care spaces, said Jay Kothari, Google Glass project leader, in a statement.
"Workers in many fields, like manufacturing, logistics, field services and health care find it useful to consult a wearable device for information and other resources while their hands are busy," he said.
"That's why we've spent the last two years working closely with a network of more than 30 expert partners to build customised software and business solutions for Glass for people in these fields."
Google Glass Enterprise has an array of differences from the company's first wearable, which was pulled off the market in 2015 after failing to be a hit with the consumer market.
The first version of Google Glass struggled with adoption in the consumer market due in part to its high $1,500 price tag and to its invisible camera function, which proved to be a Google public relations nightmare.
But Alphabet's new wearable is markedly different in its target audience – enterprise vertical markets, most notably the manufacturing space. Alphabet also has made improvements to the design and hardware of the wearable so that it is now lightweight and comfortable for long-term wear. Google Glass Enterprise has modular electronics that can be attached to any frame – including safety googles for manufacturing floor employees.
In addition, Google Glass Enterprise has a better camera, with 8 megapixels instead of 5 megapixels, a faster processor, and extended battery life.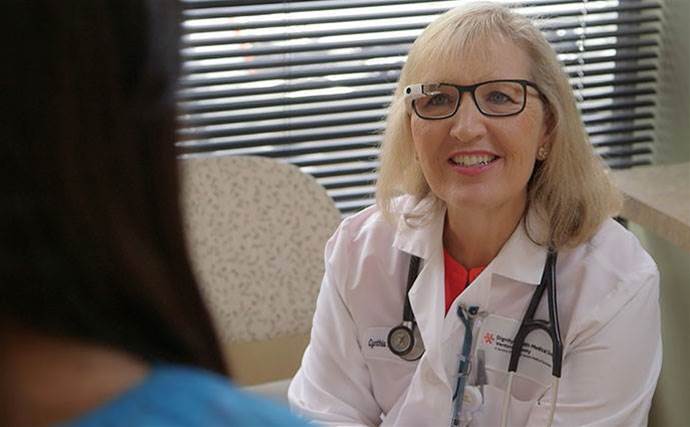 Vertical markets
The Mountain View, California-based company also is working to build up its partner base for the device, targeting those who can build custom end-to-end solutions for vertical markets, including Augmedix, Aira and Hodei Technology.
Hodei Technology, for example, is using Google Glass Enterprise as part of an end-to-end solution to help healthcare providers reach patients in remote areas of Canada.
Indianapolis-based Hodei Technology has equipped Google Glass Enterprise with its HCview Gemini solution to improve patient access in the remote northern communities of the Canadian province of Saskatchewan. Its Gemini collaboration tool is a HIPAA-compliant, first-person point-of-view technology with real-time audio and visual features.
Hodei Technology's solution enables health-care providers to check in on patients hundreds of miles away using Google Glass Enterprise. For instance, if a nurse is wearing the device, a doctor could use it to talk to, observe and check in on patients from the other end.
"Canada is a very large space with diverse populations… this solution allows an expert in a hospital to oversee care 800 miles away," Guy Mascaro, president and CEO of Hodei Technology, told CRN USA.
"If you look at telehealth solutions, everything is done through a third-party point of view. The power of our solution is that doctors don't need this third party -- they can look and speak directly to patients."
Mascaro said that Google Glass Enterprise's camera quality and processing speed have helped make the wearable an acceptable option for healthcare providers that want to use it to interact with patients.
"[Alphabet] is working with partners who have solutions to help them deploy technology in these markets… now with strong strategic partners, I think we'll see wearables leapfrog in health care," he said. "We have a wonderful relationship with Alphabet] … they are an equal part in helping us achieve our vision in health care."
Google Glass Enterprise already is in the hands of several customers, including GE, agricultural company AGCO and Trinity Health, according to Kothari.
This article originally appeared at crn.com