Australian retailers are embracing online as they pocket $10 billion in sales for the year ending 30 June 2013, according to NAB's latest online retail figures.
Retail sector head Tiernan White told CRN that traditional retailers were "now leveraging online sales".
"We do see ongoing investment and more commitment to the sector," White said.
Harvey Norman, Officeworks and Dick Smith have all trumpeted the importance of online sales in recent announcements.
[Related: Dick Smith turns regional network into e-sales channel]
The importance of having strong online infrastructure was made clear during the Click Frenzy debacle in November 2012, where the 24-hour sale site crashed just minutes after it commenced.
"If you look over the past couple of years, we do believe retailers are investing in online."
In the past 12 months, 70 percent of Australians went online to purchase products from local retailers, generating $10 billion in revenue. Australians purchased $14.1 billion in products online from local and overseas retailers, with online sales accounting for only 6.3 percent of total retail spending.
Local online sales were less consistent than global online sales. In the months following Christmas, from January to April, sales stagnated. In comparison, global online sales continued to grow steadily.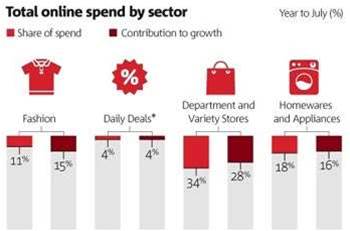 Source: NAB online retail index
Customers were most confident purchasing items online from department and variety stores, which accounted for 38 percent of all spend. Toys and electronic games were the least purchased items: they accounted for only 2 percent of all online spending.
Source: NAB online retail index
Spending was strongest in NSW, which accounted for 33.2 percent, and Victoria, at 23.4 percent. Western Australia went from one of the strongest states to one of the weakest in July.