The iPad has been updated, with the fifth generation of Apple's tablet slimming down and getting a new name: the iPad Air.
Here, we compare it to the previous generation to highlight what's new - and whether it's worth upgrading.
Build
The iPad Air is, as the name suggests, lighter and thinner than its predecessor. The bezel is 43% narrower, the tablet as a whole is 20% thinner and it weighs 28% less than the iPad 4.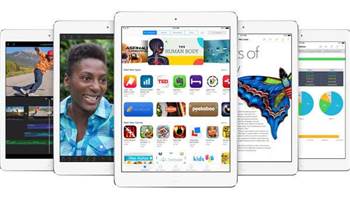 The display remains the same, with both boasting the 2,048 x 1,536 resolution Retina display.
Specs
Apple has upgraded the iPad Air to its 64-bit A7 chip, saying it offers twice the CPU and graphics performance of its predecessor.
The fourth-gen iPad featured a dual-core 1.4GHz A6X chip, which helped boost responsiveness and load times over the iPad 3. In our tests, it more than doubled the iPad 3's SunSpider and Geekbench scores, for example.
However, that led to a drop in battery life: our review suggested it lasted two hours less than its predecessor, with only 9hrs 45mins on our looping video test. Apple promised the iPad Air would have at least ten hours of battery life - though we'll need to test it to find out.
The rest
The fourth-gen iPad featured a better camera - upgraded from VGA to 1.2 megapixels - and introduced Apple's Lightning connector. The iPad Air features a similar camera but said the A7 chip would help boost its ability to process images.