Distribution king David Dicker has revealed his plans to build a super-fast car for "rich guys".
The New Zealand Herald last weekend reported the story after a private tour of Dicker's remote rural property in New Zealand's Canterbury province.
The 587-hectare site has been decked out to realise the IT mogul's dream of building the world's fastest track car – one that can go as fast as any Formula 1 car, if not faster.
"It's a Formula One car with fenders," Dicker told the Herald. "I've wanted to build my own car since I was 20. But it's really expensive. You need to make your money first. But now I can do it."
The founder of the Sydney-headquartered distributor revealed to the newspaper that he has built a 3km private track, a factory and an "airport-style control tower" at the site, as well as bringing in "satellite dishes, an industrial automotive robot, two autoclaves for making carbon fibre parts, 3D printers, high-tech milling lathes and other professional motorsport equipment".
The factory is home to a Ferrari, Lamborghinis, Porsches and a GP2 Series single-seater race car.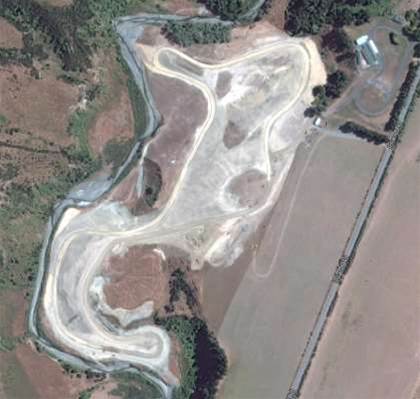 Google Maps photo of Dicker's New Zealand property, with testing track and other vehicle-building facilities
Dicker already has a design for his dream car, named the the F Zero. Engineers are currently working on the blueprints with the vehicle to be produced by one of his companies, the New Zealand-registered Rodin Cars Ltd.
Calling it "a vanity project", the IT channel identity is aiming to end up with a light carbon fibre car around 600kg that will cost about NZ$650,000 to NZ$1.2 million to buy.
The F Zero, which will exceed speeds of over 300km/h, is not expected to be street legal nor approved for racing, with Dicker careful to say that it's not a racing car: "It's a track car. That's a big difference. It's not regulated by anyone."
With such a hefty price tag, Dicker told the Herald that the target market will be "rich guys, obviously, who want to go to a track in something quicker than anyone else has".
CRN contacted David Dicker but he wished not to comment further on his plans, citing that the project was still in its very early days.
With the nearest neighbour more than a kilometre away, the local council approved Dicker's grand plans on the condition that no public events be held at the track (Google Maps). The property, named Wandle Downs, is owned by Dicker's wife Delwyn Dicker, who, according to LinkedIn, is listed as a company director of Rodin.
The Herald reported that Dicker spends four to five months each year at the isolated property near the village of Waiau. The basic farmhouse he stays in is a stark contrast to the lifestyle in his other home in Dubai, but the newspaper said there are future plans for "luxury accommodation".
At least 10 F Zero cars need to be sold every year for the project to become viable, with Dicker targeting 30 to 40 vehicles annually, and a road version to come later.
"I'm not here to make money. I'm doing it for myself," he told the Herald, which said any profits would be invested back into vehicle development.
When asked how much the project has cost so far, Dicker referred the Herald to his accountant.