Design and build
It's a bit tricky to give a hands-on review of the 9470m, since it doesn't actually exist yet. Rather, HP has brought a prototype unit that doesn't function to its Shanghai event. So judging HP's claims for the 9470m, such as its 1.58kg weight and "all-day" battery life, is impossible - you can't even press down on the keyboard. What we can do is tell you what it looks like, and the answer is: rather curious.
HP's stated aim with the 9470m is to give business users a computer that combines the looks of an ultrabook with the functionality of an enterprise PC. In terms of looks, it's definitely pulling in two different directions.
With the lid closed, it looks like your standard ultrabook – a MacBook-baiting, 19mm-thin slab of brushed aluminium sporting the HP logo in the centre. Open the 9470m up, and the ultrabook styling continues (brushed aluminium, etched EliteBook logo, chiclet keyboard).
Look closer, though, and there are a few curious anomalies. That trackpad sports four rather clunky-looking buttons, and slap-bang in the middle of the keyboard is a control nipple – features we haven't used on a laptop since, around 1997?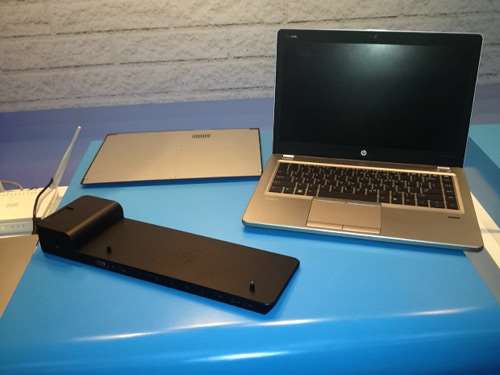 Hardware
Exact specs for the 9470m have yet to be confirmed. It will arrive packing a third-generation Intel Core vPro processor – so security features are integrated into the system hardware, and your IT department will be able to remotely access the PC.
Naturally, SSD is available as an option, but HP is keeping schtum on exact details for the time being. HP claims that the 9470m will offer an "all-day" battery life. It's impossible to put that to the test, but the ultrabook will feature a slice battery so it can be swapped out easily.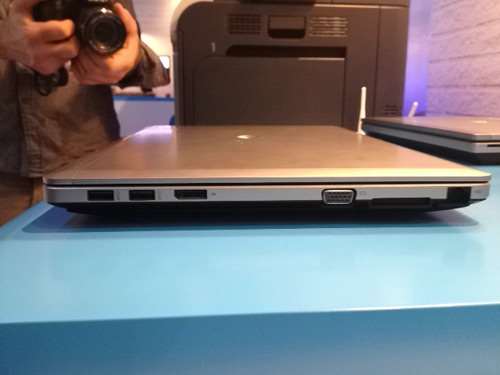 Business and enterprise features
The EliteBook Folio 9470m is designed for business users first and foremost, and that means two things – connectivity and security. Because offices are cluttered with vintage kit, the 9470m is kitted out with an array of legacy ports. So as well as the expected Ethernet and three USB 3.0 ports, you get the vintage delights of a VGA port, SD card reader, DisplayPort and Smart Card reader.
Although HP promises multi-display support, it's been so busy stuffing the 9470m with legacy ports, it's forgotten to include an HDMI socket on this prototype – bad news if you want to connect to a modern display. HP does stress that the legacy ports are optional, so you may be able to swap one out for an HDMI.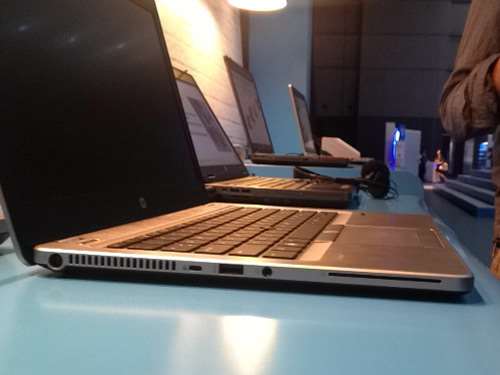 Pricing and availability
Pricing for the EliteBook Folio 9470m has yet to be confirmed. It's set to drop in October – once HP takes the wraps off a working version of the 9470m, we'll take a close look at it to find out if it really is the business.