It's a quiet, sunny day in 2015: you've just strapped your neural mind transmitter to your head and connected to an e-ink display, ready to connect with your personal cloud computer.

You control the screen with instructions from the brain, without the need for hands or additional peripherals - this is the essence of a neural-powered computer.
But suddenly you freeze, unable to focus on the data. The brain is 'stuck'. Everything feels locked and you're helpless to resist the infiltration into your brain. Within seconds, your body is now placed under the control of a neural hacker.
This is the emerging hacking threat that some scientists and security experts are already beginning to ponder - even before the technology takes off in the mainstream.
The concern extends from the notion that if we create devices with the ability to control our electronic world, devices without the need for limbs or movements, might we be leaving ourselves susceptible to hackers, eager to cipher our brainwaves for outright control?
According to a Wired report, we might closer to the reality of these 'neural hacker' attacks than we realise.
Worse still, may be the creation of neural malware by hackers. Our brains have the potential to become digital breeding grounds for brain-targeting trojans; computer viruses with the ability to stay dormant in much the same way that the biological variant would work, but with more chilling security implications, when the exploits are finally switched on.
In a scene reminiscent of the mind operated, plug-in game controllers shown in David Cronenberg's eXistenZ, 'brain attacks' may emerge in the years to come; the next big unsecured area of computing. There's already a number of children's toys on the market that harness our brain waves, giving 21st century kids the first chance to become used to such technology.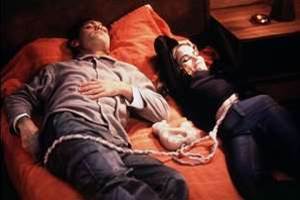 A scene from eXistenZ, where users connect to an organic game pod
However, if we start to use our brains as giant hard drives, how secure will our thoughts really be?
The neural hacking concept is due to become a reality, if the rapid growth of neural machines and neural learning devices in the market is anything to go by. Emotiv is one company at the forefront of this growing industry, particularly in games.
There are now neural computing devices designed for games, simulators and more importantly, for the disabled. Neural networks seem to have unlimited applications - but at what cost to the wearer? There may come a time when security firms offer regular anti-virus products alongside specialised neural network versions, as a second precaution to peoples concerns.
Chief among these concerns is how these neural machines will run off wireless signals and the degree of simplicity to which hackers will be able to infiltrate mind controlled devices using automatic bots and scripts designed to search for these machines over the networks.
Additionally, the military has reportedly invested in neural technologies. Chief among the developments is a skull-to-brain patent that has has military conspiracy theorists wondering what this could really mean for future neural protocols.
Wired has more on this very interesting story.