Apple has unveiled a new version of the iPad Pro. The device, measuring in at 10.5 inches, is available to order online right now, but what's it like to use?
Design-wise, the 10.5-inch iPad Pro is very much like its 9.7-inch sibling. While its body is fractionally larger, it gets the most of its display thanks to newly slimmed bezels; down by 40 percent. It's not quite on par with the Samsung Galaxy S8's approach to bezel-less "infinity display" design, but the screen real estate feels substantial. Importantly, it also weighs the same as the 9.7-inch model, at 450 grams.
I was able to use the 10.5-inch iPad to try a demo of Apple's new augmented reality platform for developers, called ARKit. Pitched as the largest AR platform in the world, the idea is that app-makers will be able to make use of the iPad's built-in camera and motion sensors to make virtual experiences for gaming and industry. In the demo, I was able to move some pre-rendered objects – including a candle and a vase – around a real-world table. ARKit was able to automatically judge the size and depth of the physical object, and adeptly layer the AR paraphernalia on top.
The second part of the demo showed a similar process in action, this time with a Star Wars-themed game of chess. It was a fun, albeit superficial example of how AR could work with the iPad. It will be interesting to see how developers take this in more meaningful directions. As far as the 10.5-inch iPad Pro goes, the balance between screen size and weight made it easy to wield the tablet like a window into an AR world, although doing this for extended periods of time might not be comfortable.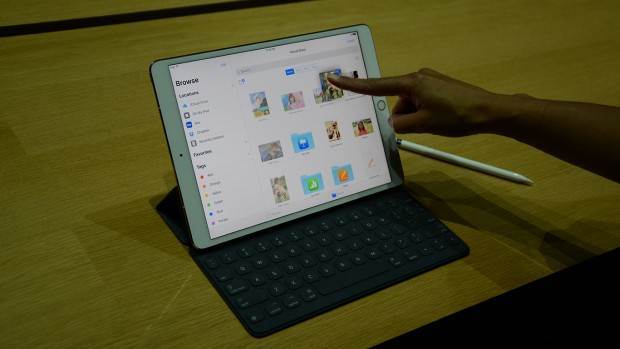 A quick experience with some of the iOS 11 revealed that new multitasking tools work a charm. Particularly useful was the ability to drag and drop apps as floating sidebars that snap onto the side of the screen. You can also drag and drop content such as text or images between apps, while Files lets you use multi-touch to grab multiple thumbnails and shift them about as a single group.
Apple has been keen to present the iPad as a professional device, despite declining sales over the past year. With a newly tweaked model, coupled with a greater focus on multitasking in iOS 11, the 10.5-inch iPad Pro – starting from $979 in Australia – could be the model to really push that vision.