Apple is billing the new iMac Pro as "the most powerful Mac ever", but at a glance it looks like something that would set you back a fraction of its wallet-melting price tag. The setup looks a lot like the 27-inch, 5K iMac; a familiar façade that hides some engineering wizardry to stop its powerful specs from overheating.
A duel centrifugal fan setup cools the iMac Pros internals, which encompasses an Intel Xeon processor with either 8, 10 or 18 cores, a Radeon Vega GPU with up to 16GB of VRAM, and up to 128GB of system RAM. Those are pretty beasty numbers, so here's hoping the fans do a good job of stopping the iMac Pro from an early death.
My few minutes with the iMac Pro were nowhere near long enough to see how the machine performs under stress. In fact, I wasn't even able to touch it. All I could do was stare at its sinister dark grey body and its 5K monitor, and imagine its internal thermal architecture whizzing around. Starting at US$4,999, maybe it's best it remains a conceptual computer.
I was, however, able to play around with the revamped 21.5- and 27-inch iMacs. These have been given faster processors, faster storage options, brighter Retina displays and Thunderbolt 3. Over a short demo I was shown how the 27-inch model could do a 4K video render using editing suite DaVinci Resolve on the fly, then a similar quick render using Cinema 4D Pro.
Another demo of F1 2016 looked gorgeous, thanks in part to the iMac's seventh-generation Kaby Lake processor and a display that manages 500 nits of brightness.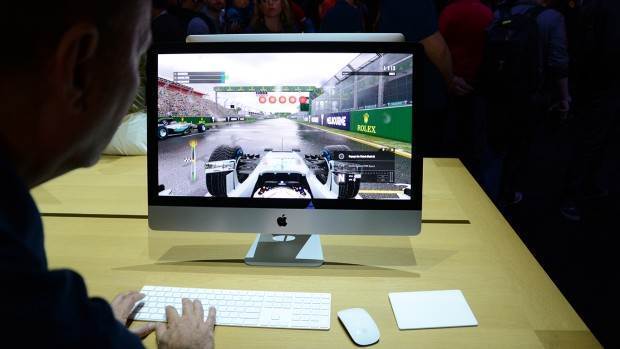 As well as film and design work, the new iMac is pitched as a strong machine for VR – now in the picture with the new macOS: High Sierra. While the exterior of the machines looks relatively unchanged, this internal capability could mean big things for how Apple positions itself in the developing virtual reality market. Coupled with the iPad Pro's nascent interest in augmented reality, could Apple take VR and AR into the mainstream?