Among the latest devices to hit the Android market is the HTC One M8, giving the Samsung Galaxy S5 a run for its money. The devices are similar in some ways and quite different in others, and both provide industry-leading innovations that others are sure to follow. Here's a look at differences between the HTC One M8 and the Samsung Galaxy S5.
Speakers vs Ingress
There are two areas in which there's no comparing the two devices. And since each might itself be a deal-breaker for some people if absent, we'll cover them first. The Galaxy S5 features an "ingress protection" rating of IP67. That means that it's completely impervious to dust and can be sprayed with water from any direction for three minutes without incurring damage. Protection from the elements is critical, of course, but if vibrant sound takes precedence, then you'd be hard-pressed to find any better than the large, front-firing stereo speakers of the HTC One.
Processor, Graphics And Memory
This category is a wash. Both the HTC One and Galaxy S5 are built around Qualcomm's new Snapdragon 801 SoC, 32-bit quad-core processor and have 2 GB of RAM for running the OS and applications. The One runs at 2.3GHz; the S5 at 2.5GHz. Also inside is an Adreno 330 GPU, which doubles performance of the Adreno 320 found in the prior model from both companies. Both units are sold with 16 GB or 32 GB of storage, and both have a microSD card slot for adding as much as 128 GB of storage and file I/O.
Communications
As for communications, HTC and Samsung are mostly on par, with a few major exceptions. Both employ 802.11ac, the spec that promises 1 Gb/s Wi-Fi speeds. Both also include dual-band Wi-Fi a/b/g/n, NFC, MHL, USB 3.0, Bluetooth 4.0 and 4G LTE. Both also incorporate an infrared emitter for controlling electronics. HTC adds DLNA for streaming media; Samsung provides its own protocol. Samsung also includes a feature it calls Download Booster, which bonds 4G and Wi-Fi channels to create a 450-Mbps connection to quicken bursty apps and large downloads.
The Screen
The HTC One is built around a 5-inch, full HD 1,920-x-1,080 display with a pixel density of 441 ppi that's protected with Gorilla Glass 3. The Galaxy S5 puts out the same 1,920-x-1,080, but on a larger 5.1-inch LCD. That 0.1 inch drops its pixel density from 441 ppi to 432 ppi. Samsung provided Gorilla Glass 3 with the S4, but not the S5. Incidentally, the Snapdragon supports Ultra HD (3,840-x-2,160) video for capture and playback. More on that next.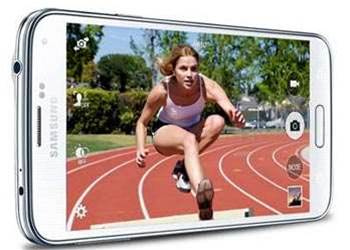 Cameras
We couldn't have imagined better snapshots than those from the 13MP camera in the Galaxy S4. But the Galaxy S5's shooter packs a sensor with 16 million pixels and can capture 3,840-x-2,160 video at 30 fps. And while HTC's camera has about a quarter of the pixels at 4.1 million, at 2.0 microns they're almost twice as large as Samsung's, which measure 1.12 microns. What's more, the dual sensors in the One allow it to refocus an image after it's been captured.
More Sensors
HTC and Samsung both include the standard array of environmental sensors, including accelerometer, proximity, ambient light and gyroscopic movement. Both also include one for reading barometric pressure. In addition, both have GPS, GLONASS and digital compass location capabilities. Samsung also has an additional sensor for navigating via Beidou, the Chinese GPS system, plus sensors for humidity sensor and heart rate. Galaxy devices also include gesture sensors that track eye movement, and can control apps and magnify the screen without touching it.
Dimensions
At 5.6 inches long by 2.9 inches wide, the S5 is Samsung's biggest smartphone yet. Longer still is the One, which measures 5.8 inches long, thanks to its zaftig speakers. But it's a bit narrower than the S5 at 2.8 inches wide; weight and thickness are roughly even. The HTC One measures 0.37 inch thick and tips the scales at 5.6 ounces. The S5 spreads the pocket by 0.32 inch and weighs 5.11 ounces.
Breaking Off A Piece
Both new smartphones run the latest edition of Android -- version 4.4.2 Kit Kat, and both break away with proprietary UI overlays. The One ships with version 6.0 of HTC's good-looking and customizable Sense UI overlay, and Galaxy S5 with Samsung's excellent TouchWiz UI overlay. Both offer zillions of apps through the Google Play app infrastructure, amazing power efficiency and superlong battery life.
The Bottom Line
The HTC One has a reported outright price of $899. It is available from Telstra, Optus and Vodafone.