Hewlett Packard Enterprise chief executive Meg Whitman spoke with CRN USA about the company's soon-to-be-released hyper-converged product, the gains HPE is seeing from Dell-EMC uncertainty, and the potential economic fallout if Donald Trump is elected president.
HPE is set to unleash this month a "market-changing" new hyper-converged product that will be priced 20 percent below market leader Nutanix's product, said Whitman. She expects the new product to open the door for HPE to be a "leader" in the US$5 billion fast-growth hyper-converged market.
The interview with Whitman came after HPE posted better-than-expected results for its first fiscal quarter, ended 31 January, sending HPE shares up 15 percent.
HPE posted non-GAAP diluted net earnings per share of 41 cents in the first quarter on sales of $12.7 billion, just above the Wall Street consensus of earnings of 40 cents per share on sales of $12.68 billion. The results marked the third consecutive quarter of year-over-year sales growth in constant currency for HPE, said Whitman.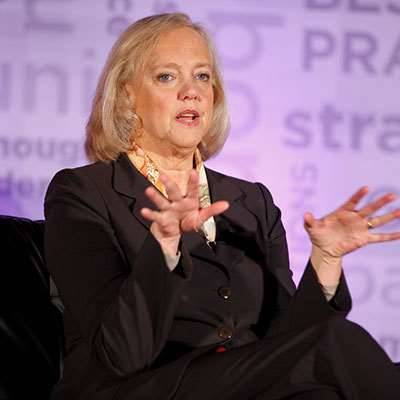 CRN USA: Talk about the new HPE hyper-converged product and the impact it is going to have on the channel.
Meg Whitman: I think we are taking a very bold approach to the hyper-converged systems market. Unlike a lot of traditional OEMs that are offering third-party software on their hyper-converged machines or striking reseller agreements with competitors, we are investing in our own intellectual property to bring those innovations to market. We have a clear innovation road map for the future.
We are pretty excited about it. You have to think about this as not an end state but as a milestone on a journey. The market is crowded right now, but it is big and growing and a lot of customers and partners have said to us, "We need a hyper-converged offering from HPE on HPE servers." So we are excited about it. I have been deeply involved in this. We have a side-by-side comparison between our product and other companies' products. I think the channel is going to be super-pleased.
CRN USA: How will the HPE product stack up against the Dell OEM partnership with Nutanix?
Whitman: I think it will stack up very well. One choice is to do an OEM relationship like they did with Nutanix. The other is to actually have home-grown proprietary IP [intellectual property] that actually works incredibly well on our DL380 [ProLiant servers]. That is the biggest concern we heard from the channel -- they said Nutanix would love to figure out how to make Nutanix work on a DL380. Well, actually, I would rather have our hyper-converged solution on the largest installed base of servers in the market. So that is the direction we decided to go in.
Kudos to our R&D team. From beginning to end, version 1.0 took four months. We are on it and I think the channel is going to be pretty pleased.
CRN USA: Cisco just announced its HyperFlex hyper-converged product. How does the HPE product stack up against Cisco, which has a partnership with Springpath?
Whitman: It's a little harder for me to tell because the Cisco product isn't there for us to test. I can't buy it and do a side-by-side comparison, so I don't know. What I do know is we really like the fact that we have grown our own IP here that is deeply integrated into the hardware, and the UI [user interface] is beautiful. Our UI or user experience is absolutely beautiful.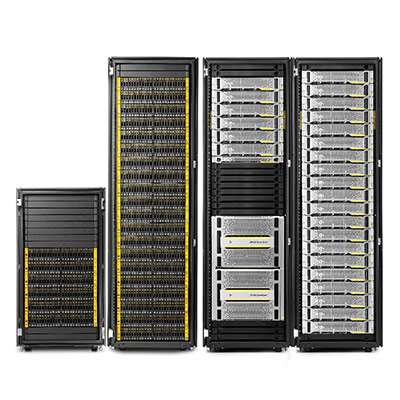 CRN USA: What is the architectural approach you have taken with hyper-converged versus the competition?
Whitman: If you think about storage, we have a top-to-bottom architecture in 3Par, so when we did all-flash array, we could have bought an all-flash company as EMC did, but then it would not have integrated into our 3Par architecture. So we did all-flash, homegrown. It is now growing three times the rate of the market, bigger than Pure [Storage]. From a customer perspective [with HPE all-flash], they are not introducing another architecture into their IT environment.
Sometimes you can move faster if you buy something, but then you have multiple different architectures. What we are trying to do here is when we have a completely complementary product like wireless LAN, we'll buy. But if we need an all-flash storage array or hyper-converged, I would rather do it in the context of our own architecture, because in the end, for partners and customers, it is going to be simpler in their IT environment than a variety of different architectures.
CRN USA: Talk about the all-flash approach HPE is taking versus the Cisco approach to that market.
Whitman: All I can tell you is we are having excellent success in the marketplace. Can you imagine growing three times the market rate? I can't remember the last time I have seen any company growing a product line at three times the market rate. I think the market has voted with their feet that this is a great offering at a good price point, easy to get working in their [IT] environments.
When I am out in the field I don't hear a lot about Cisco [in all-flash]. Mostly we compete against Pure, sometimes EMC.
CRN USA: Talk about the 749 server deals you won against Dell in the quarter. What is sparking those wins?
Whitman: Partners are coming to us saying, "What is the future of Dell-EMC? What is the right thing to do here?" We told them, "We have a great product road map. There is lots going on here. You should come with us." So we are winning some deals.
CRN USA: What is the sales incentives strategy versus Dell-EMC?
Whitman: Remember we did SmartChoice 1.0 when Lenovo bought the IBM server business. We now have the same exact program [targeting Dell-EMC] with SmartChoice 2.0. We are offering great deals on our server and storage and networking taking out Dell-EMC. Partners should come talk to us about it because they are going to get some great deals.
CRN USA: Talk about what you have called the 'old technology approach' Dell is taking versus HPE.
Whitman: We have chosen to get smaller, while they have chosen to get bigger. We have chosen to de-lever the company, while they have chosen to lever up the company. When you lever a company that way because they are owned in some respect by private equity, private equity is a big shareholder, they have to take out costs. That has to be their No. 1 job. The whole [Dell-EMC] deal is predicated on that. So while you are taking out cost, it is hard to be innovating.
We are doing things like buying Aruba, introducing our next generation of hyper-converged with our own IP, we are leaning in to a lot of different new technologies. Our Helion OpenStack is doing very well. We had 200 new customers in Q1 and they are doubling down on what they have, which for the most part is old technology.
CRN USA: Talk about the Helion OpenStack wins and traction you are getting in the channel.
Whitman: The biggest traction in the channel is private cloud, and the reason [for that is that it is] the first easy step for so many companies. They take at least a couple of apps out of their data center and move it to a private cloud on-prem. It is not a risky strategy and you can save 20 [percent to] 30 percent when you do it, which is meaningful for many large companies.
As I said, we had 200 new logos for Helion in the first quarter. I think we are also seeing a fair amount of traction around OpenStack. Our Helion OpenStack version 2.0 release is fantastic. We overcame a lot of the challenges in Helion OpenStack 1.1. And, by the way, that is embedded into our private cloud.
There is no question in my mind that most of our partners are seeing their customers wanting to live in a hybrid world with some applications in their data center, some on private cloud on-prem, some in virtual private cloud, some in managed private cloud and some applications in the public cloud, and that is why we did the partnership with Azure.
CRN USA: What impact will Donald Trump's policies have on the channel?
Whitman: I don't think it would be good for them. If he is able to get across his 35 percent tariff on goods coming into the United States from places like Mexico and China, that will raise prices across the board for consumers and businesses in this country, which means there will be less money to spend on IT gear and IT products, and that hurts the channel. I think it has a real risk of sending the United States into a recession.