Virtual reality has been the big story of 2015, but it has one major drawback. You have no idea what's in front of you. Or behind you. Or just to your left. With Microsoft's HoloLens, on the other hand, you still see the familiar world – but it becomes a delightful, high-fidelity playground, classroom or even a remote work site.
I've no doubt games will be the first wave of apps to capture people's imagination. Imagine stepping into another world; drop a crumpled ball of paper on the floor and it blows a hole through to yet another dimension, where paper birds fly through paper clouds. It's as charming and delightful as it sounds. Even when that world is very basic – looking more like a tablet app than Avatar – being inside a fantasy world is an enchanting experience.
But for me, it's the fact that HoloLens will also be useful for work, and for interacting with physical as well as digital objects, that makes it such an amazing, unlimited opportunity.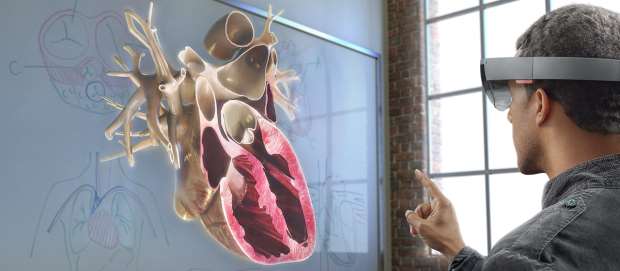 Take architects. Perhaps they need to see whether a building is being put up the way it's designed. Or builders need to see how the designs fit into the physical space they're hauling bricks and planks into. In these scenarios, having HoloLens paint the virtual design over the real world is ideal.
Why? Because the on-site builder can see exactly where the door is supposed to go, and the architect back in their office can see what the builder sees (such as a pillar that's preventing a door from opening).
The architect can put on a HoloLens to look at the site remotely, or even simply watch video from the builder's HoloLens on their own screen; there's a visual beam that makes it clear what the other person is looking at. Being able to share what you see without trying to manage a camera makes it much easier to collaborate at a distance.
Next: far-reaching potential of mixed-reality