If you were to be influenced purely by the more tabloid of tech publications, with headlines screaming about hacked databases, compromised passwords and secret service data probing then you wouldn't touch the cloud with a bargepole.
Truth be told, cloud services are not as insecure as the headlines make out. Indeed, there's much to be said for the argument that Dropbox, iCloud, Google Drive and OneDrive have both the money and motivation to make their data stores much more secure than you could hope to achieve on your meagre budget yourself.
[Related: Distie's new tool encrypts Google Drive, OneDrive and Dropbox]
So let's take a look at these four services, but first we need to get a few things out of the way. This isn't a review of these services, if you want to know what ins and outs of the cloud services, take a look at our article: Dropbox vs OneDrive vs Google Drive: what's the best cloud storage service of 2014?
How secure is Dropbox?
Dropbox dropped the ball back in 2012 as far as security was concerned when it admitted that a compromised password had been used to access an employee Dropbox account which gave access to a document containing some user email addresses which then got spammed.
Stored data was never at risk though, but it served as a wake up call as to how reputational damage can impact a cloud business. Since then Dropbox has upped its game on the login front, with optional two-step verification (via text message or Time-Based One Time Password apps) adding an extra layer of security to user accounts.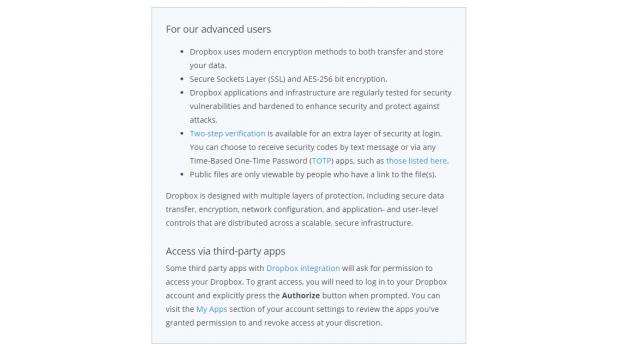 Dropbox has survived security scares, and hardened its security posture accordingly
Like most cloud services, Dropbox employees cannot view the content of the files you store but can access metadata if they need to in order to provide tech support for instance. Dropbox makes it clear, however, that a small number of employees can access stored files if required to for legal reasons.
Data in transit is encrypted using Secure Sockets Layer (SSL) and at rest using AES-256 bit encryption to which Dropbox holds the keys. Lost or stolen devices can be easily 'unlinked' from your account to further mitigate the risk of unauthorised access.
The business version, Dropbox Pro, adds an ability to enable viewer permissions for collaborative usage and set both passwords and expirations for shared links which hardens the security posture for power users.
Next: How secure is iCloud and Google Drive?