HP has unleashed a blizzard of "new style of IT" products that could take a bite out of competitors. Here are eight new offerings introduced at HP Discover – which runs from 2-4 December in Barcelona, Spain – that take aim at a wide spectrum of HP competitors from Apple to IBM to hyper-converged superstars Simplivity and Nutanix.
---
HP Helion CloudSystem ConvergedSystem CS 200-HC StoreVirtual
Availability/Pricing: January 2015, pricing unavailable.
In the line of fire: Simplivity, Nutanix, Dell-XC, VMware EVORail
Market impact: HP's first full-fledged hyper-converged offering, the CS-200 HC, is aimed first and foremost at taking a bite out of fast-growing hyper-converged superstars Simplivity and Nutanix.
HP ConvergedSystems group manager Brent Allen said HP has big advantages in security, storage and the breadth of its CS-200 in the enterprise data centre over what he calls the "simplistic offerings" of upstart competitors. "We have run into a number of areas where customers have been dissatisfied with the current [hyper-converged] platforms that they have," said Allen.
---
HP Integrity Superdome X
Availability/Pricing: Immediately, pricing unavailable.
In the line of fire: Oracle Exadata, IBM Power
Market impact: HP's Integrity Superdome X, along with the company's fault tolerant Integrity NonStop X, for the first time brings the breakthrough computing economics associated with Intel x86 to the longtime HP Unix workhorses with support of industry-standard Linux.
The blockbuster here is that HP is working with partners aggressively for the first time to increase its share in the high-performance compute market segment.
"Until the Superdome X was announced, there wasn't an x86 system with enough vertical scale to handle enterprise-class applications," said Marc Sarazin, executive vice president of AdvizeX Technologies LLC, one of HP's top 10 enterprise partners and a unit within services giant Rolta, a $500 million IT services powerhouse.
"That changes with the Superdome X. This is truly a transformative technology that's going to enable Advizex to design IT architectures that significantly reduce our customers' IT costs."
---
HP Integrity NonStop X
Availability/Pricing: March 2015, pricing unavailable.
In the line of fire: Oracle Exadata, IBM Power
Market impact: Nearly four years after a bitter battle with rival Oracle over support for the HP Itanium-based Superdome systems, HP is aiming to take a chunk out of Oracle's Solaris platform with x86-based version of its HP Integrity NonStop and Integrity Superdome X.
Jeff Kyle, director of product management for HP Mission Critical Systems, said the new systems provide HP with the firepower to deliver better price and performance than all comers in the Linux market. One of HP's big advantages, said Kyle, is a commitment to open systems -- including HP's Helion OpenStack cloud offering -- that is resonating with customers. "Customers don't want to be locked into a single partner for everything," he said.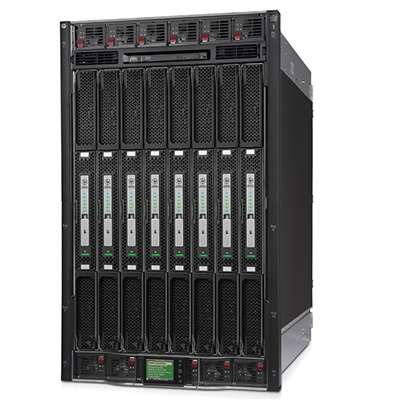 ---
HP ArcSight Enterprise Security Manager 6.8c
Availability/Pricing: January 2015, starting at $125,000
In the line of fire: Splunk, IBM Q-Radar, RSA Netwitness, LogRhythm
Market impact: HP's ArcSight has had a firm grip on its position as market leader of the security information event management market. HP said version 6.8 of the ArcSight Enterprise Security Manager adds performance improvements and reduces management and deployment complexity issues.
HP has been under pressure to stave off competitors including Splunk, which is known for its powerful search capabilities and flexibility and has been given new security capabilities.
Speed improvements boost the ArcSight correlation engine to bolster anomaly detection. HP has been aggressively expanding its technology partnerships, enabling customers to feed more data into the platform. The company is also adding a training program called ArcSight Activate, to ease the deployment and customization of the platform.
---
HP EliteBook Folio 1020 Special Edition
Availability/Pricing: April, pricing unavailable.
In the line of fire: Apple, Dell, Lenovo
Market impact: Make no mistake about it, HP is targeting Apple's MacBook Air with its new EliteBook Folio 1020 Special Edition. HP is touting the product as the world's thinnest and lightest notebook. The ultra-thin 15.7 millimeter system weighs in at just 2.2 pounds and offers nine-hour battery life.
HP director of product management John Groden said that some of the key advantages over competitors for the business-class Special Edition product is that it is fully dockable and includes Intel security manageability functionality that allows for a security wipe of the device.
HP also has more rigorous durability testing than competitors, claimed Groden, including drop testing, extreme heat and cold, and sand. "We really pride ourselves on being a business-class device," he said. "We wanted this device to stand on its own."
---
HP 3PAR StoreServ 7440c Converged Flash Array
Availability/Pricing: Immediately, starting at US$78,000
In the line of fire: EMC VNX and VMAX, NetApp FAS, and horde of startups
Market impact: HP has finally admitted that the market needs integrated block, file and object storage. The new HP 3PAR StoreServ 7440c converged flash array integrates block, file and object storage into a single device with integrated management. This converged storage solution, available from HP first on the 7440c, which can be configured as an all-flash or a hybrid flash array, will eventually be a part of all new 3PAR releases going forward.
HP has also enhanced HP 3PAR Online Import, a tool which the company claims simplifies data migration of data from EMC VNX and Clariion arrays, with the ability to now also work with EMC VMAX solutions.
---
HP Technology Services for Software-defined Infrastructure
Availability/Pricing: Early adopter now, full availability in 2015, pricing not available
In the line of fire: Little direct competition for now, mainly fighting the status-quo
Market impact: Hewlett-Packard Technology Services wants to bring new-style data centre support and consulting to legacy data centres with some new data center services, including:
HP Datacentre Care: Adding three new automation enhancements, including automating the devops process to allow application code to be easily ported to production, along with advanced monitoring for non-HP storage, server, and networking gear.
HP Technology Services for Software-defined Infrastructure: Includes services for IT transformation strategies, software-defined roadmaps, and software-defined infrastructure design.
---
HP Vertica OnDemand
Price/Availability: First calendar quarter 2015, starting at US$999 per month.
In the line of fire: IBM Watson, Splunk.
Market impact: HP Vertica may well be HP's most potent big data weapon. And with HP Vertica OnDemand, HP is bringing big data analytics to customers as a managed virtual private cloud offering to meet the security and compliance standards of the most demanding enterprises.
The Vertica OnDemand offering is just one more sign of the growing momentum of the HP Haven big data platform which now is being supported by some 6,000 developers and 850 HP partners, said Jeff Veis, head of marketing for HP's Big Data Group.
"We see 2015 as the year that big data becomes relevant moving from hype to mainstream," said Veis. "We are moving beyond isolated, impressive big data projects to dozens and hundreds of big data use cases. You no longer need 15 Phds and two years to build a big data application."