If ever an operating system has grown up in public, it's Windows 10. Since the first preview release appeared in October 2014, its every tweak and transformation has been pored over by hordes of volunteer testers – almost five million of them - feeding back usage reports and feature requests.
Now, however, Windows 10 is finally with us. Retailers are able to sell PCs with Windows 10 preinstalled, and users of Windows 7 and 8 who have claimed their upgrades (more on this later) will be able to move up to the final release of the software.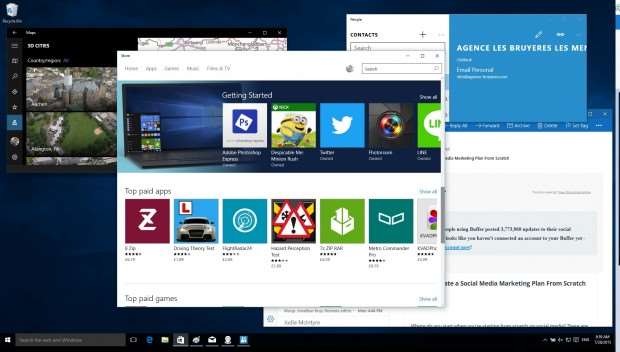 Except that in the case of Windows 10, there's no such thing as a final release. The new version of Windows brings a new philosophy, which Microsoft's Terry Myserson called "Windows as a service". Just as the Insider builds have progressively introduced new features and interface elements, the public release of Windows 10 will continue to develop over time. There may not ever be a Windows 11: major features that would previously have been saved up for a major release will now trickle out through Windows Update as they become ready.
This makes Windows 10 very much a moving target. It might work one way when you install it, but turn into something quite different in a year's time. For businesses, Microsoft is providing options to keep things stable, but for consumers running the Home edition of Windows 10, Microsoft has taken the bold decision to disallow the skipping or deferring of updates. Like it or not, upgrading means taking an open-ended leap of faith.
Windows 10 review: Who gets it?
In previous years, most of us only moved to new editions of Windows when we bought a new PC. With Windows 10, Microsoft aims to change that. If you're currently running a non-enterprise edition of Windows 7 or 8, you may already have seen a pop-up notification on your desktop inviting you to "reserve" your upgrade to Windows 10.
For once, there's no catch. As Microsoft moves to "Windows as a service", it no longer wants to be held back by the inertia of huge numbers of customers using old versions of Windows. So for the first year (at least) of Windows 10's availability, Windows 7 and 8 users are entitled to a free in-place upgrade.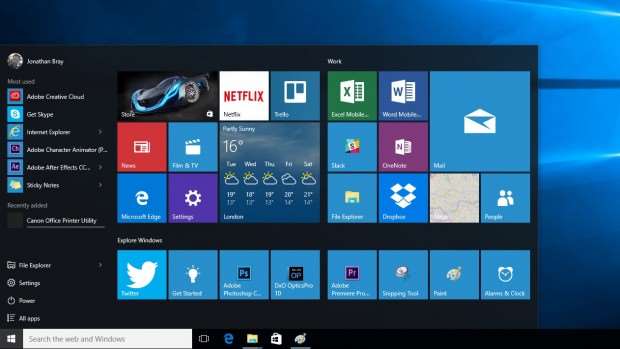 It's worth noting that the upgrade requires you to be using a fully up-to-date release of Windows 7 SP1 or Windows 8.1, so if you're not getting the pop-up, try running Windows Update. Those using compact tablets may also find they don't have enough storage for an in-place upgrade: Microsoft says it's working on a solution, which may involve a USB flash drive.
The upgrade process is almost entirely automatic, and keeps your existing applications, so it's an easy offer to accept. If you're running a professional edition of Windows 7 or 8 you'll be moved up to Windows 10 Pro, otherwise you'll receive the Home edition.
Why Windows 10?
Like previous versions of Windows, Windows 10 is available in both 32-bit and 64-bit variants, and in Home and Pro editions, alongside packages for education, enterprise and industry.
But Windows 10 is about more than a single piece of software. It represents the transformation of Microsoft's business, from a PC software company with a smartphone division into a grand unified platform, spanning from mobile devices to servers. Soon it will also take in consumer devices such as wearables and the Xbox One, as well as interesting one-offs such as the Surface Hub – a whiteboard-sized conferencing system and display – and the HoloLens, Microsoft's forthcoming augmented-reality headset.
What are Universal apps?
It's all underpinned by the idea of Universal apps: touch-friendly, mobile-style applications that will run on a Windows 10 device. Fundamentally, it's an evolution of the Windows 8 app concept, but we've come a long way since then.
The old Metro app platform (latterly renamed Modern) was clunky and ill-suited to desktop and laptop PCs. It made more sense on tablets, but here Microsoft was pushing Windows RT, and consumers were reluctant to buy in. They were wise to stay away: Windows RT has proved an evolutionary dead end. Windows RT devices are incapable of being upgraded to Windows 10, although Microsoft says that future releases of RT will see at least some of Windows 10's features being brought to the platform.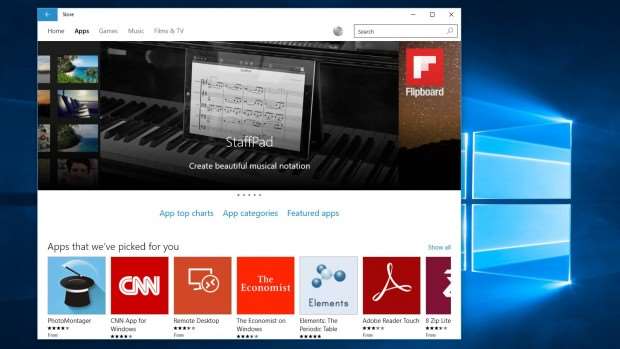 Windows Phone, meanwhile, despite sharing design cues with Metro, was a different platform with a separate app framework. No wonder the Windows Store was initially a bomb, setting back Microsoft's dreams of emulating Apple's success in the emerging tablet-friendly world.
Universal apps make the idea work at last. In Windows 10, it's possible to open a Universal app on your desktop PC, then grab an Atom-powered Windows 10 tablet and carry on working with the selfsame app – in full-screen mode with touch controls. It will even be possible to run the same software on your Lumia phone once the Windows 10 Mobile update arrives. Just note that won't be until later this year, or perhaps even early 2016.