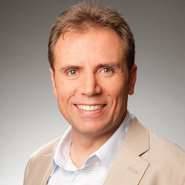 Gavin Struthers
McAfee, a subdivision of Intel Security, is undergoing an executive transition as Gavin Struthers, senior vice president of worldwide channels, leaves his role to become the president of Asia Pacific for Intel Security.
In his new role as president of Asia-Pacific for Intel Security, Struthers will replace Andrew Littleproud, to become responsible for business operations across Asia, India, Australia and New Zealand.
"It's a wonderful opportunity to continue to find exciting and exhilarating new career opportunities in the company," he said.
Struthers, who has spent his three-year tenure ramping up partner incentives and programs, told CRN USA he will continue to fulfill duties in his current role until a competent replacement is found to ensure a smooth transition for partners.
Since he took over the worldwide channels senior vice president position in 2012, Struthers has been instrumental in revamping several aspects of McAfee's 2,000-partner channel business and prompting partners to transition from the traditional reseller model to providing more cloud-based management services.
"I spent a lot of time reinvigorating the way we work with our partners," Struthers told CRN USA. "Security continues to be an evolving and escalating problem. It's one of those areas of IT that changes weekly and monthly. I challenged partners to get off the fence and double down on security with fewer vendors so they could focus and build out deeper expertise, especially on the pre-sales front, to be more valuable to customers."
According to Intel Security, the company's top partners grew 20 percent globally during Struthers' time as senior vice president, while new business growth through partners was 150 percent due to enhancements to the deal registration program, which offers partners an additional 25 percent margin for securing incremental new business.
In addition to the deal registration program, McAfee also revamped its Intel Security Partner Program in October under Struthers' leadership to remove the rebate payout cap and reward registered renewals with a US$200 payout to each new renewal.
Struthers also was instrumental in implementing new training programs to tighten partner expertise, such as StarTrac, a sales services training program.
Struthers said he will continue to maintain his responsibilities while the company finds a viable candidate to replace him. In terms of a new hire, he stressed that the company is looking both internally and externally for a candidate who "continues to inspire and build strong human connections", with experience in general sales management, and a deep knowledge of various market routes such as hosted services and the cloud.
Struthers, who worked in various roles across McAfee for 12 years, was serving as vice president of channels, alliances and specialist sales in Asia-Pacific when the company was acquired by Intel for US$7.6 billion and rebranded as part of Intel Security. The acquisition was completed in February 2011.
As he leaves, Struthers stressed his hopes that the replacement will continue to maintain the trust of partners through looking for opportunities to increase profitability and maintain strong relationships.
"To have a good partnership, we have to ask, 'How do we become relevant to our partners and how do they become relevant to us?'" said Struthers. "Until we understand that relevance, it's very hard to build a partnership. Partners have to choose the winning horse in the race, be ensured the highest levels of profitability, and they have to trust us and like doing business with us."
Struthers' new role represents the latest shift in a flurry of executive transitions over the past few months at Intel Security. In February, former Intel Security President Michael DeCesare left the company to become CEO at ForeScout, the third major former McAfee executive to depart from Intel Security since December.
This article originally appeared at crn.com