Atlassian founder Mike Cannon-Brookes just deposited a cheque for $68 million, but he wants his 20,000 customers and 225 staff to know he's not sucking on Cubans at the Friday staff poker game or that the massive cash injection will distort the counterculture of his software developer one iota.
In what was believed to be a funding round that dwarfed the aggregate of investments in indigenous ICT firms this past year, Silicon Valley venture capitalists Accel Partners overnight ploughed $US60 million into Atlassian, the Sydney developer of collaboration tools to help software makers write better code that Cannon-Brookes founded with Scott Farquhar when they were 22-year-old university students in 2002.
Added to a healthy balance sheet - Atlassian has been profitable since inception culminating in $A58 million revenue last financial year - the cash is the engine to pursue smaller, innovative companies and expand offshore. Atlassian's European office in Amsterdam that employs 10 and its San Francisco office of 60 are set to swell and there are plans to accrete the local operations through acquisitions "as it makes sense", chief executive officer Cannon-Brookes says.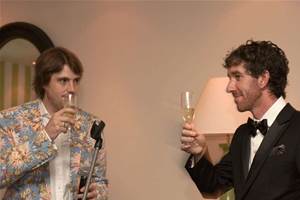 Atlassian founders Scott Farquhar and Mike Cannon-Brookes $68m toast
In Sydney, the business started with $10,000 on the founders' credit cards and now sprawls across the corner of Sussex and Market streets, occupies space above the Dundee Arms pub and in Kent Street across the road. Part of that growth was the result of a February hiring spree that
controversially saw the software maker turn to social media to fill 32 jobs
, which Cannon-Brookes says resulted in 99 applications for each position, about half of which were filled from overseas.
Atlassian is best known for its project-management tools, especially Jira bug-tracking software and Confluence wiki software, both used by Haymarket, publisher of this website. It counts among its 20,000 customers in 134 countries the top companies in the world including Microsoft, Oracle, the top-10 US universities, Nokia, Amazon, Electronic Arts, Facebook and AT&T.
Counterculture coders
But its appeal extends into open source teams such as those writing the web server Apache and middleware application server JBoss.
It's this unique confluence of developer teams at either end of the philosophical spectrum that lent Atlassian the street cred of almost being a free-software company.
For instance, it allows its developers to work a day a quarter on a project of their choosing, the results presented to staff at a party where beer and cake are served. It's that culture that helps it recruit and retain staff against stiff competition from the likes of Google, which tried to lure Atlassian's top coders to take a brisk walk across the Pyrmont foot bridge to work on Wave and Gmail.
But Atlassian's reputation for fierce independence and as a fun place to work that it crafted for itself - such as having new hires push a beer cart around the office on Fridays to meet everyone - won't be affected by accepting Accel's cash, Cannon-Brookes says.
They're not "selling out to the man" and, If anything, Atlassian just arced it up a notch: "This week it's three very powerful VCs that will push that cart around - Rich Wong, Ryan Sweeney and Miles Clements".
As part of the deal, Wong joins Atlassian's board of directors but Cannon-Brookes says the day-to-day running of the business rests with the founders.
"They're certainly very keen on maintaining the culture. I'd like to think we'd keep some of our reputation as a bootstrap company because we went from $0 to $US60 million (annual revenue) without any outside funding.
"I don't think we are (selling out). We have an unusual culture and a unique company that we've built. One of the things that Accel is interested is in maintaining that existing culture."
When Cannon-Brookes and directors went looking for investors it approached a "small number of firms who we respected".
"We've had a lot of interest over the years - we have a spreadsheet somewhere of them. We've known Accel for a number of years, have coffee with them and chat as we have with most firms in the Valley.
"The people [investors] are very important for us. They have come down to Australia a number of times over the years and they have looked at a number of other Australian companies."
Atlassian enters Accel's pantheon of 300 corporate ICT names that shaped the online world as we know it such as:
Information security company Imperva;
Filesharing startup Bit Torrent;
Mobile advertising network AdMob (sold to Google for $US750 million);
Video-distribution platform founded by Flash creator Jeremy Allaire, Brightcove;
Social media website Facebook;
And the legendary internet company, now part of defence contractor Raytheon, BBN Technologies - that did much to spark the internet.
Cannon-Brookes admits to pressure to live up to the mantle, especially since this is the biggest software investment round in Accel's 17-year history and the biggest outright in a decade. And, along with the VC's simultaneous $US38.5 million investment in social-media company Squarespace, is believed to have significantly reweighted the backer's portfolio in favour of software development.
"Their financial record and portfolio companies speak for themsleves - on paper they're the best or in the top three to four VC firms in the world.
"Through that they have access to very extensive networks - the most exciting factor for us was chatting to their entrepreneurs.
"We spent a lot of time making sure we were choosing the right person for us and that wasn't just their financial returns.
"It certainly creates pressure to live up to those expectations - I hope we can prove that we deserved to be there."
He says the biggest challenge in the year ahead is to grow past the $100 million mark that "trips up a lot of companies".
Read on for more... can Atlassian's success be repeated?