Apple has always been fairly consistent in its design of the iPad, landing on a hit format early on that has remained popular with fans. However, with the launch of the iPad Pro, Apple was keen to demonstrate that its humble tablet is capable of much more than browsing the internet and watching videos - that it has the potential to evolve from a companion device into a genuine laptop replacement.
With Apple having recently refreshed the iPad Pro range, we decided to put that claim to the test, pitting its 10.5-inch model head-to-head against another device gunning to replace your laptop, Microsoft's similarly refreshed Surface Pro.
Microsoft's fifth-generation Surface Pro is the most refined yet, having trimmed away most of the fat of the old models and made noticeable improvements to battery life and the detachable keyboard.
With both devices vying for the same thing - an audience that wants the functionality of a laptop paired with the portability and flexibility of a tablet - which one will come out on top?
Design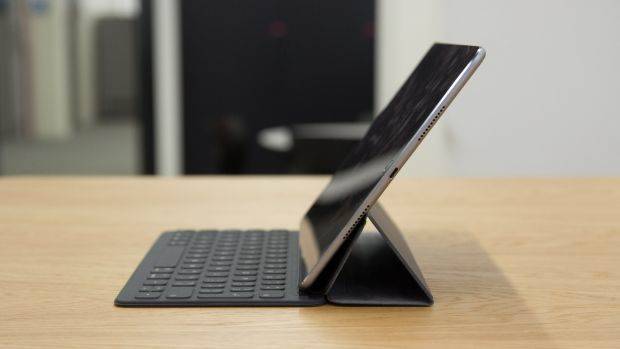 | | | |
| --- | --- | --- |
| | iPad Pro 10.5 | Surface Pro |
| Dimensions | 250 x 174 x 6mm | 292 x 201 x 9mm |
| Weight | 469/477g (Wifi/4G) | 786g |
Apple's refreshed iPad Pro range deviates little from the design of the originals. It has all the telltale iPad features you'd expect, such as the characteristic home button, curved frame, and front and rear cameras - the only significant difference being the new screen size. By cutting away some of the bezel on the 9.7-inch model, Apple has been able to fit in a larger 10.5-inch screen into a frame that is only 10mm taller and 2mm wider than its predecessor. At 469g, it is also only marginally heavier than the 9.7-inch, but we felt the overall balance of weight as a result felt a little more comfortable.
The Surface Pro is a noticeably different beast. It is thicker and heavier and, as a result, slightly more difficult to wield as a tablet. The added weight and thickness over the iPad, as well as the lack of curved edges, makes the Surface Pro look chunkier than its rival. However, this is largely to accommodate for ventilation for some serious internal hardware options - entirely forgivable for a device that is still easy to carry around an office. It is also a beautiful machine, using a striking magnesium body finished in metallic-grey, with a chrome windows logo on the back.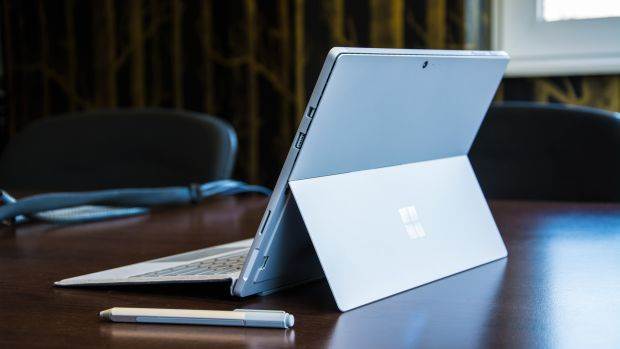 The Surface Pro does have an ace up its sleeve in the form of a truly excellent built-in kickstand. It provides enough strength to easily hold the device at any point on its arc, and because it doesn't use notches, its movement is smooth and adjustable with one hand. With the iPad Pro you are only able to prop up the tablet with the detachable keyboard.
Given the size of these tablets, a built-in kickstand makes sense - you need that support to compensate for the added bulk, and it offers a way to hold a device upright without using a keyboard. Whereas the iPad relies on a cover to prop it up, the Surface Pro can stand on its own, which looks great on a desk and means you're not needlessly carrying around a keyboard.
Verdict: Surface Pro
Display
| | | |
| --- | --- | --- |
| | iPad Pro 10.5 | Surface Pro |
| Size | 10.5in (Retina display) | 12.3in (PixelSense display) |
| Resolution | 2224 x 1668, 264ppi | 2736 x 1824, 267ppi |
| sRGB coverage | 96% | 94% |
| Max brightness | 528cd/m2 | 437cd/m2 |
| Contrast ratio | 1504:1 | 1297:1 |
As is to be expected with Apple products, the iPad Pro boasts an excellent screen, offering superb viewing angles and an impressive 96 percent coverage of the sRGB colour gamut. The LED backlit Retina display features a 2224 x 1668 resolution, with an impressive max brightness of 528cd/m2 and an excellent contrast ratio.
Apple's trump card is the ability to set the display to 120Hz and have it automatically adjust refresh rates depending on the capabilities of the app running. It's a wonderful addition that not only makes the screen feel far smoother and more responsive, but helps to significantly reduce eye strain.
The Surface Pro's screen is similarly impressive, again offering wide viewing angles and an only marginally lower performance output to the iPad Pro. It does have a noticeably lower contrast ratio to the iPad, and side-by-side it can't quite match the deep blacks and bright whites of Apple's tablet.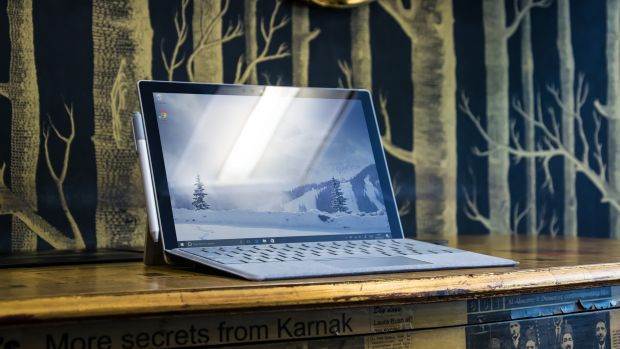 The biggest issue is that Windows 10 does not scale particularly well with higher resolutions. With many installed applications, including suites like Adobe, we frequently encountered text that was blurry or difficult to read, or objects that were too small. This was even the case with some Windows menus, like the device manager screen. Sadly this requires no small amount of tweaking to Windows 10 display settings, and even then it is an unreliable fix.
Verdict: iPad Pro 10.5
Stylus
| | | |
| --- | --- | --- |
| | iPad Pro 10.5 | Surface Pro |
| Price | $145 | $99 |
Microsoft Surface Pen has been given a beefy upgrade with the refresh, now boasting 4096 levels of pressure. Although it feels thicker than the previous Pen, its magnet for attaching to the Surface Pro has been significantly strengthened. While we can't really say how good it is for artists, the combination of the stylus and PixelSense display, along with superb palm detection and accuracy, make this one of the best writing experiences we've had with a tablet.
The iPad Pro's stylus is similarly impressive, able to take advantage of a rich suite of design apps available through iOS. It is also superbly accurate and responsive, and now shines with the ProMotion 120Hz display of the iPad Pro.
The biggest issue here is that for both machines, an optional pen adds nothing to the laptop experience, particularly at $99 each. While they both perform admirably, they don't allow for the finesse that artists or designers will want, and without a reliable means to store them, they will most likely get in the way.
Verdict: iPad Pro 10.5
Keyboard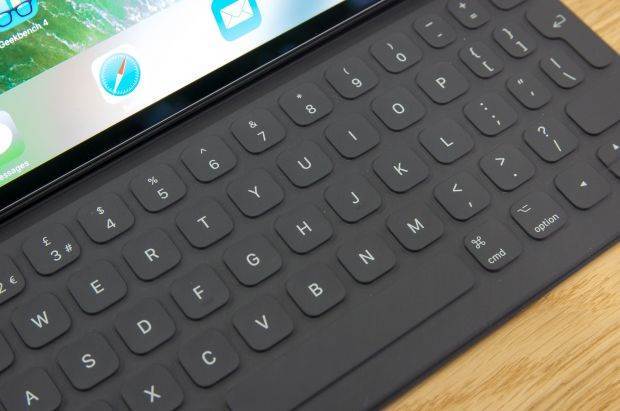 | | | |
| --- | --- | --- |
| | iPad Pro 10.5 | Surface Pro |
| Price | $235 | $249 |
For devices that are wanting to convince you to ditch your laptop, it's baffling that both sell a keyboard separately. What is particularly jarring are the asking prices - $249 for the basic Surface type cover and $235 for the iPad Pro's.
With this annoyance aside, their potential as a laptop replacement hinges on the performance of the keyboard, and fortunately both devices provide compelling detachable type covers.
The iPad Pro opts for a keyboard that doubles as a traditional tablet case, and, as mentioned above, is needed to prop the screen up. It is covered in a tough fabric that is easy to clean and robust enough to be weather resistant, though feels a little strange when you first use it and may require some getting used to.
Attached to the cover is a full low profile Querty keyboard, which due to some nice key spacing and decent travel time makes typing an absolute breeze. The issue is that it's a fairly unremarkable board, and in fact has a number of issues that make it seem heavily overpriced. It only has one screen angle, which is too laid back for our liking, making typing overly difficult if you don't have access to a table. It also lacks a touchpad, which is somewhat of an oversight, and no backlighting.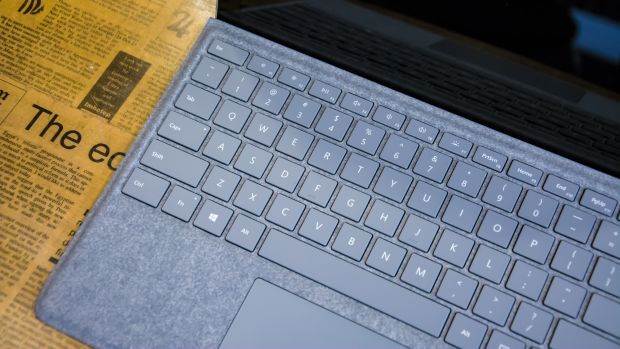 These limitations are accentuated next to the Surface Pro type cover, which is the product of years of trial and error. The keyboard is essentially identical to the Surface Pro 4's excellent type cover, only now with soft Alcantara covering as a standard. The board itself is thicker and sturdier than the iPad's. It also has an excellent track pad that takes advantage of Microsoft's Precision Touchpad software for an incredibly smooth experience.
While both devices opt for a magnetic strip for attaching a keyboard, the Surface Pro attaches in a way that angles the keyboard up so that you have an elevated surface from which to type. It's a lovely piece of design that makes typing a more comfortable experience, akin to traditional laptops and keyboards.
Like other laptops within this price range, the Surface keyboard is also backlit with some beautiful white LEDs, whereas this is missing on the iPad's board. Not only does this make it possible to type in the dark, but it also adds that extra lick of luxury. There's also a range of colours available, whereas the iPad's keyboard is only available in black.
Verdict: Surface Pro 4
Specs & hardware
| | | |
| --- | --- | --- |
| | iPad Pro 10.5 | Surface Pro |
| CPU | 6-core A10X, 2.36GHz | 7th gen Intel m3 - i7, 2.6GHz - 4.0GHz |
| RAM | 4GB | 4/8/16GB |
| Storage | 64/256/512GB | 128/256/512GB/1TB |
Before looking at numbers, let's take a look at the what specs are on offer. Following this year's refresh, the iPad range is now packing a beefy six-core A10X processor clocked at 2.36GHz, although three of those are high performance cores and do most of the heavy lifting. You have the choice of 64GB, 256GB and 512GB storage, and the standard options of wi-fi or wi-fi+4G. All models come with 4GB of RAM.
The Surface Pro range continues to offer a variety of specifications to suit most needs, making the iPad Pro selection feel rather limited. At the low end you have the choice of the Intel Core m3 model with 4GB of RAM, or more powerful Core i5 and i7 models, each with an increasing amount of RAM. At the very top end is a Core i7 clocked at 4GHz, with 16GB RAM and 1TB of storage.
While the last generation A9 was no slouch, we were still staggered by the performance of the A10X in our benchmarks, scoring 9380 in our multicore tests and 3930 for single core. That's almost double the performance of the iPad 9.7, and more importantly, smashes the 5342 multicore score of the Core m3 Surface Pro. It also manages to beat the Core i5 model (7544), meaning the iPad Pro is roughly on par with the top end Surface Pro.
That's not the whole story however, as the generous amount of RAM afforded by some Surface Pro models means that it is far more suited to multitasking, making it an attractive device for business users.
In terms of desktop benchmarks, the top end Surface Pro scored 60 overall, which is decent for a mobile processor and far ahead of similar 2-in-1s such as Dell's XPS 13 convertible.
The iPad Pro's monster A10X processor is scarily good, and is more than a match for the Surface Pro's Intel chips. Yet in everyday use cases, the Surface Pro is the better multi-tasker and far better suited to running demanding apps.
Verdict: Surface Pro
Battery
| | | |
| --- | --- | --- |
| | iPad Pro 10.5 | Surface Pro |
| Lifespan | 12 hours 59 mins | 11 hours 30mins |
| Charging | Lightning | Surface Connect |
The iPad Pro is also incredibly power efficient given that staggering performance output, managing just shy of 13 hours in our benchmark tests. The Surface Pro meanwhile managed a similarly impressive 11 hours 30 minutes, which is a substantial improvement over the Surface Pro 4.
In this respect there is very little between the two devices. The iPad managed to last longer overall, however both devices are more than capable of supporting a full day's work away from a power socket.
Verdict: iPad Pro
Features & OS
| | | |
| --- | --- | --- |
| | iPad Pro 10.5 | Surface Pro |
| OS | iOS 10 (10.3.2) | Windows 10 Pro |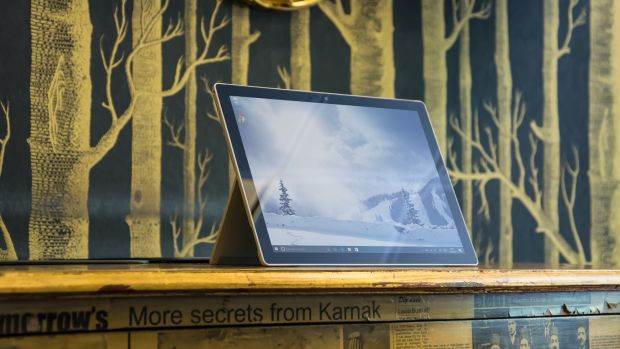 Setting aside its looks and hardware, the most fundamental difference between the two devices is the operating system. The Surface Pro comes equipped with Windows 10 Pro, a fully-fledged desktop OS, and while iOS 10 is a leading mobile operating system, it can't compete in the laptop environment.
This naturally has a massive impact on what tasks you'll be performing. You can expect to have the exact same experience with the Surface Pro as you would with a traditional Windows PC or laptop, while the iPad simply can't provide the same utility as macOS.
The iPad does have some redeeming qualities, such as the inclusion of a 'Split View', which helps with multitasking, and it has access to a healthy library of third-party apps. However because of the 10.5-inch screen size, there simply isn't enough space for the iPad to scale each app with a 50/50 split. Instead, apps will appear as a 75/25 split or vice versa, which is a little frustrating - the iPad 12.9 meanwhile is capable of that 50/50 split.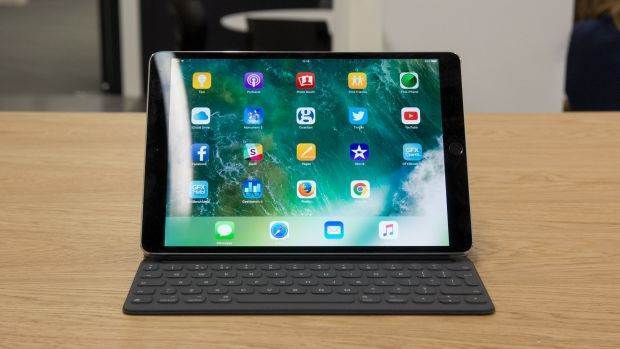 We are also awaiting the launch of iOS 11, which will be coming to the iPad 10.5. This will substantially improve the capabilities of the iPad as a business device, including an app switcher, drag and drop content sharing, improved document scanning, and all new Siri functions. You can read more about iOS 11 here, but suffice to say it's a step toward bringing the mobile OS more in line with its macOS counterpart.
However, until iOS 11 arrives, the Surface Pro wins hands down.
Verdict: Surface Pro
Price
Both devices have a range of price options available depending on the configuration you want. The iPad Pro starts at $979 for the wi-fi only 64GB model, rising to $1129 for 256GB and $1429 for 512GB. For the 4G+wi-fi model expect to pay $1179, $1329, and $1429 respectively. The only difference between the models is the storage on offer.
However, the Surface Pro offers a range of customisable specifications outside of storage that result in a much wider spread of prices. The cheapest model is available for $1199, offering an Intel Core m3 with 128GB SSD and 4GB RAM. There are also two i5 versions, one with an i5 processor, 128GB SSD and 4GB RAM for $1499, with the other offering a 256GB SSD and 8GB RAM for $1999. The top end i7 models range from $2499 to $3999, depending on the internals.
More choice is always a good thing, and it's nice to see Microsoft allowing customers to pick precisely what they need. For the iPad to offer only a choice of storage sizes and colours feels far too limiting, particularly as a device looking to pick up a discerning business audience.
Final verdict: Surface Pro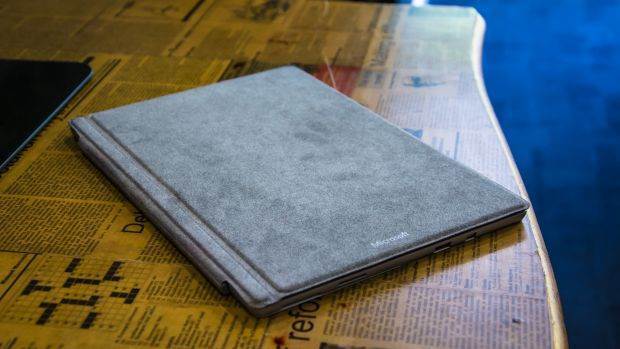 While both devices are great in their own right, only the Surface Pro is capable providing that all-round hybrid experience that customers want from a laptop replacement.
The iPad remains first and foremost an Apple tablet, a device capable of performing perfectly well without optional extras. It has an excellent screen, great build quality, and a healthy selection of apps. However, the inclusion of a keyboard provides only a quasi-laptop experience, which is handicapped by its mobile OS. It has the power, but little to back it up.
Compare that to the Surface Pro, with which a keyboard becomes a necessity to get the most from the device. That excellent type-cover offers the sort of typing experience you would expect from a top-end ultrabook, and at a desk you will soon forget you are using a tablet sat on its side. And with the potential for some serious hardware configurations, backed up by a full Windows 10 experience, it is by far the better option for replacing a laptop.