Raspberry Pi has a rival in the microcomputer stakes as the world's first US$9 microcomputer, C.H.I.P, has been unveiled.
This tiny PC from Next Thing Co is a credit card-sized (6cm long), single-board, computer similar to Raspberry Pi but smaller and cheaper.
Currently a project on Kickstarter, the super-small device connects to a display, mouse and keyboard for basic computing tasks.
Its spec won't have the Mac Pro running for the hills but it comes loaded with 1GHz processor, 512MB DDR 3 RAM and 4GB storage. Connections-wise you'll find on-board wi-fi, Bluetooth 4.0, USB, micro-USB and a 3.5mm audio output.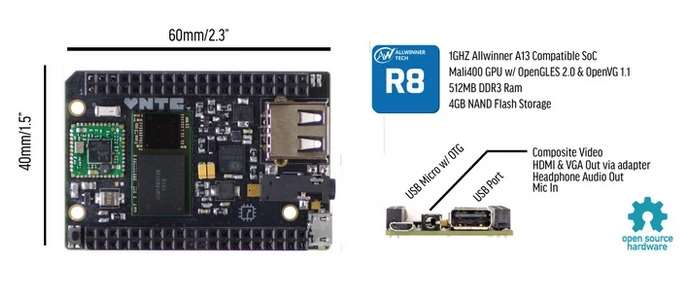 All this at a price that's literally as cheap as chips.
Users can browse the internet, watch video, play basic DOS games and work on spreadsheets or word docs with its built-in LibreOffice application.
Compared to Raspberry Pi, C.H.I.P. is more powerful than all the first-generation models, which ran at 700MHz with either 256MB or 512MB of RAM. However, Raspberry Pi 2 now runs a quad-core 900MHz ARM Cortex A7 processor, but is priced at AU$60.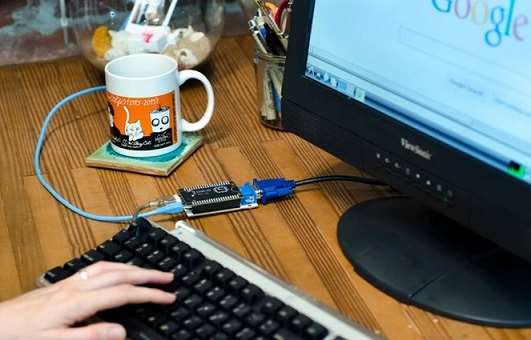 The latest Raspberry Pi B model and previous generation B+ model also pack four USB slots and come with a microSD slot for storage. C.H.I.P.only rocks one USB and notably lacks a microSD slot to expand on its 4GB of storage. Still, it's hard to knock at the price.
The most intriguing feature is the option to plug C.H.I.P.into a portable mobile phone-like accessory that comes with a 4.3in touchscreen and QWERTY keyboard. Pocket C.H.I.P. allows users to take the open source microcomputer on-the-go, which is rather smart.
A US$9 dollar pledge on Kickstarter will get you the C.H.I.P. board and if you want the Pocket C.H.I.P. too that'll set you back US$49. Shipping is expected around December.
This article originally appeared at pcpro.co.uk