Microsoft Australia will today challenge Australia's channel to learn and embrace inclusive product design, arguing that doing so will be good for both their own businesses and the nation.
Microsoft's effort is called the "AI for Accessibility Toolkit & Challenge". Anita Sood, the company's ISV and Next Generation Partnerships Lead, told CRN the name "Challenge" was chosen deliberately, to reflect the program's mission to educate and spark new thinking in the channel, rather than to promote competition.
Sood also pointed out that more than four million Australians have a disability and of those around 400,000 use dedicated tools to help them in their daily lives. Designing for that audience, she said, therefore represents a considerable opportunity in its own right, as products that address everyone's needs are more attractive to all Australians.
To illustrate those opportunities, Microsoft Australia will soon offer the company's own inclusive design toolkit and manual to Australian partners. The two documents help software designers to understand how to design for people of all abilities.
CRN sought and was granted early access to the toolkit, which offers advice such as that depicted in the image below to explain how designing inclusively to address users with disability can also create a product that addresses other adjacent markets.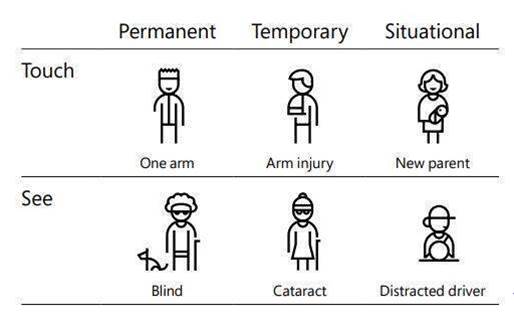 An excerpt from Microsoft's Inclusive Design Toolkit
Sood is also keen to point out that as the graphic above shows, a tool that addresses the needs of someone with a disability can also create a product with potential in other markets: software designed for a person with a permanent arm injury can also assist those with a temporary injury, or someone like a new parent whose arms are often occupied holding a young baby! Those potential adjacencies, she said, demonstrate how learning inclusive design can highlight new opportunities that can grow a channel business.
Microsoft will offer more resources to anyone interested in inclusive design, some of which are used in training for Microsoft's own developers. Those who enter the Challenge will also receive coaching as they develop their solutions. The three most-promising entries to the Challenge will be revealed in February 2019 and also at a global Microsoft forum.
Sood hopes Australia's ISV and wider channel communities both take up the Challenge, as she emphasised that ideas don't have to be technical to better serve any users, anywhere.
Details of the channel can be found here and the registration form is here.