All the big brands are kicking their netbook heels together and launching new models to market in the coming weeks. Acer has their new range out next month, while HP unveiled their professional model today.

But Asus, never shy when it comes to releasing new netbook models, are at it yet again with the Eee PC T91.
Touchscreen based netbooks: what will they think of next?
The swivel-hinged Asus Eee PC T91 features a touchscreen of all things - not exactly your typical netbook accessory, but a welcome addition to the growing Eee PC family. That also gives Asus the notoriety of being the first touchscreen based netbook to market.
The Atom (Z520 chip) powered T91 is lightweight too - just 0.96kg; impressively buoyant for an 8.9" sized unit. Better still, Asus have managed to bundle together a host of handy touchscreen applications with the T91,which have us just a little curious: a photo editing program called FotoFun, a notebook application called Memos and a few touch widgets for XP called Touch Gate.

Netbook extra's we're not used to seeing:
In addition to the touch screen, Asus are also offering integrated GPS, TV Tuner and 3G Plus (HSUPA) as optional extras. It's not very netbook standard and something that's likely to get more popular as other brands find a way to add value in their netbooks.
Asus Eee PC T91 main specs: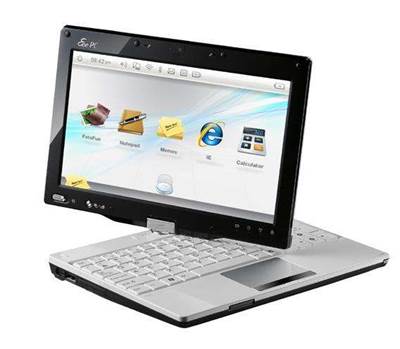 Aus Eee PC T91




XP Home
8.9" LED Resistive Touch Panel with stylus
Intel Atom Z520
0.3M pixel camera
1GB
0.96kg
Optional TV Tuner, GPS and 3G plus (HSUPA)
5 hr battery
Business style/professional netbooks
Have HP finally made the perfect professional netbook? The HP Mini 5101 is being pitched at on-the-go professionals - but at first glance the usual Atom specs don't jump out. The usual N280 Atom chip, 1 or 2GB memory and smallish hard disk (except for the attractive Solid State offering) plays as standard in the netbook market.

However, the unit does have one benefit over the faster and more equipped 12" and 13" ultraportable's: price and extended battery life.

HP Mini 5101 main specs:


HP Mini 5101
Optional 80 or 128GB Solid State Drive (SSD)
2-megapixel webcam
1.2kg
Intel Atom N280 1.66Ghz
10.1" screen
320GB/160GB HDD
Up to 2GB RAM
Up to 9 hour with optional 6-cell battery
Do people want a business based netbook?
In general, most of the problems cited by netbook naysayers have more to do with a notebook's punchier performance and extra power, than the size and cost.
Netbooks are at the mercy of under-powered, but predominately battery-friendly Atom chips that ship standard with the bulk of netbook units. If we're likely to see a faster netbook, it will be up to Intel to lead the way.
Netbooks aren't especially suited for design-based graphic crunching or heavy amounts of multitasking. The usual memory spec (1GB) isn't regarded to be good enough for modern processing demands, particularly if you add Windows Vista to that computing recipe.
Battery gift
Still, netbooks are perfect for Internet browsing, sending emails, playing music and working on the occasional PowerPoint presentation. In fact, netbooks can make excellent business tools - depending on how you use them.

Best of all, boost the RAM to 2GB and stick in a 6-cell battery in any netbook and watch the running time (and stability) increase from an average 2 hour light usage time to 6 or more hours.

HP is quoting up to 9 hours for their Mini 5101 - a massive increase on the average HP netbook (2140 and Mini 1000 are lucky to do 5/6 hours on a 6-cell battery, if that).

Better battery life might just prove to be the netbook silver bullet: there's no reason why clever professionals can't own two notebooks: a larger, more powerful notebook for the office and a cheaper, travel friendly netbook for the road. That might just be the best of both worlds for now.