Computex is a busy time for any company, but MSI seems to have leapt over itself in an attempt to bring out more new products than we could photograph in our short time at their stall!
Most interesting are the Draken gaming systems - which MSI will assemble - that are hoped to take the number three worldwide spot in the gaming system market.
They're custom-designed builds, but none is as impressive as the fully blinged-out gaming build you can see below: this is the stuff of modders, and we never would have expected it from MSI.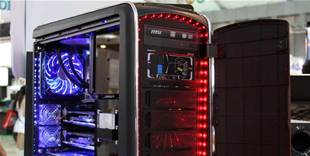 So many LEDs!
MSI are also partnering with Dyna Audio for a few of their laptop ranges for better audio, partnering with Futuremark for the latest version of their 3DMark benchmark (called 3DMark 11), and are showing off plenty of 3D tech.
On top of all that there are custom-cooled cards coming, plenty of motherboards with the Lucid Hydra chip on them and a very cool booth to check out - so jump into the gallery of pics to see for yourself, and check out some neat 3D renders of the booth from MSI below.

The left-hand side of the booth, showing an Eyefinity setup.

The right-hand side of the booth, though the Big Bang wall later became the 3DMark 11 wall.