Apps were the secret to the iPhone's success and could likewise make or break how well the Apple Watch does after the initial excitement over its launch this Friday dies down.
Right now, there are more questions than answers on exactly how many Apple Watch apps will be available at launch. We also don't know if any app developers are working on monetising apps with wrist-based mobile ads - let's hope not.
According to the latest estimates, preorders for the Apple Watch have surpassed 2.3 million, reported KGI Securities. Among the first wave of third-party apps, there likely will be plenty that add little value to their iPhone companion apps.
But we managed to find 10 business-friendly apps, beyond Apple's own Apple Watch apps, that could help employees be more productive.
Evernote brings dictation to the wrist
Evernote is bringing its note-taking and archiving platform to the Apple Watch. With the app, users will be able to dictate a note, view recent notes, set reminders and check items off a to-do list.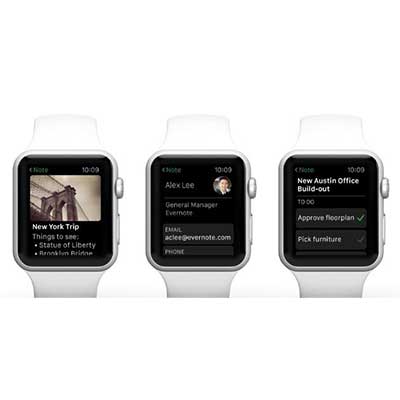 Evernote said when developing the app it strove to only surface timely and contextually driven content on the Apple Watch. "We tapped our augmented intelligence (AI) team to create an algorithm that surfaces only the top five notes that are most useful to you in that exact moment, based on your location, meetings in your calendar, and how often you access certain notes," wrote Evernote in a blog.
Next: PowerPoint and more