The New South Wales Government has revealed a blueprint for how it plans to restructure its ICT and other shared service operations over the next two years.
The 181-page blueprint, produced by the NSW Department of Premier and Cabinet, expands on existing efforts to reform service delivery within the government, such as the consolidation of departments into 13 'super agencies', which took effect in July last year.
The NSW Government plans a future model involving five in-house shared service provider organisations for each of its largest agencies - Transport, Police and Emergency Services, Human Services, Education and Training, and NSW Health - plus one multi-tenant shared service provider (Service First) to serve the remainder.
Service First already provides shared services to more than 80 smaller NSW agencies, but under the blueprint would also pick up work from the NSW Treasury and the Department of Premier and Cabinet.
But all of these shared services organisations, the blueprint said, will be "supported by a single ICT wholesale operator".
No mention is made of an upcoming tender for a single ICT wholesale operator, but the schedule released within the blueprint appears to overlap with the end of the current IT panel arrangements.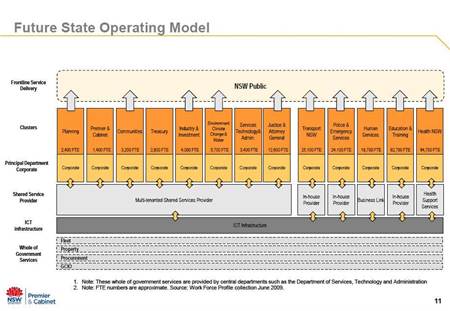 The NSW Department of Premier and Cabinet was unable to comment before deadline. Consultant and blueprint co-author Steve Metzmacher, director of Third Horizon Group, refused to comment.
A spokesman for fellow co-author The Hackett group said the company helped the NSW Government "identify opportunities for improvements" in service delivery, but doubted it would result in a single, whole-of-government ICT services contract.
"There is no single outsourced provider that could provide everything the NSW Government needs," he said. "I don't think this is a massive win for anybody."