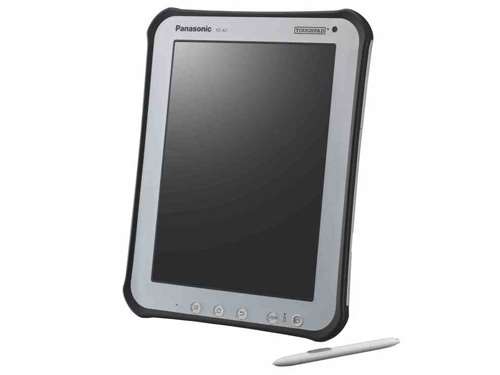 Remember the Toughbook, Panasonic's rugged laptop that claimed to enjoy assault courses as much as spreadsheets? Well, it's back, minus the keyboard, but with a brand new name. The Toughpad FZ-A1 isn't Panasonic's first attempt at a tablet (that honour belongs to the Toughbook H2), but it's the first you might consider pulling out in a particularly rowdy Starbucks.
The 10in Toughpad A1 will arrive rocking Android 2.3 (Honeycomb) in the first half of 2012, with a smaller 7in edition set to join forces later in the year. Elsewhere, the rock solid spec sheet boasts a 1.2GHz dual-core processor, 16GB SSD, 1GB RAM and 10-hour battery life, plus front (5MP) and rear (2MP) cams. Oh, and it weighs nearly a kilo (970g).
Early pricing suggests it'll arrive for around £875 ($A1165), or £1030 for the 3G model. Shocked? It's designed for heavy-duty business use, not for checking Facebook while you wait for your latte to cool down. If you think you're hard (and rich) enough, the Panasonic Toughpad will be (probably literally) hitting a shelf near you in spring 2012.
Find out how Panasonic Toughbooks are made in our in-depth factory tour.
You might also like
iOS's hidden panoramic feature
5 of the best Call of Duty moments
Bonkers Star Wars MP4 player