Mbits managing director Eugene Nolan joined 684 other CEO's, senior technology executives and Government officials in a sleep out under the stars last night to raise money for homeless Australians.
Nolan, who took part in Canberra's first ever CEO Sleepout in the National Museum's out door area, said as a first timer the experience was "humbling".
The CEO Sleepout, run by the St Vincent De Paul Society since 2006, raised some $2.6 million for the charity with a coordinated event in most Australian capital cities overnight.
"We all live really privileged lives, we work hard, but our level of comfort in life is quite high," said Nolan. "It's not that much effort sleeping a night outside so it was a worthwhile cause to appreciate it.
"If we don't work together to help [the homeless] nothing's going to happen, nothing will change.," he said.
There were around 100 people at the Canberra Sleepout, representing the city's estimated 100 homeless.
Nolan said the temperature dipped to 5 degrees but he managed to get four hours sleep. If it wasn't for the "symphony of snoring" he might have gotten more.
Other participants roughing it with a piece of cardboard for a bed and a cup of soup for dinner were AAPT chief executive Paul Broad (pictured below) and Ian Gardiner, CEO of online video company Viocorp.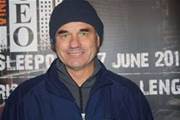 Paul Broad, AAPT
"It was a truly inspirational and humbling experience," Broad said today. "It reminds us that we can't afford to lose sight of the fundamental human right of every person to have a roof over their head. For those of us privileged enough to have a warm, safe place to sleep each night, it certainly brings about a renewed respect for the homeless and what they endure."
Broad initially bunked down near the water's edge at Sydney's Luna Park, but within a few hours realised the view wasn't worth the wind-chill factor and retreated up to a quiet corner with a couple of cardboard boxes.
Ian Gardiner's bed
No such problems for Gardiner, who chose a more protected position [pictured].
"It ended up being warmer and dryer than expected, so the discomfort levels were not really that high," Gardiner said.

"It was great to be able to do something to raise awareness of the issue and to raise much needed money for the cause. Homelessness is a pretty unsexy, unglamorous charity which often gets ignored at the expense of the better known charities and causes."
Executives from AVG, CA, Compu-Stor, Flexera, Integ, McAfee, Symantec, Syspro, Telstra, Thomas Dureya and Via IP also participated, as did Senator Kate Lundy.
Vinnies reports that some 105,000 Australians are homeless. The charity continues to take donations.