Having already furnished iPad and Android users with touch-friendly versions of its Office apps, Microsoft has finally thrown a bone to Windows tablet users.
Well, sort of. Although polished versions of the Office apps are now in the App Store and Google Play, the touch versions of Word, PowerPoint and Excel are only available on the Windows 10 Technical Preview and are still in beta.
Still, they're good enough to give us a feel for what Windows 10 users will have access to when the operating system finally launches this autumn, and how they compare to the Office apps on the rival platforms. Has Microsoft saved some special treats for the loyalists? We've examined each app in turn to find out.
Word Preview
On first inspection, there's little difference between the Word apps for iOS and Android and the version for Windows 10. They have the same tabs in the Ribbon menu and a largely similar set of features lurking beneath them. The only notable difference is that both Windows and Android have a File tab that opens the Open/Save/Share screen that will be familiar to Word 2013 users, while the iPad app tucks that behind a small arrow in the top left-hand corner of the screen.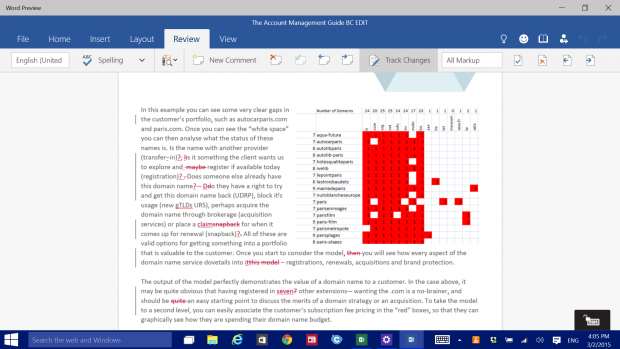 That consistency of design isn't a bad thing. Many Windows users will have iPads and Android devices, and the last thing you need is to be relearning an interface every time you pick up a new device. Nobody familiar with Office 2013 or any of the other Office apps will struggle to adapt, which is a particular bonus for businesses thinking of deploying these apps to staff.
The Word app contains only a subset of the features you'll find in the full desktop version of Word 2013, but there aren't any show-stopping omissions. There's a decent selection of templates to choose from when creating a document from scratch, and as with the other Office apps, we encountered no problems when opening and editing large, heavily formatted documents – something that can't be said for online services such as Google Docs.
There are one or two advantages of running the Word app on Windows, as opposed to the other platforms. The choice of fonts is much greater, and there are no device-specific fonts like there are on the iPad, which can cause compatibility problems later. Assuming you have OneDrive or Dropbox synchronised to your Windows device, access to documents when offline is also much easier, since you get full access to the file system. On Word for the iPad, you have to open the documents in the app before you go offline.
On the downside, there are currently fewer options for handling tracked changes than there are in the iOS version of Word, and the design of the button doesn't make it very clear if tracking is switched on or off. We'd also urge Microsoft to do some work on the default software keyboard in Windows 10, as it swallows half the screen when you're typing in landscape mode, making it difficult to navigate around documents.
Nevertheless, we'd be perfectly happy to write, tweak or edit documents using the Word app.
Next: Excel and Powerpoint apps