Ever since the first Surface Pro was released, critics have been nagging Microsoft to make a "proper" laptop. It brought out the Surface Book, which wasn't enough of a "proper" laptop to keep the critics happy. Now, five years into the Surface program, we finally have one, and it's called the Surface Laptop. And guess what? The critics still aren't going to be happy.
That's not to say the Surface Laptop isn't a lovely piece of hardware. It is, and you'll pay a pretty penny for it (something I'll come back to later). But it's a laptop with a difference: it's designed for and comes with Windows 10 S rather than Windows 10 Home or Professional. The S – no one knows what it stands for – means this is a laptop that can only run applications from the Windows Store. Want to install Steam for some gaming action? Tough. Want to buy one of the millions of Win32 applications which don't come in the Store? Forget it.
There is, of course, a way around this. Microsoft is, for the rest of the year, giving anyone who buys a Surface Laptop the option to upgrade to Windows 10 Pro for free. Which begs the question: what, exactly, is the point?
Design
Before I get too deep into the conundrum of Windows 10 S, let's take a look at the hardware, because here there is, at least, plenty to love. The base model comes with a Kaby Lake Core i5 processor, 4GB of RAM and a 128GB SSD with a 13.5in "PixelSense" display running at 2256x1504 pixels.
Like the Surface Book, the screen has a 3:2 aspect ratio, which I prefer over widescreen displays for the simple reason that I spend my life on the Web and the Web is deep rather than wide. The screen is ten-point multitouch and supports the Surface Pen, but interestingly it doesn't support the tilt feature of the latest version of the Pen. Given that you can't detach the screen this isn't a big deal, but it's an interesting ommission, nonetheless.
It's a genuinely good looking design, too. Where the Surface Book is chunky, the Surface Laptop is svelte. It weighs a mere 1.25kg and has a matte aluminium finish that looks great. Keys and trackpad are surrounded by Alcantara fabric which adds a bit of softness to the design. It's the kind of thing which I'd worry about getting spills on, although it is apparently coated to be spill-resistant. I'd also worry about my sweaty wrists staining it over a long period, but without using it for a couple of months constantly, I can't say if that's going to happen or not.
It's exactly the kind of design you would expect the creators of the Surface Pro and Surface Book to come up with if they were making a laptop, for better and worse. The "worse" bit is in the ports: there's no USB Type-C on the Surface Laptop. Instead, you get regular USB, mini-DisplayPort and a 3.5mm headphone jack, plus the Surface connector for power and attaching Microsoft's docking station.
Performance and battery life
And now let me mention again: this is a machine that runs Windows 10 S rather than Windows 10 Pro, which unfortunately means our regular benchmarks simply wouldn't run on it.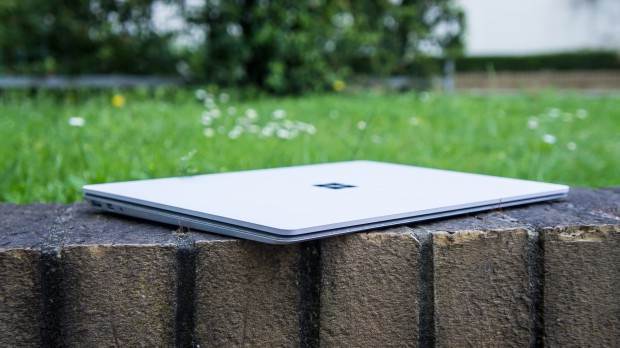 As for the question of speed, going by feel, the answer to that is "fast enough" and that's exactly what you should expect from a machine running Intel's latest Kaby Lake processors. We were sent the Intel Core i5-7200U model with 8GB of RAM and 256GB of storage and, while this isn't the kind of laptop you're going to render a Hollywood epic on, what you are getting is perfectly good performance. Nothing more, nothing less.
However, one thing our tests can measure is battery life and boy are you going to like it. Our continuous play video test scored the Surface Laptop at 10hrs 42 minutes, which is an outstanding figure for a Windows laptop. For less stressful use, it's in the "all day and then some" category.
Software
As for Windows 10 S, a topic which has divided the office. You can see why Microsoft has done this: Windows 10 S effectively brings a big measure of the kind of security and stability we've come to expect from the world of managed applications you get with iOS or (to a lesser degree) Android. Windows Store apps are sandboxed and much less likely to have any malware payload in them. Using this path, Microsoft also claims your system shouldn't suffer from the kind of lingering death of performance you get as your registry and other bits of Windows get clogged up with digital silt.
I'm a big fan of this approach overall, having seen the results of rampant Win32 applications far too often. But it also means you're entirely reliant on the Windows Store and that's a big issue. The Windows Store isn't the greatest repository of quality applications in the world. If you're used to the expansive range of choice you get with Android or iOS (or even macOS) the selection is pretty lame. There's an awful lot of crap apps. Safe crap apps, but crap nonetheless.
My colleagues suggest that you immediately take advantage of that Windows 10 Pro upgrade offer, but I'd say it's worth sticking it out and trying Windows 10 S because if you can live with it, it offers a lot of advantages. Unless you want to install Photoshop or Chrome, or Steam, or most games etc.
Pricing
The first reaction of almost everyone when the Surface Laptop was announced was that it was a tilt at Apple's long-standing dominance in the world of education, particularly the MacBook Air. At the lowest end, that's true: the Intel Core i5-based, 128GB version of the Surface Laptop will cost you $1499, and you're getting a far better machine for your money simply thanks to the resolution of the display.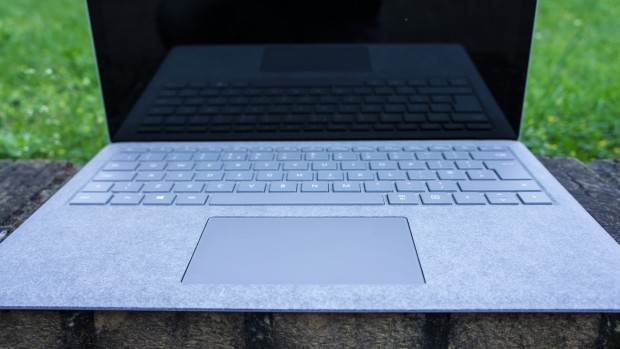 However, the next model up, which doubles both memory and storage, costs $1999. The highest end configuration of Surface Laptop costs $3299.
Conclusions
The laptop market is very crowded, and it takes something really interesting to stand out. Every manufacturer, including Dell and HP, is making a really good, well-designed 13in laptop in this price range which will take you through three or four years of college, the market Microsoft is purportedly aiming the Surface Laptop at.
What Microsoft has done is kill off the MacBook Air as the de facto standard college machine. Other than a pure unabashed love of macOS, I can't think of a reason to get an Air over the lowest specced Surface Laptop. The Air era is officially over.
Overall, the Surface Laptop is an interesting entry into a crowded market. I think the design gives it the edge over its Windows-based competition, although some of that will always be personal preference. It beats the MacBook Air but faces much tougher competition from the low- and mid-range MacBook Pro. It's not a flagship, ground-breaking design in the way the Surface Pro 3 was, but it's a good piece of hardware and will make a lot of people very happy.