The iPad has been reborn as a 12.9-inch tablet that's light, super-powerful and a surprisingly capable business device.
When it first launched in 2015, the iPad Pro was a big departure for Apple's tablet but also the first device from Apple for some time which felt like it had been designed from the ground up with business in mind. Yes, plenty of companies use Macs, iPhones and the older iPads, but the iPad Pro felt more like an executive device than a consumer one.
It's also been overshadowed a little since its launch by it's smaller 9.7-inch Pro sibling, though if you do want it, grab the 128GB. The new Apple iPad Pro 9.7-inch loses a little RAM, but gains a screen that's even better than the bigger one. But does that mean the 12.9-inch iPad Pro is no longer really worth buying? No, it's still an excellent tablet capable of doing things which nothing else can. Here's why.
If you've used an iPad before, there are plenty of elements of familiarity here. One glance tells you this is still very much an Apple iPad, thanks to its glass front and aluminium rear, chamfered-edge front and all-over immaculate build quality.
It has a virtually identical design to the iPad Air 2 and iPad mini 4. The front is all display, surrounded by narrow bezels on the longer sides and wider ones at top and bottom. A camera lens peeps out from the centre at the top and the home button with Touch ID capabilities nestles at the bottom.
Every other detail, almost, is the same as on the smaller-screened Apple tablets. It has a power button on the top edge, volume up and down buttons on the right edge, and a huge Apple logo on the middle of the back. On the wi-fi and cellular model it has a plastic stripe on the back and SIM card slot on the right edge. However, one difference is the single loudspeaker on bottom edge.
The iPad Pro was the first iPad to have four speakers, two on the top and two on the bottom edge. As you'd imagine, this design change seriously upgrades the tablet's audio capabilities.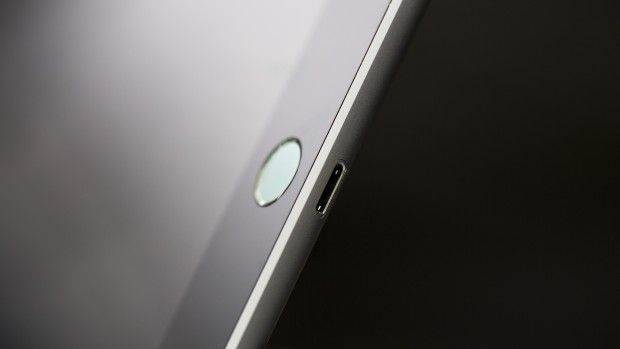 There's one other difference: on the left edge, three small circles sit innocuously in the middle. These form the Smart Connector, which attaches Apple's Smart Keyboard or third-party accessories such as the Logitech Create keyboard case.
For all the similarities to previous iPads, the Pro has one major difference: its size. The 12.9-inch display may not sound much bigger than the previous iPad's 9.7-inch screen, but it looks huge in comparison.
It's much heavier than the iPad Air 2 or iPad Pro 9.7-inch, but still lighter than the first iPad, weighing 713g for the Wi-Fi-only edition, and 723g for the wi-fi and 4G model. That's heavier than many rival tablets, but the way that Apple has balanced the weight of the device means it still feels light relative to its size.
Display and audio
The iPad Pro's display is the real star here, however. It's huge in comparison to the iPad Air 2's screen at a 12.9-inch, and the resolution is a bumper 2732 x 2048. Eagle-eyed readers will spy that this delivers exactly the same pixel density as the iPad Air 2, so given that you're likely to hold or use the iPad Pro at distances further from your eye than the smaller iPad Pro 9.7, the pixel density should typically result in a higher perceived resolution at your eye.
In other words, the iPad Pro's screen is as sharp as most people need. You won't be able to spy the pixels unless you get really close in.
As with other iPads in the range, the iPad Pro uses an IPS display, so colours look more natural and well-balanced than with most AMOLED displays. It benefits from the same anti-reflective treatment and lamination process as the iPad Air 2, which means even if the sunlight is streaming through your train window and onto the screen, you'll be able to see what you're doing.
When tested with an X-Rite i1Display Pro colorimeter, the iPad Pro's display is just as impressive. Contrast is as high as we've seen on an IPS panel at 1552:1, ensuring a punchy, lively image; maximum brightness is a decent 393cd/m2; and colour accuracy is beyond reproach. The screen covers 98.2 percent of the sRGB colour space, ensuring everything just looks great, and its average Delta E dips below 1 (the exact score is 0.87), which is the sort of performance I'd expect from a professional monitor.
Delta E is a measure of colour accuracy, or more specifically, colour difference. A higher Delta E indicates a bigger difference from the ideal colour value and, therefore, lower colour accuracy. Any average Delta E figure below one is what you're aiming for if you're doing any kind of colour critical work, such as professional photo editing or design work. This is exactly the sort of work the iPad Pro is aimed at.
It really is amazing, and yet what really stands out is the size of that screen. It's as wide as the iPad Air 2 is tall, so there's much more real estate on offer. When you're working on a video-editing app, this gives you a good-sized video window along with the editing timeline below.
And if you choose the multitasking Split Screen view, where you can have two simultaneously active windows side by side, both windows are substantial and usable in their own right. In fact, both in terms of resolution and size, the iPad Pro's display is the equivalent of having a pair of iPad Air 2 (or iPad Pro 9.7) screens stitched together, side-by-side.
That's a great boon for productivity, but bear in mind support for the iPad's Split View mode has to be specifically enabled by app developers, and the result is that a number of productivity apps don't work with it.
The biggest culprit, until recently, was Google, whose Drive apps would only run in full-screen mode - a real pain for those users who work a lot with the popular online productivity suite. Indeed, at first, Google's Drive apps didn't even run at the iPad Pro's native resolution. Now, however, Google's apps finally work with Split View, and in iOS 10 Apple has improved its Mail, Notes and Safari apps to better take advantage of the iPad's bigger screen.
The good news is that the iPad Pro now has most of the major office suites covered, with Google, Microsoft and, of course, Apple's iWork apps, all supporting Split Screen view. However, if there's another app that you just can't do without and use frequently, it's well worth investigating if it supports Apple's peculiar form of multitasking before you splash your cash on the larger iPad Pro.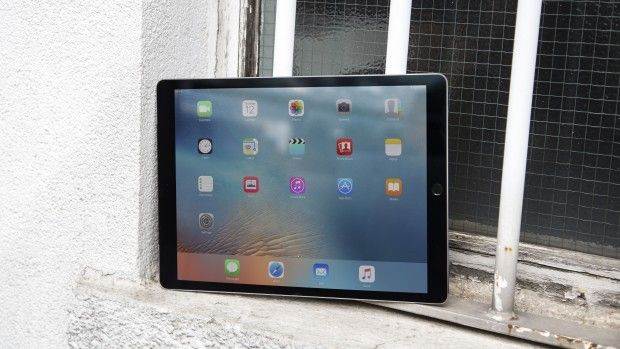 If you're using the iPad Pro to consume rather than produce content, it's a joy. Video playback is butter-smooth and really shines on this display. Then there are those speakers. Even with four, I'd expect sound quality to be tinny and lacking in substance. Incredibly, that's very, very far from the case.
Somehow, Apple has managed to tune the speakers so that there's a modicum of body and bass. You'll not want to spend long listening to your favourite tunes, but for the odd TV programme or movie, it's more than okay.
In fact, the iPad Pro's audio is better than most laptops I've listened to, let alone skinny tablets, the four speakers adding a beefy sound and impressively high volumes. The stereo effect is clearly discernible, too.
Just for the hell of it, I measured the frequency response of the iPad Pro's speakers using a measurement microphone and compared directly with the HP Elite X2, which has Bang & Olufsen-branded speakers that aren't nearly as good.
In the comparison graph above, you can see that the region between around 70Hz and just over 400Hz sees a significant advantage for the iPad Pro (in green) over the HP, and that with higher frequencies the rise in volume kicks in later as well. This doesn't look all that dramatic, but it results in a much fuller, less tinny sound.
Intriguingly, when you turn the tablet from landscape to portrait, the iPad detects this, switching the orientation of the speakers so the left channel continues to come from the two speakers on your left. The sound on this tablet is seriously impressive.
Smart Keyboard and alternatives
The Smart Keyboard is one of the two essential peripherals for the iPad Pro. Just as the Type Cover improves Microsoft Surface tablets massively, so the dedicated keyboard turns the iPad Pro into a successful laptop substitute. Tim Cook recently said that although he still loves his Mac, when he travels he just takes the iPad Pro as his computer.
In some ways this keyboard is better than Microsoft's Surface keyboard, because the keys (which at first glance look like they may not be up to much) are superb to use: firm but responsive and highly comfortable, even when used for long periods.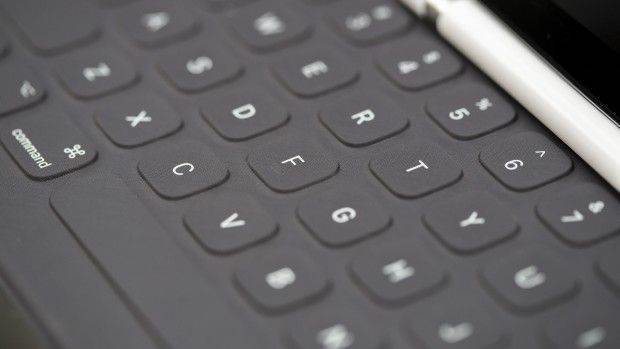 The base is solid enough for you to have it on your lap, too, but the big problem with it is that it can only prop up the iPad Pro at one angle. You may find this fits with your way of working, but there will almost certainly be a situation in which the tablet doesn't quite work perfectly.
Other layouts will follow shortly and Logitech's cover is already available. It's a little cheaper than the Apple model, has backlit keys, and acts as a case to protect the rear of the iPad as well as the front. The key action is decent, too - the keys are much more laptop-like - and we found it very easy to type on.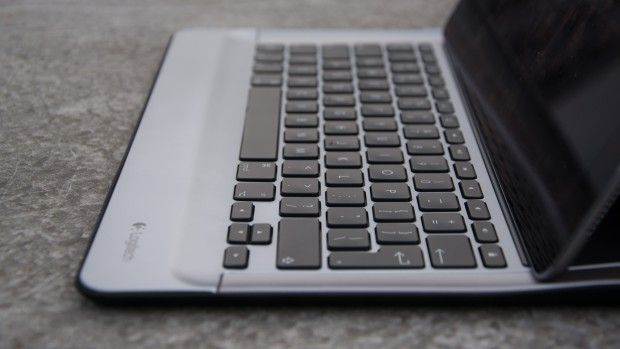 This has its disadvantages, however: it holds the iPad up at a steeper angle that's less practical for use on your lap than the Apple keyboard, and it adds a lot more bulk and weight to the iPad Pro as well. It weighs a hefty 750g, more than doubling the weight of the iPad Pro.
Still, the thick, nylon weave material it's made from does provide a lot of protection, and the smooth aluminium surrounding the keyboard gives it a more classy feel than the Apple's cloth-topped keys.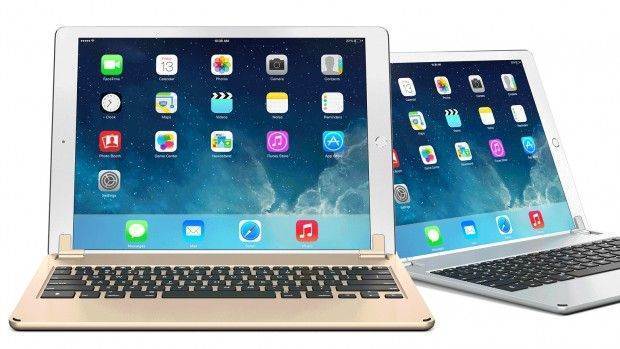 Not available in Australia yet, but on pre-order in the US for US$189, is the BrydgePro, a slimline Bluetooth keyboard that features an adjustable hinge for the most laptop-like experience yet. We haven't had the opportunity to test this one yet, but it looks promising, and according to the specifications on the Brydge website, has backlit keys, adds only 735g to the iPad Pro's weight, and has a battery that lasts up to three months.
Finally, we're also looking forward to testing the ZAGG Slim Book for iPad Pro. Another hinged keyboard, this one adds a protective cover to the back of the iPad Pro, effectively turning it into a useable laptop-style 2-in-1 device, with a magnetic attachment mechanism, no less. Its keys are backlit, allowing you to use the keyboard in the dark; it has 135 degrees of adjustment so it's more flexible than the standard Smart Keyboard.
Apple Pencil
The Apple Pencil is Apple's answer to the stylus. It's slim, perfectly weighted, and a quintessential Apple beauty: sleek, elegant and highly effective.
If you've ever used a stylus with an iPad, forget everything you know: the Pencil is nothing like that experience. Whereas using a stylus with an iPad is a bit laggy, and a bit imprecise, the Pencil is fast, responsive and clean. Latency is, according to Apple, under 20ms - which in the real world means that you don't notice it at all.
Unlike most capacitive styluses, it has a slender nib, which is firm rather than squashy to the touch. That's because the tip of the Pencil, like some styluses from Wacom and N-trig, includes sensors that recognise pressure, altitude and angle. Apple hasn't revealed how many levels of pressure the Pencil can spot, but it has a satisfyingly realistic feel to it.
More than any other stylus we've used, it feels most using a real pencil on paper, with just the right amount of slide and friction. Tilt the Pencil on its side and you can even add shading as you draw, and better still, if you make a mistake it's comparatively simple to correct the error, or add more detail by zooming right in.
Two things about the Pencil show off Apple's attention to detail perfectly. The cap, which covers the Lightning plug used to charge it, has a small metal ring and snaps to the top in a really satisfying way, and when you place it on a flat surface desk Apple has designed the weighting and shape of it so that it always rolls to a halt with the logo and branding facing up.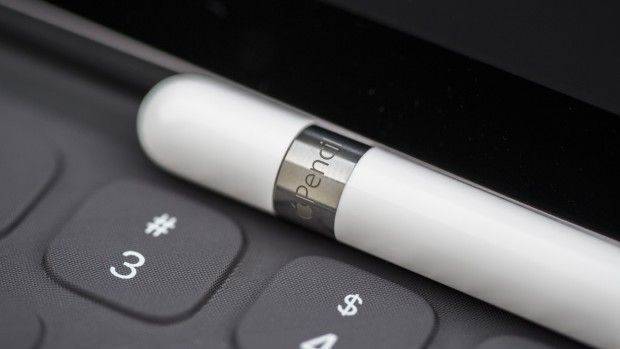 It seems Apple has thought through the practicalities as well. The top slides off to reveal an extended Lightning connector. This is used to pair the two and charge the Pencil - and it doesn't need long to deliver a useful amount of charge; in fact Apple says that 15 seconds connected will give 30 minutes of use.
We can't vouch for the absolute accuracy of that statement, but it certainly seemed to have plenty of pep after the briefest of charges. And when it does eventually run flat, it's reassuring to be able to revitalise it in less time than it takes to make a cup of tea.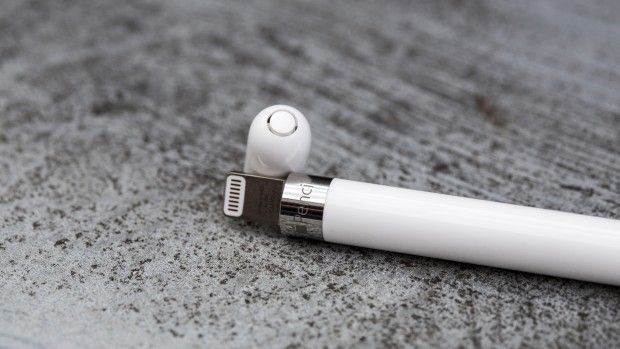 One negative point here is that there's no sleeve or place in the iPad Pro or the Smart Keyboard to keep the Pencil, so mind you don't lose it. At $145 it's also far from cheap, but if you want to make the most of the iPad Pro, which is already a fairly hefty financial commitment, you'd be mad not to seriously consider buying one.
One thing to bear in mind, however, is that not all art and photography apps support the Pencil yet, and many don't make the most of the bigger screen either. The excellent ArtRage painting and drawing app, for example, doesn't have support built in for the Pencil, despite the fact that the iPad Pro has been out for a some time now.
Still, over time, wider support is inevitable. Microsoft has recently updated its Office apps for iPad to support pressure-sensitive annotation and highlighting with the Pencil, while a small number of other apps now have full support. These include the popular Paper and Procreate apps, Adobe Photoshop Sketch and Illustrator Draw, Sketchbook Pro and Forge.
And don't forget, there's always Apple's own Notes app, which is a joy to sketch on. We particularly like the virtual ruler, which offers spectacular precision for creating everything from straight-line drawings to quick-fire tables. It's an excellent tool for jotting down Scrabble scores.
Performance and battery life
Apple has included its most powerful processor to date in the iPad Pro. The A9 chip found in the latest iPhones has been beefed up with an X, and iPad Pro also has extra RAM.
Whatever the stats, this is a tablet that feels consistently nippy and responsive. Even when editing video, even at 4K resolution, the iPad Pro didn't slow down. Tasks from video playback to side-by-side email and web surfing were swift and easy to accomplish.
Apple has said it's faster than many portable PCs, including some of the MacBook range, and the benchmarks seem to bear this out. A Geekbench 3.1 single-core result of 3192 and multi-core result of 5413 are significant improvements over the iPad Air 2.
We also ran the GFXBench Manhattan tests, which delivered results of 33fps for the onscreen test and 79fps for the offscreen test, run at 1080p. Again, these are seriously impressive results: faster than any Android or iOS tablet we've ever tested, and faster even than a mid-2014 MacBook Pro 13 equipped with Intel's integrated Iris Graphics 6100.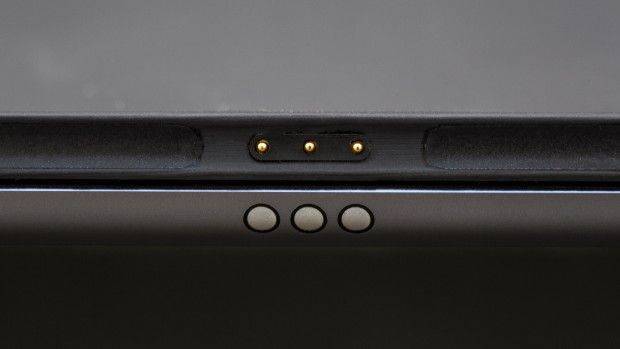 One of Apple's guiding principles has always been to avoid statistics, however, and focus on delivering a flawless user experience. And this is most certainly the case here.
The other critical component of performance for any tablet is battery life, and that's an area in which Apple's iPads have always been consistently good. At least, they usually hit Apple's claims. That's pretty much the case here. In our video-rundown test, in flight mode with the screen set to a brightness of 170cd/m2, the iPad Pro's 38Wh power pack lasted 9hrs 8mins. This may not look great when you look at the comparison graph below, bear in mind that all the devices below have screens at least 1.4in smaller than the iPad's. And 9hrs 8mins is no disaster by any stretch of the imagination.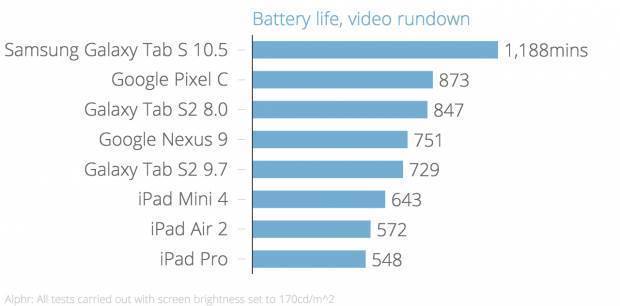 It's also worth noting that, if you run this comparison with Windows-based 2-in-1 tablets such as the Surface Pro 4, the picture becomes more positive for the iPad Pro. In fact, the iPad Pro lasted longer in this test than the Surface Pro 4, the Surface 3, the Samsung Galaxy TabPro S, the Huawei MateBook and the HP Spectre X2 and Elite X2.
So, for a laptop-type product, that battery-life figure is actually pretty good. It will last you a full working day, and as always with Apple tablets, the iPad Pro won't lose charge when you put it in standby. This means that the next time you go to pick it up and use it, it will almost certainly have a decent amount of battery life remaining -- unless you've left it for weeks, of course.
Indeed, the only tablet for work I've seen recently that outstrips the iPad Pro for battery life is the Google Pixel C, which is in second place in the graph above.
Verdict
The Apple iPad Pro is a stunning machine. It looks fantastic and, once you get over just how big it is, the size becomes a benefit, with its immersive screen and a giant playground of real estate for apps to exploit.
Add the Smart Keyboard or a rival setup and you have a creditable laptop alternative, with decent battery life and Apple's unparalleled choice of big-screen, touch-enabled apps. The Pencil adds a whole new dimension of usability and is a wholly enjoyable peripheral to use.
It is expensive: add it all up and you're spending more than $1849 for the highest spec tablet. But despite this, the iPad Pro is not bad value at all. For your money you're getting a fast, capable laptop running on iOS, and an eye-poppingly good tablet with ear-tingling audio to boot.
The iPad Pro marks another major inflection point: it ends the whole "iPads are only for consumption" debate. The only people who can't use the iPad Pro as a creation tool are those who need really high-end performance: professional graphic designers, professional video editors, the kind of people for whom 16GB of RAM is table stakes and who think nothing of going a lot, lot higher.
Most people don't fall into that category, though, and for those folks the iPad Pro is more than enough for a creation tool. For some - anyone who sketches or loves using a stylus - it's actually a better creation tool than the average PC or laptop.
Certainly, it's worth checking out the size and weight to see if they suit you. If not, it's definitely worth checking out the smaller 9.7-inch iPad Pro. This is very nearly as powerful as the full-scale iPad Pro and also supports the connection of a keyboard and Apple Pencil. That's a product that is undoubtedly better suited to carrying around in your rucksack. If the size of this 12.9-inch monster appeals, however, it's a tablet that's very hard not to like.
What to expect from iOS 10
The iPad Pro was released originally by Apple as a rival to the Surface Pro 4 for productivity and creative tasks, and to accommodate this mode of working, iOS was modified to bring in multitasking. Thus, Split view was born, allowing at long last iPad users to use two apps side by side.
Unfortunately, Split view was, and remains, far from perfect. As with most OS-wide upgrades in the iOS universe, Split View relies on developers baking in support for it in the apps themselves, otherwise they won't appear in the list of apps available when you flick your finger in from the right-hand edge of the screen.
The result is that there are still plenty of apps that don't support the feature. Up until recently, even Google wasn't supporting it with its native iOS word processing and spreadsheet apps, which was infuriating for those who rely on the popular online office suite day-to-day.
Still, that loophole has now been closed, and in iOS 10 Apple has made some effort to improve matters for iPad Pro owners, by improving some a handful of core apps to better make use of the iPad Pro's 12.9-inch screen. It's now possible, for example, to display two Safari tabs side by side, a feature that works beautifully and is simple to use. To display a tab alongside another, simply drag it over to the left or right edge of the screen, or long-press any link and choose Open on Other Side.
In the Mail app iOS 10 adds a triple-pane view so you can flip between mailboxes more easily - simply tap the square icon in the top left corner of the window. This feature also works in the Notes app in exactly the same way, allowing you to switch quickly between your Gmail and iCloud notes, for instance.
And there are plenty of other changes in iOS 10, which you can read about in our full review here. However, these are the only iPad-specific changes in the update, and even then they're limited to the larger 12.9-inch iPad. Frankly, I'm disappointed; Apple ought to be doing more for its iPad Pro customers.
As ever, it's worth holding off for a day or two after the update drops to see if there are any compatibility issues with app you can't do without, but other than this, there appear to be no major deal-breaking bugs.