The high end compact camera market has been getting extremely interesting, with several notable products available such as Panasonic's Lumix DMC-GF1 and the likes of Canon's G11 and PowerShot S90.

NEX-3 and NEX-5 specficiations
Joining the mix are two new cameras launched today by Sony - the NEX-3 and NEX-5. Each camera features a 14.2 megapixel Exmor APS HD CMOS image sensor and is capable of shooting high quality Full HD 1080i video (for the NEX 5) and 720p (for the NEX 3) in either AVCHD or MP4 format. The NEX series of cameras feature a BIONZ image processor and an E-series lens mount.
ISO up to 12800 can be achieved, as well as manual features and built-in shooting tips that can inform a photographer how light will affect different F-stops.

Ultra light lens system
Sony claims the lenses are among the worlds smallest and lightest.
Another useful feature is the movable 3in 16:9 LCD widescreen, which can be tilted 80 degrees up and 45 degrees down - for those times when you need to shoot above the crowd or for low artistic shots. And for sports enthusiasts, the cameras are capable of 7fps - and will shoot in either SDHC or Memory Stick memory formats.


Sony NEX-5: 1080i video, and costing RRP $1049 with the single lens kit
Shoot panoramas in 3D
In addition to the NEX-3 and NEX-5, there are two cameras - the NEX-3D and NEX-5D - designed to capture 3D panoramas, that can be viewed on Sony's soon-to-be released 3D Bravia televisions.
Our initial impression was positive after viewing a brief demonstration of the 3D panorama feature today, especially knowing that it came from a point and shoot camera.
Unfortunately, while the cameras use 'Sweep Panorama technology' already found in the Cyber-shot TX models, smart stitch technology is nowhere to be found on the NEX models. Therefore, you'll likely need a tripod to get decent shots.
Sony NEX-3: 720p video and an RRP of $849 for the basic single lens pack
The NEX -3D and NEX-5D models will not be available for sale until late June at the earliest. Also, it's worth noting that you'll have to enable the 3D feature via a firmware update.
In addition to the 3-series mount, an adapter for the A-series lens that Sony use in their Alpha series is also available. A boom microphone can also be attached as an external accessory.
Price


Unfortunately, the cameras don't come cheap - they're actually on par with a host of entry level Canon, Nikon and Sony DSLRs.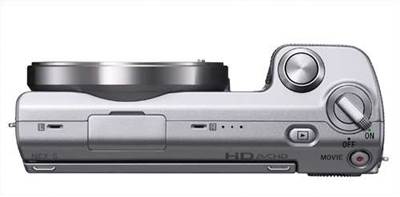 The NEX-3 has an RRP of $849 for the basic single lens pack and costs $150 more for the twin lens package. You'll pay more for 1080i video with the NEX-5 though, with the camera costing $1049 with the single lens kit.

As with other high quality compacts, you'll need to consider what sort of premium you're prepared to pay for the convenience of the small size, light weight, and lens options.