The Internet of Things (IoT) doesn't just mean using your smartphone to lock your front door anymore. The IoT industry is becoming more interesting as more industries see the value of connecting endpoints to help their business run more efficiently.
At the same time, more vendors are jumping on the bandwagon with products and services aimed at helping users get the most from data generated from their Internet-enabled endpoints. Here are our picks for the 10 coolest IoT products of 2015.
Google Brillo
This year, Google launched Brillo, its Android-based operating system for low-power IoT devices.
According to Google, Brillo has three components: the embedded operating system, core platform services, and a developer kit for building, testing and debugging. Open source-based Brillo will receive small updates every six weeks, and Brillo is currently available to interested developers via an early access program.
In other IoT-related news, Google's Nest Cam, the Web-connected security camera introduced in June, also received an update. The company has launched a second-generation camera this fall with new features, such as heating and hot water controls.
Samsung SmartCam
Samsung took aim at Google Nest this year when it expanded its camera portfolio with the US$190 SmartCam HD Plus.
The next-generation live streaming camera for home monitoring offers 1080p HD resolution with a 130-degree field of view, motion and sound alerts, as well as local storage and night vision up to 32 feet.
Should a loud noise occur or if movement by a person or animal is detected by the camera, users can be notified via push notifications to their mobile device. Users can watch the occurrence in real-time or instruct the camera to record for 30 seconds and replay the footage later.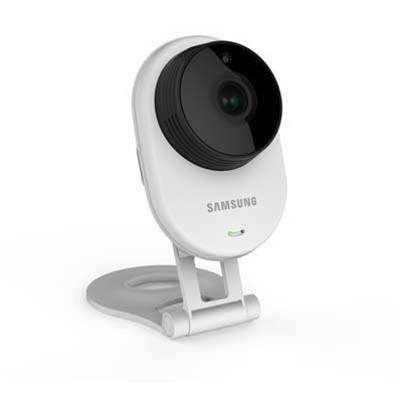 AT&T M2X Platform
Dallas-based telecommunications provider AT&T has been busy in the IoT space this year. In January, the carrier introduced its M2X cloud-based data storage service and management toolset. The platform lets businesses gather real-time data from connected endpoints within their environment. M2X also helps businesses translate the information into actionable data.
At its Partner Exchange Summit in Dallas this fall, AT&T said that while it can create components and products to capture big data, it's looking for solution provider partners to help turn these products into fully-baked IoT solutions.
Next: Cisco, Verizon and Intel
This article originally appeared at crn.com
Cisco IP Security Cameras
Cisco continued its "Internet of Everything" mission this year with a couple of IP-based security cameras.
The two models – the CIVS-IPC-7070 and the CIVS-IPC-3050 are high-definition mobile dome cameras that can provide situational awareness for users. The camera's lens can adjust its focus where it's needed, even under challenging lighting conditions, according to Cisco.
Both the 7070 and 3050 come in wired or wireless models. The cameras have built-in analytics and can be integrated with sensors and controllers to give users a better view of on-site conditions.
Verizon ThingSpace
Telecommunications provider Verizon threw its hat in the IoT ring and formally introduced its strategy this fall during its IoT strategy event at its San Francisco Innovation Center.
The carrier unveiled its ThingSpace platform, a Web-based, self-service interface for developers. The platform lets developers use APIs to design, test, deploy, and manage IoT solutions. This will help organizations get its IoT offerings to market faster, according to Verizon.
ThingSpace also includes Verizon's internal data analytics engine for customers and partners to use. This engine allows organizations to manage the influx of data, the carrier said.
Intel TAP
During the fall, Intel introduced its Trusted Analytics Platform, or TAP as part of its IoT reference architecture.
Intel TAP is an open-source big data analytics platform that addresses a range of industries such as healthcare, industrial and retail. The platform integrates Intel's IoT reference architecture for data management, protocol abstraction and workload distribution.
According to Intel, the vision for TAP is for the platform to help make the creation of IoT applications easier for more organizations.
ARM IoT Platform
Chip designer ARM introduced a revamped version of its IoT deployment platform this year. The updated platform aims to help organizations develop secure, connected IoT devices.
The platform, which includes its mbed Device Connector technology, allows developers to connect up to 100 devices handling up to 10,000 events per hour within prototype deployments. The IoT deployment platform lets developers build and manage secure Web applications and integrate the apps with cloud solutions, according to UK-based ARM.
Next: AWS and GE
AWS IoT
Amazon unveiled its IoT platform for AWS at its re:Invent developer conference in October.
AWS IoT is a managed cloud platform that allows connected endpoints to interact securely with cloud applications and other endpoints, according to Amazon. The platform will help users make sense of incoming endpoint data, and pricing for AWS IoT is based on usage.
In another IoT update from the online retail giant, Echo, Amazon's smart-home speaker that responds to voice commands is now giving users more control. Echo users can create custom "trigger" commands that will allow Echo to connect with other smart devices. Actionable commands include "find my phone" or "lock my door."
Daintree Networks WHS100
Daintree Networks, Inc. introduced its WHS100 Wireless Sensor this year.
The WHS100 has integrated wireless connectivity and embedded motion control censoring in one package. The sensor is meant to operate with Daintree's ControlScope wireless building control solution. Designed for industrial or warehouse facilities, the WHS100 has a wide operating temperature range and is suited for outdoor applications, the company said.
GE Predix Cloud
GE this summer introduced an IoT cloud platform based on its industrial equipment monitoring and analytics platform, Predix.
The platform, Predix Cloud, was designed specifically for industrial data and analytics, the Fairfield, Conn.-based company said. The platform will allow users to analyse data generated by IoT sensors embedded in industrial equipment and make business decisions based on the information.
The platform is geared toward industries that GE already serves, including aviation, manufacturing, automotive, energy and healthcare.