The public cloud market just keeps getting bigger, with the biggest four providers – Amazon Web Services, Microsoft Azure, IBM Cloud and Google Cloud Platform – increasing their share of the pie.
Synergy Research Group in July estimated that the second-quarter 2017 cloud infrastructure services business, including infrastructure-as-a-service, platform-as-a-service and hosted private cloud service, grew year over year by more than 40 percent to reach almost US$11 billion.
The top four providers and their cloud offerings collectively controlled 53 percent of the market in the second quarter of 2017, leaving the rest to fight it out for the remaining 47 percent, according to Synergy Research.
But while the rest of the vendors have a smaller share of the market, they still saw their total market grow from about US$4.0 billion in the second quarter of 2016 to about US$5.2 billion in the most recent quarter, giving them increased room to spar.
Here's a look behind the numbers and how the providers are doing.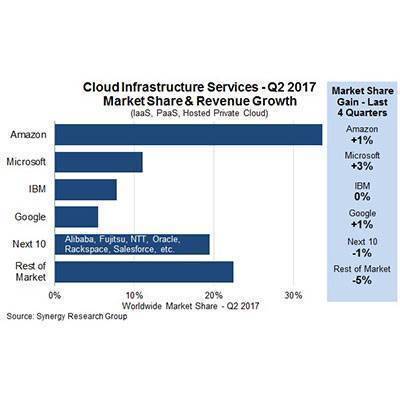 Behind the numbers
The top cloud providers do not break out their cloud infrastructure services business revenue, and indeed do not always break out their total cloud business revenue.
John Dinsdale, chief analyst and research director at Synergy Research, told CRN USA via email that his firm did have to make a few educated guesses about the numbers because the providers have different definitions of "cloud" and include different products and services.
"In the case of AWS we strip out some revenues for software/SaaS, CDN and consulting/support services, and we do then include [about] 90 percent of the revenues that you see Amazon report for AWS," Dinsdale wrote.
It is similar with other providers, he wrote. "Microsoft, for example, includes all sorts of things in its reported cloud revenue numbers, which go way beyond cloud infrastructure services like IaaS and PaaS.
"That is not bad reporting on their part – it is just that 'cloud' is an amorphous term that can [mean] many different things to different people," he wrote.
1. Amazon Web Services
AWS continues to be the worldwide cloud infrastructure services market leader with its IaaS and PaaS focus. Parent company Amazon in late July reported AWS second-quarter revenue of US$4.2 billion, which was up 42 percent year over year, That gave AWS a 34 percent market share, which is about three times that of its closest rival, Microsoft, Synergy Research reported.
AWS' operating income in the second quarter was reported as US$916 million, was up 28 percent year over year from US$718 million. That exceeded the operating income for all of Amazon, which was US$628 million.
AWS' annual revenue run rate is now about US$16 billion, up from an estimated US$14 billion in the first quarter, Amazon said.
2. Microsoft
Microsoft with Azure was the second-largest cloud infrastructure services provider with an estimated market share of about 11 percent.
While still quite far from No.1 provider AWS, Azure's IaaS and PaaS revenue was the fastest-growing part of the market, up 3 percent over last year, Synergy Research said.
Microsoft on July 20 reported fiscal fourth-quarter 2017 financials, which corresponds to about calendar year 2017. The company did not break out specific Azure revenue, but did say Azure revenue grew 97 percent year over year, making it the fastest-growing part of Microsoft.
Azure compute usage more than doubled over that time. Azure premium services revenue grew by triple digits for the 12th consecutive quarter, the company said.
3. IBM
IBM in the second quarter maintained its position as the third-largest cloud infrastructure services provider with an estimated 8 percent share of the market, which Synergy Research said was steady year over year.
IBM's primary cloud infrastructure offering is in hosted private clouds, where it remains the market leader, the firm said. The company recently opened its fourth Australian data centre to meet increased demand for locally hosted cloud service Bluemix as well as Watson machine learning.
IBM on July 18 reported second-quarter financials, but did not provide a detailed breakdown of its cloud-based revenue.
The company reported total second-quarter cloud revenue increased 15 percent over last year to US$3.9 billion, giving it a total of US$15.1 billion over the last 12 months. The annual exit run rate for as-a-service revenue increased to $8.8 billion from $6.7 billion in the second quarter of 2016, IBM said.
4. Google
The Google Cloud Platform business of Alphabet was the fourth-largest cloud infrastructure services provider thanks to its IaaS and PaaS business, with an estimated market share of about 5 percent, Synergy Research said. That represents a 1 percent growth in market share over last year.
Google last September has announced its decision to establish an Australian region for Cloud Platform, which went live in June.
Alphabet, the parent company of the Google Cloud Platform, does not break out specific financial data for its cloud business. It is included in Google's "other" business, which the company in July said grew about 41 percent over that of last year to US$3.1 billion.
The "other" business, which is pretty much other than advertising, represents about 12 percent of Alphabet's business.
The next 10
Synergy Research put the next 10 largest cloud infrastructure services providers together, where they accounted for a 19 percent market share, down about 1 percent from last year. Included in this category are such companies as Alibaba, Fujitsu, NTT, Oracle, Rackspace and Salesforce.
Of those, China-based Alibaba is now the fourth-largest IaaS provider thanks to its strong market in China and aggressive international expansion, Synergy Research said. Alibaba and Oracle showed the highest growth rate of the 10, the firm said.
Rest of the market
Cloud infrastructure service providers aside from the top 14 companies still hold a 23 percent market share, Synergy Research said.
However, those companies' share of the market fell 5 percent compared with last year.