Cisco CEO John Chambers will step aside on 26 July after 20 years of ruling the networking giant.
On Monday US time, the 65-year-old spoke alongside his successor, Chuck Robbins, about the process of handing over the reins, his future and why Robbins was the right person for the job.
Chambers, who will remain on Cisco's board as executive chairman, said he's excited to be Robbins' "coach", but made it clear that Robbins will be making the big calls going forward.
The following are edited excerpts from a conference call with media on Monday.
---
Why leave the top position after 20 years?
About three years ago, I realised that we had a big opportunity in front of us and that I really wanted to be a part of getting us through that transition, but at the end of that opportunity, it was time to turn the reins over to somebody else.
I feel very fortunate to lead Cisco for the past 20 years - exciting would be an understatement. This is probably one of the most exciting and happy days of my life.
How much control will you still have behind the scenes?
You'll find that [Robbins] will make the changes that need to be made and he will be in charge, make no mistake about it. I'm executive chairman, but Chuck will be the CEO and make the key calls. … [Chuck is] going to be a great leader here. I couldn't be more excited about being [his] coach, and I'm able to do whatever [he] wants as executive chairman, but [he] will be running this company and I know he'll do a great job.
What made Robbins stand out as a CEO candidate?
Chuck is just an execution machine. He takes vision and strategy and can turn it into results. In the complex approach we're about to make, … the coordination across engineering and 18 major product families, across services and sales, he does this extremely well. He doesn't mind disrupting and doesn't mind challenging me and saying, "There's got to be a better way to do these things."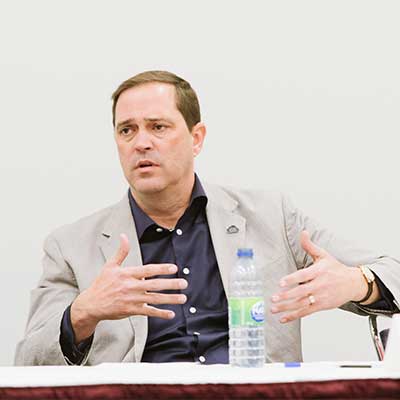 He builds great teams and he's done that on a global basis and led a huge amount of our partnering momentum. When you talk to our partners, they will sing his praises. … I couldn't be more proud about [his] leading us for this next digital revolution. I think we have a very good chance of becoming the No. 1 IT player.
Next: Will spurned CEO candidates leave Cisco?