Earlier this year Microsoft announced Windows 10 would be coming to the Xbox One, but we've now been given a date for the upgrade. In a speech during the Halo 5 launch, Xbox head Phil Spencer said the new software should come on 12 November.
Microsoft has tinkered with the Xbox One's dashboard ever since its release in 2013, but the upcoming Windows 10 update represents the biggest change yet. Featuring an all-new look as well as new functionality like the ability to play certain Xbox 360 games, it looks leagues ahead of the OS on the PS4.
Mimicking the look and feel of Microsoft's best OS ever, the new dashboard is designed to make navigation faster and slicker when using a controller.
As you'd expect, every single area of the Xbox One experience benefits from the new UI. The Xbox One store looks to be easier to use, and new community features and Game Hubs mean you can see what other players are doing. If you're not up for playing games, you'll find that OneGuide has been overhauled too.
Alongside its new-look menus, Windows 10 for the Xbox One will also allow gamers to access more systems functions without leaving their game. That means it'll be possible to view notifications and chat to friends, right next to your current session of Gears of War or Forza 6.
If that's not enough, Microsoft also says the Xbox One will be backwards compatible with certain Xbox 360 games.
Where's Cortana?
Microsoft wants the Xbox One to be the most co-operative console ever, so it's baking Cortana directly into the console's new OS. Instead of a cut down version of the digital-assistant, Xbox One's Cortana looks to be just as intelligent as the one on a PC or Windows Phone.
Early footage of the feature in action shows it answering complex, context-related questions. Want to know which of your friends are online, or even the next quest you have to do? Just ask Cortana.The only catch? Microsoft planned to bundle Cortana with the first version of the new OS, but we'll have to wait until 2016 before Microsoft's helper is on the Xbox One.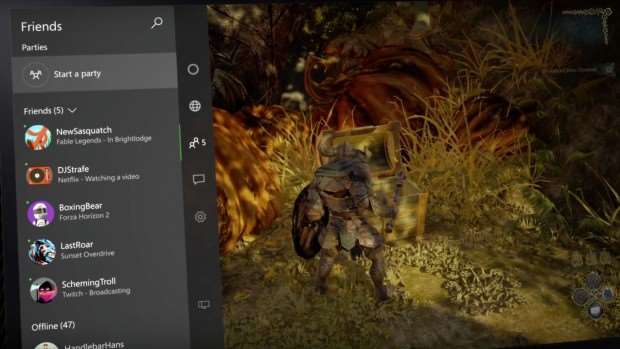 Although Microsoft's Xbox One has lagged behind in sales, the console's new OS should have Sony worried. The Playstation 4 maybe more popular, with arguably the better game library, but the Xbox One will soon offer the better user experience. It appears that after a number of setbacks, Microsoft has started from scratch and delivered what could well be the benchmark for console operating systems.
This article originally appeared at alphr.com