Manly, Sydney, 3-4 May
Over two days, CRN Pipeline will bring together senior decision makers from Australian channel partners with vendors and distributors to develop business opportunities and discuss industry trends, technology roadmaps and partner programs.
Each event will combine rich, relevant content with networking opportunities galore. Sessions at CRN Pipeline will centre on building successful, profitable business.
---
Venue
Novotel Manly Pacific (map)
55 North Steyne
Manly, Sydney
CRN Pipeline is a self-contained conference that takes full advantage of this premium venue on Sydney's gorgeous Manly Beach.
The beach-side setting aligns to the 'Pipeline' theme and allows delegates a chance to step away from their day-to-day business while minimising travel time. Many delegates choose to stay overnight at the Novotel or one of many nearby hotels that are a short walk from the conference venue.
---
CRN Impact Awards
The 2018 CRN Impact Awards will be held on the evening of Thursday 3 May at CRN Pipeline.
The awards celebrate IT suppliers for delivering Australian IT projects, and we have also launched new categories for Aussie tech innovators and software startup building their own intellectual property, as well as a category for distributors.See more at the dedicated awards hub.
---
Tickets and registration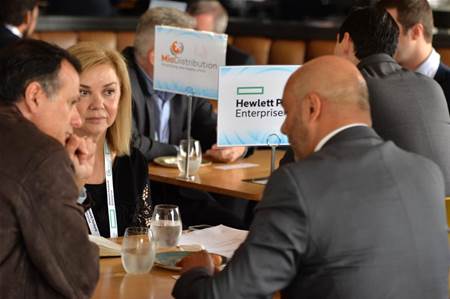 Your ticket to CRN Pipeline allows you to fully engage with Australia's premier independent insights and networking event aimed specifically at the IT channel. You can access the speakers agenda, the 1:1 networking system for booking meetings, invitations to private 'boardroom' sessions and more!
2018 CRN Pipeline and Impact Awards combined ticket:

$499 plus GST (eligibility criteria applies. Follow link for ticket purchase site for further details)
If you have any questions, please contact the CRN team: events@nextmedia.com.au, 02 9901 6126
---
Agenda
THURSDAY 3 MAY 2018
CRN editorial director Steven Kiernan will open the conference with his perspective on the major developments in the Australian channel over the past year, and the opportunities ahead.
Liberate your workforce
Charlotte Schraa, Head of Global Partner Management at Telstra, will be joined by leading channel partners to discuss how the company collaborated with partners to co-create solutions for the newly announced Telstra Calling for Office 365. While Telstra will be the preferred provider of this exciting cloud communications capability, partners are instrumental, with a number of Australian partners currently enrolled in its early adoption program to offer consultation, health checks, call performance analysis and managed services.
Get involved in 1:1 networking meetings with the Pipeline sponsors and delegates, and join the boardroom sessions.

Boardroom 1.1: Telstra
Boardroom 1.2: VMware
Supporting partners to build, transform and accelerate their business.
Leading cloud aggregator rhipe will present an overview on how the company is supporting partners around digital transformation, information security and public, private and hybrid cloud. Speaker: Matt Dewsnap, territory sales manager, Northern Region, rhipe
Data breaches are the new normal. We've created ecosystems with so many moving parts and so many complex units, it's little wonder that we so frequently see them go wrong. A combination of more systems, more people, more devices and more ways than ever of producing and publishing data stack the odds in favour of attackers breaching more systems than ever. In this talk, acclaimed speaker Troy Hunt get a look inside the world of data breaches based on my experiences dealing with billions of breached records. He'll explain what's motivating hackers, how they're gaining access to data and how organisations are dealing with the aftermath of attacks. Most importantly, the session will help you contextualise these incidents and understand both what these attacks actually look like and how to defend against them in your organisation.
Get involved in 1:1 networking meetings with the Pipeline sponsors and delegates, and join the boardroom sessions.

12.45pm
Boardroom 2.1: LogMeIn
Boardroom 2.2: rhipe
Boardroom 2.3: Hewlett Packard Enterprise (Service Providers)

1.30pm
Boardroom 3.1: TPG
Boardroom 3.2: Hewlett Packard Enterprise
Boardroom 3.3: Aruba
Hybrid IT made simple
Hewlett Packard Enterprise will share the opportunities in private and hybrid cloud for resellers and Australian service providers.

Speaker:
Brendan Sit, Technology Evangelist, Hewlett Packard Enterprise
How networking is driving opportunities
Networking has been a strong performer in the enterprise technology sector. Tony Smith, Director at Aruba, will present on the opportunities in networking for Australian channel partners.

Speaker:
Tony Smith, Director, Aruba
Steven Kiernan, Editorial Director of CRN, will host this panel discussion of leading executives from Hewlett Packard Enterprise to understand "Why channel, why HPE?"

Speakers:
Tony Smith, Director, Aruba
Brendan Sit, Technology Evangelist, Hewlett Packard Enterprise
Get involved in 1:1 networking meetings with the Pipeline sponsors and delegates, and join the boardroom sessions.

Boardroom 4.1: Huawei
Boardroom 4.2: Datto
Fostering successful outcomes between the business, the IT team and external suppliers can sometimes feel like they are in a hostage negotiation. From scope creep to finger-pointing to relationship breakdowns, Susan Sly has seen it all in her years as a CIO, consultant and slayer of dragons. It doesn't have to be this way - in this session, Susan will bring her many years of experience at the intersection of these three stakeholder groups and advise technology providers on how best to drive outcomes that are successful for all.
Brisbane startup RIoT Solutions hit the market in 2015 with a focus on the emerging internet-of-things sector and the opportunities to connect and protect critical infrastructure. RIoT grew at a breakneck pace by building, connecting and securing networks across IoT, OT and IT. Chief executive Rob Merkwitza will discuss how the company achieved more than 300 percent growth in 2017 to take the coveted top spot in last year's CRN Fast50.
Get involved in 1:1 networking meetings with the Pipeline sponsors and delegates. An opportunity to head back to the hotel and prepare for the evening festivities.

Boardroom 5.1: Ingram Micro
The 2018 CRN Impact Awards celebrate supplier-led Australian IT projects and technology innovators that are making a difference for customer organisations. During this gala awards ceremony and dinner, we will recognise the IT solution providers, resellers, MSPs and software startups that have delivered outstanding technology projects and innovations in Australia.
FRIDAY 4 MAY 2018
Breakfast will be served in the Sponsors hub at CRN Pipeline. Get involved in 1:1 networking meetings with the Pipeline sponsors and delegates.
Victor was responsible for implementing the NSW Government's ICT Strategy and innovation agenda which included the establishment of a whole-of-government Data Analytics Centre and response to the collaborative economy. In January 2017, Victor was appointed Minister for Finance, Services and Property. His portfolio responsibilities include Property NSW, Office of State Revenue and Service NSW. He has also retained responsibility for the whole-of-government Data Analytics Centre.
Channel partners can see that the demands of their customers are changing at an accelerating rate. But your customers are only responding to the accelerating rate of change among their customers. In this session, researcher, writer and senior CRN senior contributor Brad Howarth will step back and examine the bigger picture and shine a light on the major trends, to help you determine where future opportunities lie.
Get involved in 1:1 networking meetings with the Pipeline sponsors and delegates.
CRN Editorial Director Steven Kiernan presents the findings from our 2017 CRN Distribution Study to understand what resellers and vendors want from distributors, and how Australian disties are changing to meet market demands. Steven will be joined on stage by Dominic O'Hanlon, CEO of rhipe, for his perspective on the research and the state of the market.
Neil McMurchy is a Research Vice President in Gartner Research and part of the Technology Go-to-Market team. Neil will discuss how Pipeline attendees can move their sales model into the 21st century. Your sales model is largely rooted in the 1950s; new buyers and new behaviours, new competitors, new financial expectations, new opportunities like IoT need radically different approaches to how you sell, who sells for you and what your product and services have to be. In this session, Neil will discuss the rapidly changing technology buyer landscape and what that means for your channel business