Over two days in Sydney on 3-4 May, CRN Pipeline will bring together senior decision makers from Australian channel partners with vendors and distributors to develop business opportunities and discuss industry trends, technology roadmaps and partner programs.
Each event will combine rich, relevant content with networking opportunities galore. Sessions at CRN Pipeline will centre on building successful, profitable business.
Held in two premium beachside locations in Sydney and Melbourne, attendees can step outside their day-to-day office pressures and spend time thinking about future opportunities, discussing strategy, networking with their peers and planning for the next wave of success.
The 2018 agenda will include:
Stacks of networking opportunities with vendors, distributors and your peers in the Australian technology industry.
Sessions focused on hot technology opportunities, such as hybrid cloud, security and analytics.
CRN research into the trends in the Australian channel and the buying behaviours of customers.
Past speakers have included: Facebook, Xero, Jetstar, REA Group, Telstra, AWS, Microsoft, Brennan IT and many more!
---
Venue
CRN Pipeline is a self-contained conference that takes full advantage of this premium venue on Sydney's gorgeous Manly Beach. The beach-side setting aligns to the 'Pipeline' theme and allows delegates a chance to step away from their day-to-day business while minimising travel time.
Many delegates choose to stay overnight at the Novotel or one of many nearby hotels that are a short walk from the conference venue. During CRN Pipeline, delegates and sponsors can enjoy presentation sessions, 1:1 networking, an exhibitor hub, food and beverage and our 'boardroom' roundtable session all under the one roof.
Novotel Manly Pacific (map)
55 North Steyne
Manly, Sydney
---
Speakers
CRN Pipeline will offer delegates a rich content stream of experts from business and industry, as well as presentations from our top-tier sponsors. Previous speakers have included Facebook, Jetstar, REA Group, Telstra, Microsoft and Amazon Web Services.
More speakers are set to be revealed in the coming weeks, so please check back here for further updates.
| | |
| --- | --- |
| Troy Hunt | Troy is a Microsoft Regional Director and MVP, Pluralsight author and world-renowned internet security specialist. He spends his time teaching developers how to break into their own systems before helping to piece them back together to be secure against today's online threats. He's also the creator of "Have I been pwned?", the free online service for breach monitoring and notifications. Troy regularly blogs at troyhunt.com from his home in Australia. |
| Neil McMurchy | Neil McMurchy is a Research Vice President in Gartner Research and part of the Technology Go-to-Market team. Mr. McMurchy's personal areas of specialisation include the impact of digital business on software and service providers and their business models, growth strategies, organising startups for growth, channel strategies and programs, enterprise and key account strategies, partner recruitment, go-to-market strategies, and entry into new and emerging markets. Neil will discuss how Pipeline attendees can move their sales model into the 21st century. Your sales model is largely rooted in the 1950s; new buyers and new behaviours, new competitors, new financial expectations, new opportunities like IOT need radically different approaches to how you sell, who sells for you and what your product and services have to be. In this session, Neil will discuss the rapidly changing technology buyer landscape and what that means for your channel business. |
| The honourable Victor Dominello, MP | Victor was also responsible for implementing the NSW Government's ICT Strategy and innovation agenda which included the establishment of a whole-of-government Data Analytics Centre and response to the collaborative economy. In January 2017, Victor was appointed Minister for Finance, Services and Property. His portfolio responsibilities include Property NSW, Office of State Revenue and Service NSW. He has also retained responsibility for the whole-of-government Data Analytics Centre. |
| Susan Sly | Susan is the director of Lueur, and a graduate of the Australian Institute of Company Directors, with a strong focus on strategy, governance and innovation. Susan's experience includes over five years as the Chief Information Officer (CIO) for a government agency, during which she was recognised as the Victorian and National iAwards CIO of the Year in 2013. Susan mentors emerging leaders across government and the ICT sector in addition to supporting IT industry diversity initiatives. She is a regular presenter at industry events, focussing particularly on governance, leadership and the management challenges of leveraging ICT capability. |
| Brad Howarth | Brad Howarth is a researcher, writer, speaker and consultant with more than 20 years' experience investigating the impact of technology on business and society. He is a regular contributor to numerous publications including CRN Australia, and a sought-after speaker on technology trends and their ramifications. Brad works with organisations to help them understand how changes in technology impact individuals and communities, and how this translates into new requirements and behaviours. |
---
CRN Impact Awards
The 2018 CRN Impact Awards wil be held on the evening of Thursday 3 May at CRN Pipeline. The awards celebrate IT suppliers for delivering Australian IT projects, and we have also launched new categories for Aussie tech innovators and software startup building their own intellectual property, as well as a category for distributors.
Launched in 2017 to huge success, the CRN Impact Awards will be bigger and better in 2018! Get more information and submit your entry before 22 February at the dedicated awards hub.
---
Tickets and registration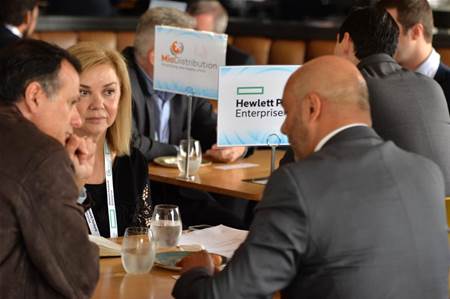 Your ticket to CRN Pipeline allows you to fully engage with Australia's premier independent insights and networking event aimed specifically at the IT channel. You can access the speakers agenda, the 1:1 networking system for booking meetings, invitations to private 'boardroom' sessions and more!
CRN will provide lunch and dinner on Thursday then breakfast and lunch on Friday. Your ticket to CRN Pipeline Sydney includes access to the CRN Impact Awards!
2018 CRN Pipeline and Impact Awards combined ticket:

$499 plus GST
Eligibility criteria applies. Follow link for ticket purchase site for further details.
If you have any questions, please contact the CRN team: events@nextmedia.com.au, 02 9901 6126