Read the headline. That's all you need really, isn't it? It's obvious that Apple's iPhone 6s is a top-notch smartphone: faster than before, with more features, and just as beautifully designed. I'd also hazard a guess that more people than ever are going to buy it. And no, it still doesn't have a microSD slot.
This is, of course, stating the blindingly obvious. There's no way that the slickest company in the world is going to put out a phone worse than last year's, and that, in essence, is why so many people continue to shell out, year after year, for the next iPhone. It's reliability incarnate.
That's why I've summarised all the normal details at the end of this review, in an easily digestible format for anyone who's interested. There, you'll find sections on the performance, battery life, screen quality and differences in design – what you need to draw a comparison between the iPhone 6s, the 6 and its key rivals.
What these benchmark numbers and test results can't tell you, however, is what Apple's phone is like to use. That's because, despite the fact that this is an S release – which is usually supposed to herald boosted performance, a better camera and little else – the iPhone 6s is something bigger. It represents the biggest leap forward for smartphones since the very first iPhone back in 2007.
Apple iPhone 6s: 3D Touch takes a bow
The reason for this is 3D Touch, Apple's new take on touchscreen interaction. Put simply, the iPhone 6s is designed to respond not only to where and how long you press the screen, but how hard you do it. To use Apple's Phil Schiller's own words, this is the next step in smartphone interaction, with Apple, in effect, attempting to sense "intent" to draw users into a thoughtless action that is entirely intuitive.
It's the sort of intention that's at the heart of all good interface and hardware design – the thing Apple has made a habit of executing successfully over the years – and by gum 3D Touch pulls off exactly the same trick. The pressure sensitive layer, coupled with a network of sensors behind the 6s' slightly pliable glass, is able to measure the distance between the glass and the LCD beneath with pinpoint accuracy.
That means it can not only sense that you're pressing the screen, but also how hard you're applying pressure. It isn't the first time this feat has been achieved in a smartphone, but unlike Huawei, which beat Apple to the punch in launching the pressure-sensitive Huawei Mate S at IFA 2015, Apple has clearly thought long and hard about what to do with it.
In its most basic form, 3D Touch is effectively adding a right-click capability to the iPhone 6s. Press the icon of a compatible app on the homescreen a little harder than usual, and up pops a context-sensitive menu, offering options and shortcuts related to the app in question. The camera app gives you Selfie, Video, Slo-mo and Take Photo shortcuts; Safari offers up links to your reading list, bookmarks, as well as standard and private tab creation.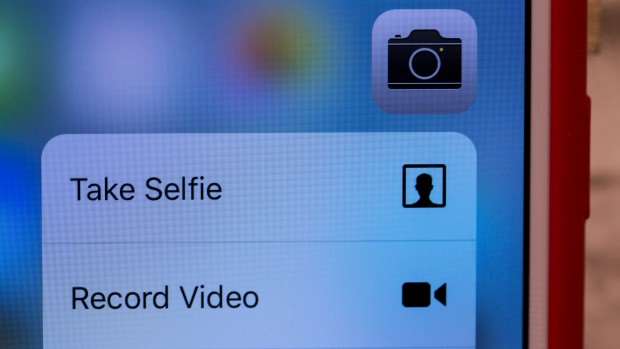 There are more sophisticated actions than this, though. Press the screen once – on a web link, for instance – and a preview of the webpage appears. Slide your finger up a touch and extra options for sharing and saving appear. Press a touch harder, and you pop off to somewhere else in the OS – Safari in the case of a web link. Apple calls these preview, then launch behaviours "peek" and "pop", and while it takes a bit of getting used to, I soon found myself taking it for granted.
The list of places that 3D Touch is implemented across iOS 9 is extensive. It can be used in the email app to take a quick look at messages without leaving the list view, to view the new Live element of your photos (more on this later), and on the keyboard, where you can press then drag to reposition the cursor. In the Notes app, it's possible to sketch with your finger and push harder for a heavier pen stroke.
From a hardware perspective, 3D Touch is beautifully implemented. You don't have to press too hard to activate the first level of pressure sensitivity, and the iPhone's new Taptic Engine provides a slight tickle of feedback every time you reach a pressure threshold, to leave you in no doubt over what action you've just performed. Even if you don't get on with the way it's set up initially, it's possible to adjust the sensitivity in the Accessibility settings, although I had no problem with it at all with it at the default settings.
The implementation of 3D Touch is mightily impressive. It's the sort of leap forward that may well transform the way we all use our phones in the future, much like the pinch-to-zoom and swipe-to-scroll gestures have revolutionised the way we interact with our mobile devices over the years. Right now, however, 3D Touch doesn't feel quite finished, and in some places it isn't implemented in a terribly consistent way.
That will change over time as app and (most excitingly) game developers get hold of the new technology and try out new ideas. For now, though, 3D Touch only works with Apple software and apps, but not all of them. Hard press on the Stocks, Health, iTunes Store and Weather apps, and nothing happens at all.
And there are some obvious missed opportunities, too. A two stage camera shutter button? Nothing to see here. How about a way to peek at apps in the new multitasking view. Nowhere in sight (although it is possible to now launch into the multitasking screen by hard-pressing the left-hand side of the homescreen). What about a heavier press on the keyboard to bring up numbers and symbols? No dice.
The iPhone 6s' 3D Touch clearly has some way to go before it's fully integrated into the OS and apps. Perhaps it'll take a year, maybe longer, but I'm looking forward to seeing how it progresses.
Apple iPhone 6s: Cameras
The other of the iPhone 6s' major changes is less revolutionary than 3D Touch, but is no less welome. It concerns the cameras, with the main, rear-facing shooter receiving a boost in resolution to 12 megapixels from 8 megapixels, and the front camera rising from a pitiful 1.2 megapixels to a far more respectable 5 megapixels. Note that, just as with the iPhone 6, the iPhone 6s still lacks OIS (optical image stabilisation); that feature is enjoyed only by the larger iPhone 6s Plus model, making it slightly more accomplished in low light.
Of these improvements, the one that will make the biggest impact with users is the upgrade to the front-facing camera, and that's because it's the one area Apple has neglected in recent times.
The new camera captures much more detailed shots, and has one ingenious feature that will help you capture better selfies indoors, in low light: turn on the flash capability and the iPhone 6s will employ its screen as a makeshift flash.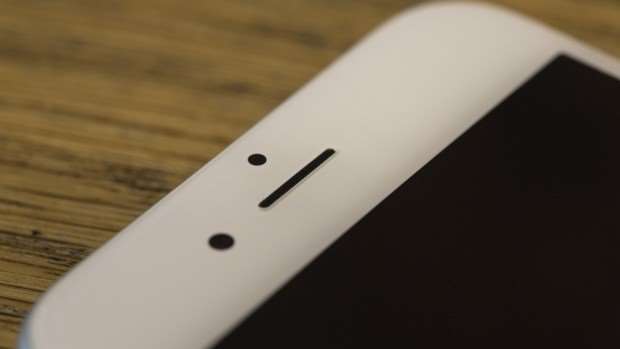 Apple being Apple, though, it hasn't stopped there. Its screen-based flash is a two-stage affair, flickering on once in bright white to provide full illumination, then again in a lower intensity yellowish colour in an attempt to balance out the skin tones, a bit like the dual-tone LED flash on the rear. It works, too: although low-light selfies do still look pretty noisy, there's a reasonable amount of detail and skin tones look realistic.
As for the rear camera, that's pretty good, too. A rise in the number of pixels is often accompanied by increased noise and, thus, lower quality. I've seen no evidence of that in the photographs I've captured so far. In low light and daylight, every snap has been well-balanced in exposure, with perfect white balance and they've been bursting with detail.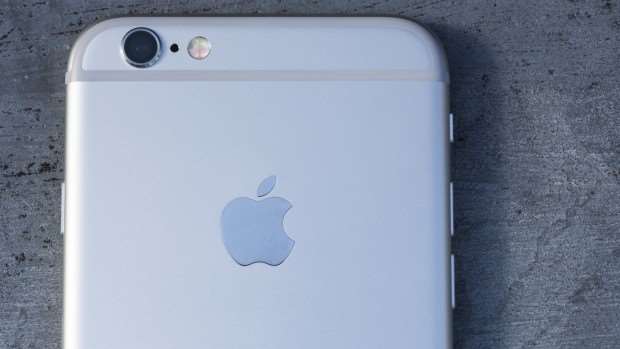 Having said that, in most circumstances – posting to Facebook or Twitter, even previewing the shots on the phone's screen – you won't notice the difference between this camera and the already excellent 8-megapixel camera on the iPhone 6 – you have to download your shots to a laptop and get out your pixel peepers for that – but it's just as reliable in producing a usable shot, slightly more so in low light.
Far more likely to make a difference to the way you take photos on your phone is the new Live Photos feature, but not necessarily in a positive way if you've opted for the lowest capacity 16GB model, since Live Photos occupy double the space of a standard 12-megapixel picture.
What are Live Photos? Essentially, they're like always-on Vines built into the camera app, capturing 1.5 seconds of motion footage before and after you touch the shutter button. The feature is switched on by default, with a small circular icon on the screen indicating that fact, and a yellow LIVE indicator lighting up to show that video is being captured.
Taking a Live photo is a seamless process. You can carry on taking pictures in the normal manner, and the phone feels much as the iPhone 6 did before it. It's just as responsive, just as quick as shot-to-shot, and it's just as reliable. So much so, in fact, that most of the Live photos I captured when I first started using the phone ended with footage of the pavement, or my feet. For the best results, I slowly realised I needed to tweak my behaviour, and keep the camera pointed at its subject until the yellow indicator disappeared.
It's a fun feature, but is it any more than that? With plenty of other, more established, ways of capturing short sequences of video, available through third-party apps like Vine and Snapchat, will it become part of the fabric of social media, or subside into obscurity over time? I suspect the former, but it will take time for the big social media companies, and big websites to build in support. Currently, only other Apple ecosystem device owners are able to view Live Photos.
Apple iPhone 6s: Video capture
The other big camera news for the iPhone 6s' camera is that it can finally capture 4K video. The number of people who own devices capable of displaying such detail-packed footage is still small, but it's good to see Apple jumping aboard the bandwagon now, before it's left behind.
If you have such a device, there's no denying that the video the iPhone 6s produces is much sharper than the 1080p footage captured by the iPhone 6, but more useful to more people is likely to be the iPhone 6s' ability to retain detail under zoom. Load the video into the preloaded iMovie video editing app, which can now both process and export 4K footage, and you'll find you can crop quite heavily into your 4K footage without reducing image quality much.
Clearly, though, Apple is being cautious here about the adoption of 4K, as the feature is turned off by default. Clearly it's worried about customers with 16GB iPhones saturating their storage space with capacity-hungry 4K footage. This worry would appear to be justified, too. With that footage chomping its way through around 380MB per minute, it won't take long before you're running out of space.
It's about time Apple stopped being so darned tight and swallowed the cost of upping the base storage from 16GB to 32GB. Even with iOS 9's lighter storage footprint and app-thinning reducing the size of installed software, sticking with 16GB for the low-end model is beginning to look like a poor decision on Apple's part.
Next: Design, performance, battery life and screen