When Dell released the first XPS 13 early on in 2015, it fell agonisingly short of greatness. The design was there, the core hardware was fast enough, but a series of niggling little flaws prevented it from mounting a genuine challenge to the best ultraportable laptop around - the Apple MacBook Pro 13.
Wind forward a few months, however, and with the latest Intel Skylake processors on board Dell looks to have finally cracked it. The updated, improved Dell XPS 13 is unequivocally the best Windows ultraportable laptop on the market. The question is, how does it compare with the all-conquering MacBook Pro 13?
Design, size and weight
Both laptops are excellent examples of the ultraportable laptop design done well, and each has its strengths and its weaknesses. Both look fabulous, the MacBook Pro 13 resplendent in matte-silver with its slab-like yet elegant outline, the Dell XPS 13 marking itself apart with its slim, wedge design, slightly moodier aluminium frame and soft-touch, carbon-fibre keyboard surround. It's difficult to separate the two; I'd have either at a pinch.
Quality oozes from the very ports of these two laptops, and both are incredibly well-made devices: stiff, rigid and capable of shrugging off most day-to-day bumps and scrapes. There's a difference in size and weight, however, and on this front it's the Dell that edges out a microscopic lead, weighing 200g less than the MacBook and with a lower overall volume.

How has Dell achieved this seemingly impossible magic shrinking trick? It's kept the screen bezels to the left, right and top of the screen to a ludicrously thin 5mm, which in turn leads to a more compact overall chassis. The MacBook in comparison, is beginning to look a tad old-fashioned.
Winner: Dell XPS 13
Keyboard and touchpad
From a practical point of view, it's once again a close run thing. The keyboard on each laptop is fantastic. Backlit, sensibly laid out and easy under the finger, these are laptops designed primarily for serious work. If you type a lot, you will not be disappointed.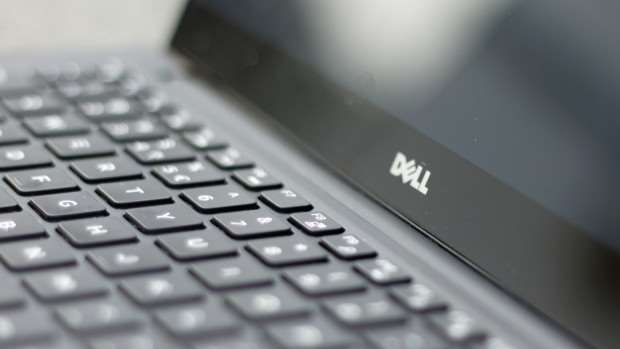 Where the differences start to make themselves clear is the touchpads. Where the MacBook has the very latest in Force Touch technology, allowing its large, glass-topped touchpad to respond to different levels of pressure, the Dell XPS 13 is lumbered with a smaller touchpad, that has more standard, mechanically integrated buttons.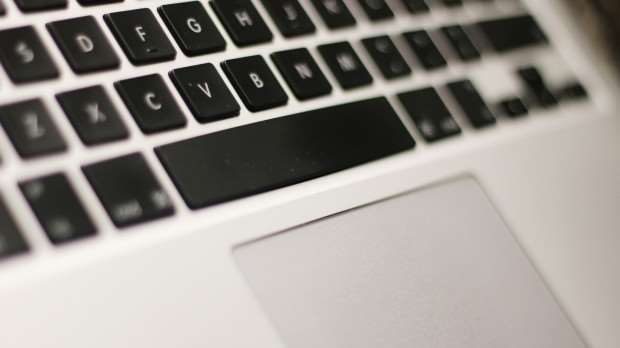 I say lumbered, but this isn't strictly fair. Despite the low-tech approach, Dell's touchpad is perfectly usable - responsive, smooth to the touch and accurate - and among the best touchpads on any Windows laptop.
It's just that Apple does the touchpad better. The MacBook Pro 13's larger size, more responsive clicking mechanism, and OS X's tightly integrated multitouch gesture controls all combine to nudge the MacBook Pro 13 into the lead in this section.
Winner: MacBook Pro 13
Screen
With both ultraportables at the very top of their game, you'd expect nothing but a fantastic display from each, and that's precisely what these machines deliver. Both use a high-DPI IPS LCD panel, and from a technical perspective they're very, very good.
It's possible to specify a lower-resolution non-touchscreen with a resolution of 1080p, but for purposes of this comparison, I'm using the range-topping qHD+ touchscreen model as my reference. And, as far as pixel count and absolute sharpness goes, this Dell XPS 13 has it all wrapped up.
It's both sharper in absolute terms and has more pixels than the MacBook. Whether you actually need all those pixels is debatable - my eyes certainly can't see the difference in crispness - but you can't argue with the numbers.
Another difference between the displays on the two laptops - and perhaps a more critical one - is the aspect ratio. Where the Dell uses a 16:9 screen, the MacBook Pro 13 employs a 3:2 aspect ratio display, and while the former is better for watching movies, the MacBook's display is the more comfortable screen for working on.
As for outright quality, you'd struggle to slide a Rizla paper between the pair. The Dell's display reproduces 95 percent of the sRGB colour gamut, where the MacBook Pro's reproduces 98 percent; the Dell's contrast ratio hits 1052:1 where the MacBook's is 994:1; brightness is neck-and-neck, too, with the Dell at 418cd/m2 maximum and the MacBook at 400cd/m2.


These are all excellent numbers; the only issue is that the Dell's screen uses dynamic contrast, which brightens and dims the backlight according to what's displayed on screen. The effect is subtle-enough not to be noticeable most of the time, but the trouble is that it cannot be turned off, and the result is that you can never quite trust the colours it displays.
The one key advantage the Dell holds is that it has a touchscreen, and is topped with tough, scratch-resistant Gorilla Glass. This just about evens out the issues with the dynamic contrast, to give a dead heat in this section.
Result: A draw
Connectivity
Any professional laptop needs serious connectivity. These laptops are deployed on desks as much as they are used out on the road, and the ability to hook up to external storage and displays quickly and easily is essential.
Both are well equipped for laptops of their size. The MacBook Pro 13 has two USB 3.0 ports on either edge, a pair of Thunderbolt 2 ports (20Gbits/sec throughput on each), a full-sized SD card slot, full-sized HDMI video output and a 3.5mm headphone jack.
The Dell XPS 13 is a touch more minimalist but still impressive, with a pair of USB 3.0 ports, a single Thunderbolt 3 port (40Gbits/sec throughput, plus USB 3.1 and DisplayPort 1.2 compatibility), SD card slot and headphone jack.
As for wireless, the Dell sports a 2x2 MIMO stream own-brand 802.11ac adapter while the MacBook has a slightly faster 3x3 MIMO stream Broadcom chip. Across the board, this should mean faster, more stable connections on the MacBook.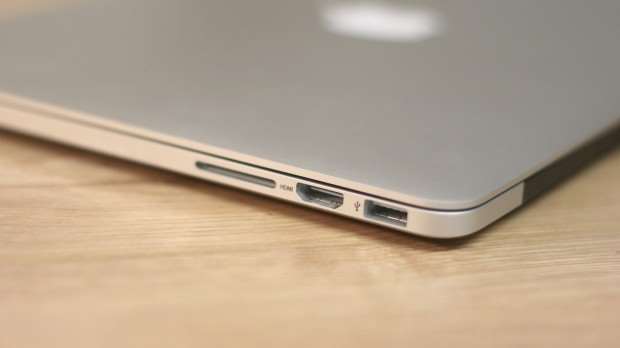 | | | |
| --- | --- | --- |
| | Dell XPS 13 (late 2015) | Apple MacBook Pro 13 (2015) |
| USB 3 ports | 2 | 2 |
| Thunderbolt ports | 2 (Thunderbolt 2, 20Gbits/sec) | 1 (Thunderbolt 3, 40Gbits/sec) |
| SD card slot | 1 | 1 |
| HDMI output | 0 | 1 |
| WiFi | 802.11ac, 2x2 stream | 802.11ac, 3x3 stream |
| Bluetooth | 4.1 | 4.0 |
Determining an overall winner here is difficult. Although the MacBook has the greater number and range of ports and sockets, the Dell is more advanced, supporting Thunderbolt 3 via its single USB-Type C socket.
I'm going to award the win in this section to the MacBook, however, because it has a more rounded selection of ports, and tops this off with more advanced Wi-Fi chip.
Winner: MacBook Pro 13
Performance and battery life
On paper, you might expect the winner in this section to be the Dell XPS 13. That's because it has the latest Intel's 6th generation Skylake CPUs inside, where the MacBook Pro 13 remains stuck with the previous 5th generation Broadwell chip.
Practically speaking, there isn't a huge difference in terms of responsiveness and usability. Both machines fair fly along in day-to-day use with Windows 10 and OS X a joy to use. App launch and boot times are super spritely.
Raw performance depends on the configuration you choose, of course, but with a slightly faster overall score in our benchmarks, and a greater array of quicker chips to choose from than the Dell, it gets my vote. (You can get the MacBook with the faster 2.9GHz Core i5 Broadwell and Core i7 chips, where the Dell tops out at the Core i7-6500U.)
Note that the benchmark results for the MacBook in the graph below were achieved by running the laptop in Windows under Bootcamp.
When it comes to storage performance, the two are once again close, but it's the MacBook that takes a narrow lead again, with its PCIe drive roughly equal on read speeds to the Dell's, and faster when it comes to write speeds.
As for battery life, that's more clear cut, with the MacBook Pro 13 once again coming out clearly on top. In a light use test, with screen brightness set to half brightness, the MacBook Pro 13 (2015) lasted a huge 21hrs 58mins, to the Dell XPS 13's 11hrs 31mins.
Despite the very latest Skylake processors, then, it's the MacBook Pro 13 that forges into the lead here. With a greater range of powerful processors available to choose from and stupendous battery life, it's the obvious winner.
Winner: MacBook Pro 13 (2015)
Price and verdict
These two laptops are the giants of the ultraportable world. Portable enough to be carried around all day, yet powerful enough to carry our serious work, they're workhorses through and through. They're both fabulous machines to work on and use: long-lasting, comfortable to type on and carry.
Assuming you're platform agnostic (otherwise, why would you be considering one against the other in the first place?), it's the Apple MacBook Pro 13 that wins the day. Although slightly larger and heavier than the Dell XPS 13, its superior battery life and connectivity, more practical 3:2 screen, and faster all-round performance wins the day.
| | | |
| --- | --- | --- |
| | Dell XPS 13 (late 2015) | Apple MacBook Pro 13 (2015) |
| Price | $2,199 | $2,229 inc VAT |
| Processor | Intel Broadwell 2.5-3.1GHz Core i7-6500U | Intel Broadwell 2.5-3.1GHz Core i5-5257U |
| RAM | 8GB LPDDR3, 1,866MHz | 8GB LPDDR3, 1,866MHz |
| Storage | 256GB SSD | 256GB SSD |
Best of all, though, you'll pay very little premium for that superiority. What more reason than that do you need to go out and buy one?
OVERALL WINNER: MacBook Pro 13 (2015)