Lenovo's newest 5th-generation ThinkPad is the thinnest, lightest, and most powerful yet. 2017's X1 Carbon sheds some of the weight and thickness of the previous model and has received a processor upgrade in the form of a 7th generation Kaby Lake chip.
The changes come at a cost, however, as the self-proclaimed "world's thinnest 14in ultrabook" now starts at $1769.
Yet for that price, you'll be getting one of the most portable ultrabooks around that is still able to offer a surprisingly generous amount of port options, a superb keyboard, and an above average battery life. It's a real shame that the screen doesn't quite meet the grade.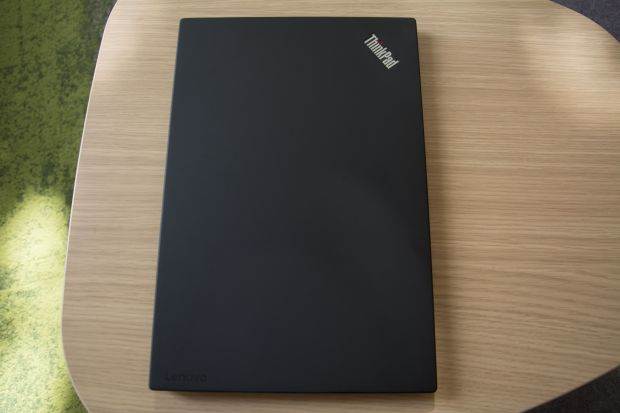 Lenovo's 2017 X1 Carbon, known as the series' 5th generation, is a truly lovely looking machine, and clearly a product of years of refinement. As the name suggests, it is built from carbon fibre and smothered in a wonderful soft-touch coating that covers the entirety of the laptop - by far it most striking feature.
The luxurious soft texture creates a wonderful typing experience, and makes carrying the device a joy. It even looks great closed on a desk, with the telltale ThinkPad logo in one corner, and some subtle Lenovo branding across the bottom. It's one of the most elegant looking machines on the market.
At 322 x 216 x 15mm, its footprint is somewhat larger than competing 13in ultrabooks in this price range. It is bigger and chunkier than the most recent Dell XPS 13 and the 13in Macbook Pro, but thanks to that carbon fibre, it is much lighter at 1.1kg.
In fact, it is lighter than most of its competition, including the wafer thin Acer Swift 7. A larger but lighter body makes perfect sense from a business user perspective, as it affords for optimal portability without having to scrimp on connectivity.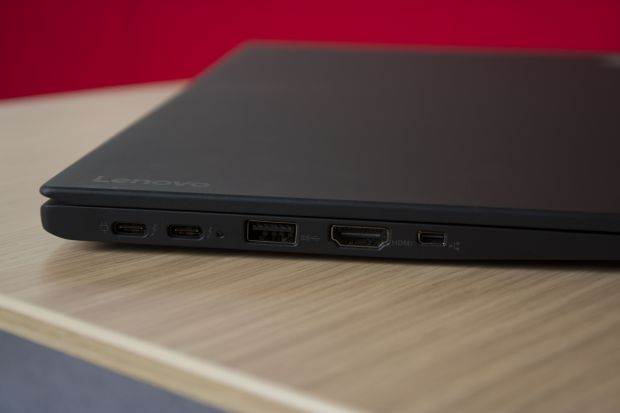 The X1 Carbon is surprisingly generous when it comes to port options. Users are treated to two USB Type-C ports with Thunderbolt 3 support, two USB 3.0, a full sized HDMI slot, a headphone port, and the option for an ethernet connection, although this requires a bundled Lenovo adapter.
It even comes with a nifty slot that supports both MicroSD and MicroSIM, although this is oddly located on the rear edge beneath the screen, requiring you to partially close the laptop to reach.
Keyboard & trackpad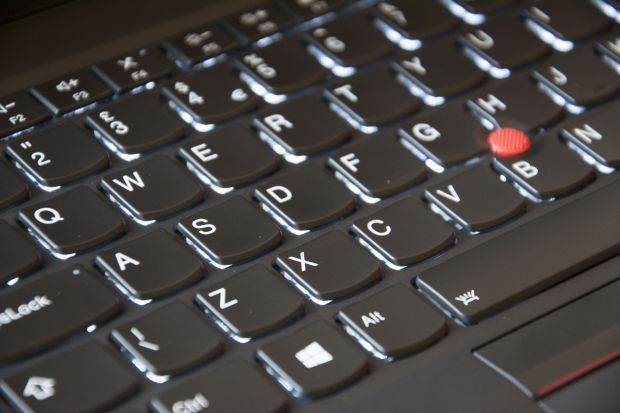 Lenovo also hits it out of the park when it comes to the keyboard. The keys have a longer travel time than rivals such as the Dell XPS 13, and require fractionally more actuation force when pressed.
If you're used to the light key presses of the Macbook range, particularly the new Macbook Pro that opts for a miniscule travel time and very little key pressure, you may find the X1 Carbon a little cumbersome.
However, for those that like to feel a little more impact while typing, it is one of the finest typing experiences on the market, especially as it's paired with that soft-touch material.
However, there are a couple of niggling problems with the keys. We feel the the navigation arrows are too small to use comfortably, and you may find yourself accidentally pressing the nearby page up and down keys, which frustrated us to no end. The keyboard backlighting could also benefit from being a little brighter.
As is Lenovo tradition, the ThinkPad also comes equipped with both a traditional trackpad, and a red TrackPoint stick in the centre of the keyboard that pairs with two physical left and right mouse keys under the space bar.
The stick allows for movements that are far more precise than the trackpad, with very little effort and without having to lift your hands away from the keys, although it takes some getting used to.
Unfortunately, to accommodate for the physical left and right keys, the trackpad is uncomfortably small, and while it functions well using Microsoft's Precision Touch, you'll find your fingers touch the edges far too easily.
As this is a business grade ultrabook, Lenovo has opted to add a few handy extras that are typically absent on rival machines. Next to the trackpad is a fingerprint reader, which comes as standard, allowing users to sign in using Windows Hello, and as an optional extra Lenovo will also add an NFC reader for the scanning of smart cards and devices.
Display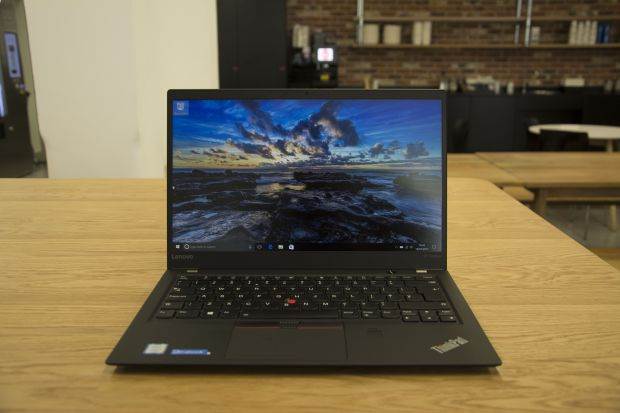 Thankfully, that larger frame doesn't go to waste, as Lenovo has managed to squeeze in a 14in IPS anti-glare screen with some beautifully thin bezels, which will make you immediately think of the the InfinityEdge display on the Dell XPS.
It is nice to see that Lenovo chose the perfectly acceptable 1920 x 1080p resolution, as anything higher is often of no benefit and needlessly bumps up the price.
In terms of performance, the screen is one of the weakest aspects of the X1 Carbon. Although it is marginally brighter than the Dell XPS 13, at 312cd/m2 it is still too dull to use reliably outside in direct sunlight, and is put to shame by the Macbook Pro's 500cd/m2 display.
While colours are sharp and vibrant, 82% coverage of the sRGB colour spectrum is a disappointingly average score for a device of this price range, and is again outshone by the Macbook (99%) and the XPS 13 (92%).
Hardware & performance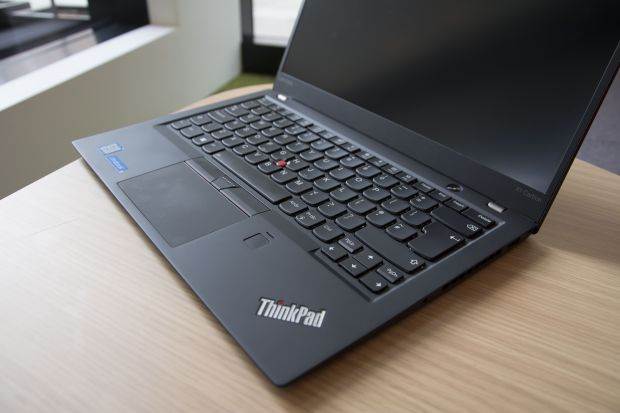 As with any decent business grade ultrabook, the X1 Carbon comes with an impressive array of hardware and software configurations.
There is a choice of various Core i5 and core i7 processors available depending on how much power you're after, as well as a range of storage options and either 8GB or 16GB of RAM.
You're also able to add a host of preinstalled software suites, including Office 365 and Adobe products, and upgrade to Windows 10 Pro if you wish. You even have the choice to upgrade to a more powerful adapter for faster charging.
Our review model came with a Core i7-7500U processor at 2.7GHz, with 8GB of RAM, and a 256GB SSD. In our 4K benchmarks the X1 Carbon achieved an impressive overall score of 52, which was two points higher than the Dell XPS 13 running an almost identical spec.
Importantly, the X1 Carbon managed 10 hours and 20 minutes in our battery tests, which is quite frankly excellent and almost 2 hours 40 minutes longer than both the XPS and Macbook Pro.
As is to be expected from Intel's 'U'-series processor range, the X1 Carbon delivers a pretty decent performance while maintaining an all-day battery life. It easily handled multi-tab browsing across two displays without breaking a sweat, and fired up applications almost instantly.
There's even enough muscle here to power more demanding apps like the Adobe Creative suite, and that's before taking the optional 16GB of RAM into consideration.
Verdict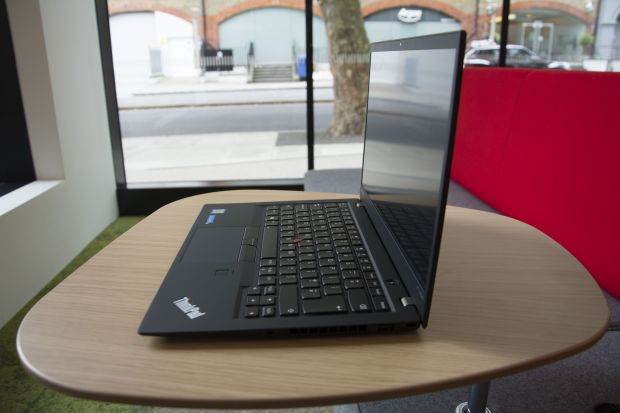 The Lenovo X1 Carbon is a wonderfully stylish machine that offers understated luxury along with some superb extras that appeal directly to a business user. It is deceptively light given its overall size, offering excellent portability while still providing a superb selection of port options.
It should also be able to handle most of what you can throw at it, with a battery life that will easily last a full working day.
The only down side is the fairly average display, which is somewhat disappointing for a device in this price range. However, for day-to-day business use, this shouldn't be a problem, and the 14in 1080p display with super slim bezels is otherwise great.
The X1 Carbon sits between the Dell XPS 13 and the Macbook Pro in terms of price and performance, yet its battery life eclipses both, which we feel ultimately matters most for business users.
With a great selection of configuration options, which is to be expected from a Lenovo business grade ultrabook, The X1 Carbon is also a highly tailorable machine, so you're bound to find something that fits - so long as you're willing to pay.