New graphics architecture is always a big deal, but seldom something that begs instant purchase. Graphics chip makers tend to launch with a bang, releasing high-end enthusiast products at first and then following up with mainstream models once they get their chip yields to profitable levels.

NVIDIA's GeForce GTX 480 is such a product. It is the first card based upon NVIDIA's DirectX 11 architecture, codenamed Fermi. This will be the foundation upon which the company will build its cards for the foreseeable future, and it competes with AMD's ATI RADEON 5800 series of products that launched late last year.

Fermi is a curious design. It packs more raw power than the previous generation of NVIDIA product, but does so with a smaller memory interface.

The Geforce GTX 480 has GDDR5 running on a 384-bit memory bus delivering 177.4GB/s - in contrast, the previous generation GDDR3 powered GeForce GTX 285 has a 512-bit memory bus that delivered 159GB/s.

In many ways the current implementations seem to be more an effort by NVIDIA to beat AMD in high-end benchmarks than they are practical products for end users.

NVIDIA first announced Fermi late in 2009, and since then it has had to tweak down the design. Rather than using the anticipated 512 CUDA cores, the GeForce GTX 480 uses 480 CUDA cores - 15 out of the full complement of 16 blocks of core that were intended.

The term that NVIDIA uses to describe the processing elements within the graphics card is 'Streaming Multiprocessor' - each has its own Arithmetic Logic Unit (ALU) and Floating Point Logic Unit (FPU).

These CUDA cores are at the heart of Fermi. They mark a shift from NVIDIA making GPUs purely for fast gaming graphics to making ones that are also tailored to general purpose (GPGPU) computing tasks. Workloads like this are still very niche, which is why the GeForce GTX 480 has been launched to the traditional target market of 'ultra enthusiast' gamers.

It seems that in order to get industry-leading performance out of the GeForce 480, NVIDIA has cranked everything as high as it can go. To this end the card draws a maximum of 250 Watts of power, and has a maximum operating temperature of 105 degrees Celsius.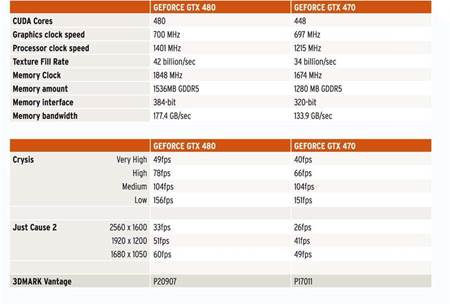 Benchmark results: click on image size to enlarge
This isn't the first time NVIDIA has quoted a product's heat output above the boiling point of water, but it's certainly the hottest card we have encountered. It also necessitates a hefty heatsink, with the reference design weighing in at 932 grams.
What this means for the end user is that committing to this high-end beast involves more than just swapping your graphics card. You'll need a power supply unit capable of pumping out 600 Watts, space for the 27cm long graphics card and enough system cooling to cope with the massive heat output of the card.
We would expect such a monstrous card to deliver impressive performance, so we lined it up against AMD's top end single GPU card, the ATI Radeon HD 5870. What we saw was exactly what we'd expect from a newly-minted flagship card.
The Geforce GTX 480 zipped through our Crysis benchmark. It managed ludicrously well in the lower detail settings and delivered a solid average of 49.38 fps in the Very High detail tests on 1600 x 1200 resolution. This barely beat the Radeon HD 5870's 48.38 fps. The difference between the cards is ultimately insignificant, as both scores result in an excellent and more than playable game experience at this gorgeous detail level.
We then looked at the card with the newly released Just Cause 2. At 2560 x 1600 resolution with everything cranked to maximum, the Radeon threw out 38.28 fps, to beat out the Geforce GTX 480, which scored 32.93 fps.
This performance difference was retained at lower resolutions, with the Radeon hitting 66.7 fps at 1680 x 1050 to the Geforce's 60.17 frames.
These tests were run using 8x Antialiasing, but the Geforce GTX 480 is capable of a higher quality 32x CSAA method (which is unsupported on the ATI products). When we switched to this the performance difference was minimal, coming in at 2 or 3 frames lower than 8x AA across the various resolutions.
Conclusion

In terms of performance it's a dead heat (no pun intended) between the GeForce GTX 480 and its competition. We suspect that the lower framerates in Just Cause 2 are more a side effect of driver maturity than a reflection of the card's raw performance. Both high-end cards are more than capable of rendering modern games at satisfactory framerates.

Given the similarity of results, however, it's hard to consider the GeForce GTX 480 a serious competitor to the ATI Radeon HD 5870. The GTX 480 is simply too power-hungry, hot and expensive to be a serious contender for mainstream dollars.

ATI's DirectX 11 cards are already matured, with prices dropping well below that of the GTX 480. (At the time of writing the difference was around $200).