Apple and cheap are two words rarely seen in close proximity. Yet, with the MacBook stepping into the range at $1,799, the 11in MacBook Air now finds itself in the curious position of being the most affordable laptop in Apple's line-up. Starting at $1,249, and with Intel's Broadwell CPUs at the helm, the burning question is whether the miniature MacBook Air is still worthy of your cash.
What's new?
It's difficult not to feel a little sorry for the 11in MacBook Air. While its stablemates have been bestowed with Force Touch trackpads, faster SSDs and Intel's newest family of CPUs, the miniature MacBook Air has had to make do with a CPU upgrade and the arrival of Thunderbolt 2. Like its larger cousin, the 13in MacBook Air, Apple has cruelly denied it what it truly deserves: a glitzy new Retina screen.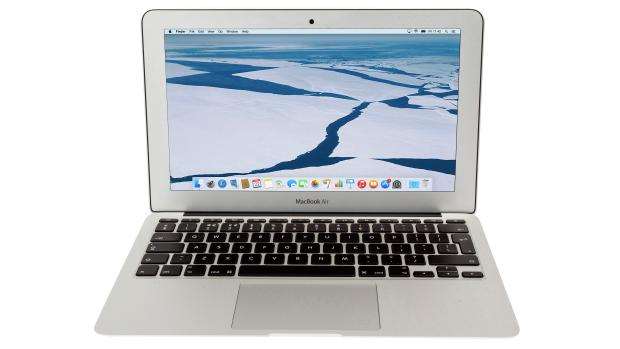 Unlike its big brother, though, the 11in MacBook Air hasn't begun to lose its looks. There's no question that the slender new MacBook is the prettier of the two, and dramatically thinner and lighter, but there's something about the MacBook Air design scaled down to an 11.6in chassis that still hits the spot. The design hasn't changed a jot, but it remains a handsome little devil.
Moreover, this 1.08kg laptop is exactly what people look for in an ultraportable. It's thin enough, light enough and small enough to carry around every single day, yet big enough not to compromise on the essentials – performance, comfort and connectivity are all given top billing.
Hardware and performance
It might be the only major upgrade but, sour grapes aside, the arrival of Intel Broadwell is welcome. There's little, if any, speed benefit to be found: the Broadwell architecture is the tick to Skylake's forthcoming tock, so offers similar performance to the previous generation with slightly greater efficiency and less heat. These might be minor improvements, but they're the perfect fit for an ultraportable.
Delve through the specification list, and there are no grand reveals. The $1,249 model partners the same 1.6GHz Core i5-5250U CPU as found in the 13in Air, and comes with 4GB of RAM and a 128GB SSD. If that isn't enough storage for your needs – and I suspect for most people it won't be – the $1,549 model provides a more capacious 256GB SSD. Dig into the configuration options and you can bump up to a 2.2GHz Core i7 CPU for $220; upgrade to 8GB RAM for $140; and expand the storage to 512GB for $420.
Sadly, Apple hasn't brought over the high-speed SSD interface that it introduced on the 13in MacBook Air and Pro models. That's a minor gripe, though, as it wasn't lacking for performance in the first place: with sequential read and write speeds of 623MB/sec and 282MB/sec, this is still a speedy drive by any reasonable standards.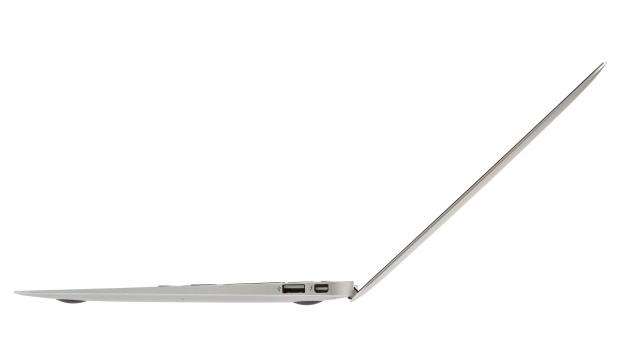 And, in practice, the 11in MacBook Air delivers a nigh-on identical turn of pace to its bigger brother. Start-up and application load times aren't quite as lightning-quick due to the slower SSD, but there isn't a scrap of difference in the benchmark results: both the 11in and 13in Air scored a very respectable 37 in the PC Pro benchmarks. That's quite a contrast to the Core M-powered MacBook, which scored 20. Clearly, there's enough horsepower here to handle demanding applications and multitasking without grinding to a halt, even if the Air's cooling fans spin up audibly under tougher workloads.
Despite this, battery life doesn't drag far behind the MacBook. Apple has performed its usual trick of cramming every spare nook and cranny with lithium-ion battery cells, and it shows. With the display calibrated to a brightness of 120cd/m2, Wi-Fi off and a 720p video set to loop indefinitely, it lasted a creditable 6hrs 38mins – only half an hour less than the MacBook.
Next: performance