There's no two ways around it, the iMac's Retina 5K display has a lot of pixels. Let's do the maths: the 5,120 x 2,880 resolution means that there are 14.7 million of them. If you counted every single one, one every second, it'd take you 170 days non-stop.
But, there's only one thing you need to know about the 27-inch iMac with Retina 5K display – it's the best-looking all-in-one computer ever made, both in terms of its design and its display. And here's why.
Design
First, I have a challenge. Find the prettiest, most astonishingly handsome monitor you can. Take your time, I'll wait here. Done? Sorry to waste your time – the iMac is substantially prettier.
The physical design of the 27-inch iMac hasn't changed a jot since 2014, and that's because it's already really, really, ridiculously good looking. It's Derek Zoolander's Blue Steel hewn from metal and glass and Jony Ive's tears. It's dramatically sleeker and more attractive than any 27-inch monitor I've had on my desk in the last 10 years, and yet somehow Apple has also managed to pack in a fully-functioning computer, too. If we lived in the 14th century, frankly, Jony Ive would have been burned as a witch.
In fact, my only gripe with the iMac (and one that stretches way back to when Steve Jobs was still doing his thing) is that there's no height adjustability; you can only tilt the iMac back and forth. And let's be honest, sticking a pile of books under your brand-new iMac is hardly the done thing. It absolutely ruins the Feng Shui for starters.
This isn't the most revolutionary iMac upgrade. Since last year's model was the first to debut the new 5K Retina display, this late-2015 iMac is all about the incremental improvements – think of it rather like the iPhone 6s, in that most of the improvements are invisible to the naked eye.
Not that this new model is boring – it most certainly is not. Unless you think computers are boring, in which case you're probably not actually reading this at all. Anyway. iMacs.
Image quality
The Retina display on last year's model was already superb. There are still very few 5K monitors that you can go out and buy right this minute. Not to be outdone, though, Apple has gone and given the iMac an all-new 5K panel which reproduces a wider range of colour than the previous model.
In layman's terms, that means you can expect greener greens, bluer blues and pinkier pinks than you've ever seen before. In professional parlance, you can expect to see 99 percent of the DCI-P3 colour gamut – which sounds far, far more boring.
You can summarise the iMac's display like this: it's bright, insanely crisp and whether you're dabbling in Photoshop, Final Cut Pro or just shooting everything in sight in Bioshock Infinite, it looks stupendous. Blacks are very black; whites are very white. Cute kittens look very cute. I simply haven't seen a better display than you'll find here, and for most people, it's the pinnacle of display performance.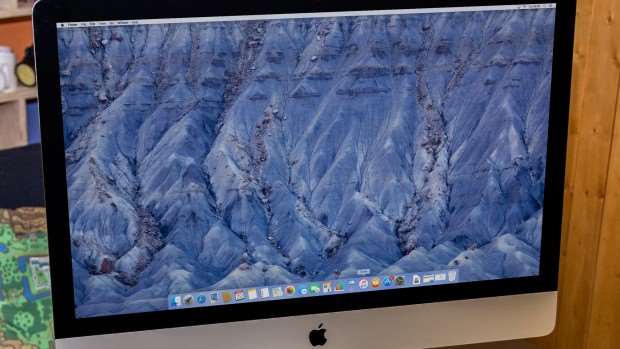 Let's do some numbers. Our X-Rite i1Display Pro colorimeter is a harsh mistress, capable of revealing the shortcomings which all but the best-trained eyes would struggle to see, but the Retina display puts up quite the fight. For instance, brightness reaches right up to a slightly silly 466cd/m2 – that's the kind of figure I'd expect from a top-notch TV, not a desktop monitor – and contrast hits a ratio of 1,166:1, which is very good indeed. (Kitten photos look a-mazing.)
Colour accuracy is much improved on last year's model, too. While the 2014 iMac achieved a Delta E of 1.8, this year sees that figure drop to 0.7. Flick between the iMac's various pre-installed colour modes - sRGB, Adobe RGB, DCI-P3 - and you can expect a finely-honed, colour-accurate performance whatever application you're working in.
The panel whips up 99.9 percent of the sRGB gamut, 86.1 percent of the Adobe RGB gamut and every corner of the DCI-P3 gamut except for the most intense shades of blue and cyan.
Is there a downside? Well, if you're a professional for whom only the very best will do, then the iMac's backlighting still isn't up to the standards of pro-monitors. Where the backlighting of money-no-object displays is designed to be consistent from corner to corner, deviating by as little as a handful of percent, the iMac is less rigorous – in my testing, it was between 10 and 16 percent dimmer in the bottom left corner, and around 10 percent dimmer in the right. If you absolutely need a display which is consistent across the whole panel, then this isn't it, but you'll need good eyes – and some serious experience – to notice the problems in the first place.
Next: Performance