The stick-based PC is not a new concept. Intel started it with the Compute Stick, and plenty of other manufacturers have joined in since, including Hannspree with its Micro PC, a device we wanted so much to love, but couldn't quite recommend. The Asus Chromebit is different. Unlike the Intel and Hannspree devices, it runs Google's lightweight Chrome OS, which seems to make more sense for the form factor.
So who is this tiny machine for? It is here we strike our first problem. Even Asus doesn't seem to know, mentioning in the same marketing breath families, businesses, schools and buyers in the market for digital signage. Can it really have something for all these target markets? And is it any different from the Windows-based sticks?
Physically, the answer to the latter question has to be no; the same limitations that hold back the Windows-powered sticks are present on the Chromebit. There's just one full-size USB port and a power connector, and that's your lot. Bluetooth 4 is also included, but you'll need a Bluetooth-compatible keyboard and/or mouse to take advantage of this.
Alternatively, you can use a conventional wireless keyboard and mouse set, one that comes with a single wireless adapter, but that will eliminate your ability to connect any other USB peripherals to the Chromebit. It all starts to get a bit unwieldy when you add on a USB hub, and rather defeats the portability the Chromebit offers. If you're going to need a USB hub, you might as well buy a mini PC instead.
Specifications
Inside, the Chromebit is powered by an ARM-based Rockchip RK3288C processor. This is a quad-core chip that runs at up to 1.8GHz and it's paired with 2GB of 1,066MHz LPDDR3 RAM. It isn't a powerhouse by any stretch of the imagination, but as is so often the case with Chrome OS, things aren't nearly as bad as they could be. Google Docs runs smoothly and I never had any issues working on multiple documents and switching between windows.
However, things were a little slower working with larger Google Sheets spreadsheets, and copying and pasting between them took a little longer than I'd have liked. As a demanding user, I found myself feeling slightly hamstrung most of the time, but I wasn't overly frustrated. I got everything I needed to do done, just a little slower than usual.
Multimedia- and ad-heavy web pages tended to lag and stutter when I scrolled down them, and loading times weren't exactly lightning quick. But it's all very acceptable for an £80 PC. I was particularly impressed with the performance of Polarr, the free online photo editing program. Manipulating 20MP images, the sort of resolution you can expect to find from some high-end smartphones, was quick and easy, thanks to the 600MHz ARM Mali-T760 graphics chip. I also attempted to play a few web-based Flash games, but these website's penchant for huge ads meant most games were unplayably laggy.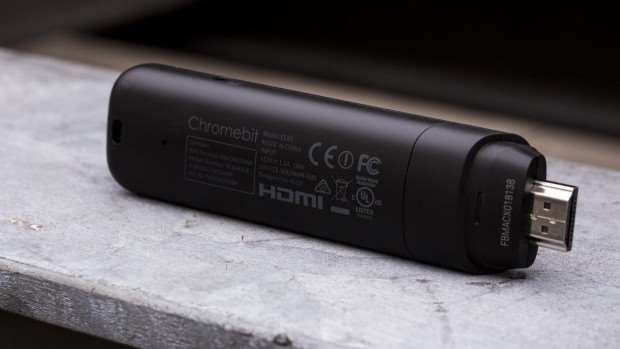 The GPU capably handled 1080p video without a hitch, which makes it a viable media streamer if you also want to plug it into the back of your TV. If you plug it into a device capable of a resolution greater than 1920 x 1080, your desktop will be stretched because the HDMI connector on the Chromebit only supports Full HD resolution.
The Chromebit also only comes with 16GB of onboard storage and there's no microSD slot to expand this further. With Chrome OS installed, there's just under 10GB of free space to play with. That's not much, but since Chrome OS is heavily focused on using the cloud for data storage, pulling stuff down to your device as and when you need it it shouldn't be a huge problem.
It's a completely different way of thinking versus the traditional store-everything-locally-and-sometimes-back-things-up many people are used to, but with internet speeds getting faster all the time (in most places) and Google's web-based applications improving, working on files that never really exist on your local device is starting to feel like the norm. You can also work on documents offline using a Chrome extension if you find yourself taking the Chromebit to a place that has a dodgy or non-functional internet connection.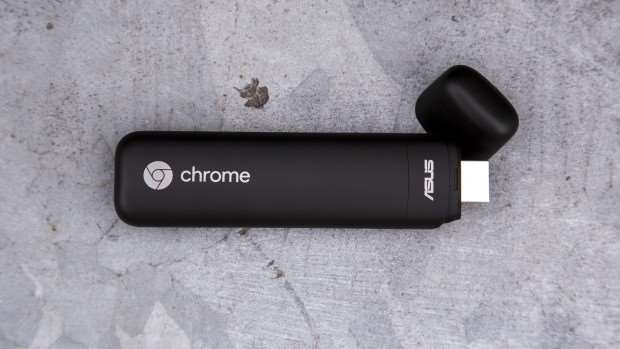 Verdict
On the face of it, the Asus Chromebit is a good-value device. £80 for a relatively capable PC is a bargain however you look at it, although isn't as cheap as I would have expected for such a low-powered device that isn't lumbered with an expensive Windows licence. The Chromebit makes sense if you're a light user and already have a monitor with an HDMI port. Furthermore, you'll also have to splash out on either a wireless keyboard and mouse set or a USB hub to connect your current wired peripherals. If this sounds like you, the Chromebit is perfect. For everyone else, it's too limited both in terms of power and flexibility to replace a genuine PC.