BlackBerry's smartphone business has been disappearing down a black hole. Things briefly looked up with the Passport released last year, but it felt like that might be the company's last hurrah.
Now we have the BlackBerry Priv. Daft name aside, the Priv is the smartphone BlackBerry should have built years ago.
It runs Android, so it's able to take advantage of that platform's apps and mature operating system, and combine them with BlackBerry's traditional strengths – a hardware keyboard, plus clever messaging and security software.
Design and screen
But can the design persuade the doubters? It certainly makes a good start. After indulging its sense of the absurd with last year's Passport, the Priv takes things back to basics – in terms of its shape, at least. It's a rectangular smartphone and sports a large, sharp 5.4in 2,560 x 1,440 AMOLED display that's curved at the edges.
The screen makes a great first impression. It's AMOLED, so you know it's going to be at least decent, but the contrast is incredible and the colours vibrant and intensely saturated. Its brightness isn't the best I've seen, only reaching a maximum of 344cd/m2, where Samsung has found a way to boost its AMOLED screens up far above the 500cd/m2 mark. However, most of the time you'll have little complaint. You might only find the screen tricky to read in really bright conditions.
With the screen switched off, the Priv doesn't look too bad, either. The screen's curved edges lend the phone an exotic look akin to the Samsung Galaxy S6 Edge, and the rear is clad in rubberised plastic with a carbon-weave finish.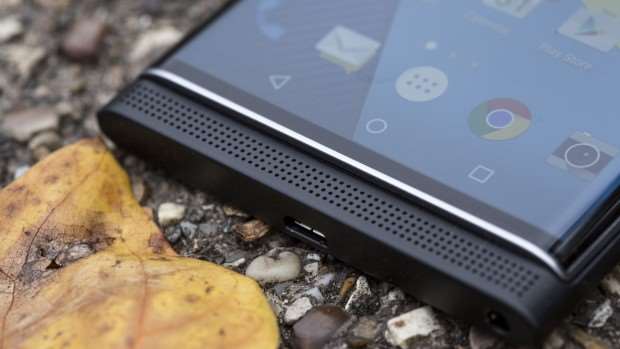 However, it's a very big phone for the screen size. It feels large and unwieldy in the hand, is thicker than most at 9.4mm (without taking into account the camera bulge) and is very heavy. At 192g, the Priv is nearly as heavy as the Passport.
The sharp corners also had a tendency to catch awkwardly on the lining of my pockets. Not a problem if you keep yours in an inside jacket pocket, but it's certainly a point to bear in mind if you stow yours in a jeans front pocket.
The keyboard
There is a reason for the Priv's bulk: the hardware keyboard, which slides out from beneath the screen with a satisfying thwack. This is classic BlackBerry: asymmetrical sculpted keys help you locate each one with the tip of your thumb, ridges embedded between each horizontal row keep typos to a minimum and the key action is nice and positive. Plus, it's backlit, so you can see what you're typing in the dark.
I've always admired BlackBerry's keyboard designs and I like this one, but I wonder if it's entirely needed on a phone this large. BlackBerry's excellent touchscreen keyboard, which appears as an alternative when you have the hardware keyboard tucked away, actually has larger keys and I found it easier to type on.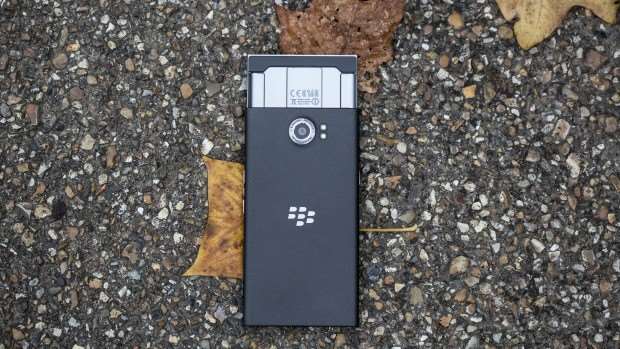 The placement of the hardware keyboard is all wrong. With so many of Android's text fields located at the top of the screen, I found it uncomfortable to reach up and tap to locate the cursor and then back down to the keyboard at the bottom. It's about 13cm to reach up from a comfortable typing position on the hardware keyboard up to Google's search box, which means this is a phone for people with really long fingers.
The keyboard comes into its own in some situations. If you're editing a long email or document, it's nice to be able to see a whole screen of text all at once without a great slab of keyboard obscuring most of the text. The Priv's keyboard also has a hidden talent: just like the Passport before it, it's able to double as a touchpad.
Swipe your finger up or down, and you can use it to scroll through documents, emails and web pages. Swipe left and right and you can switch between home screens or pan around zoomed web pages.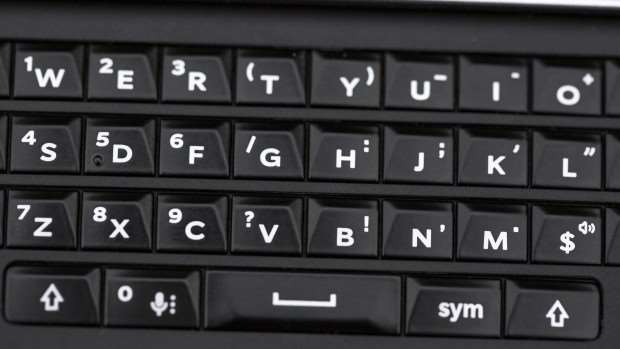 But there are problems here. The scrolling and panning doesn't work absolutely everywhere, such as Google Maps and Photos.
You also need to be careful about leaving your finger resting on the keyboard while you tap and manipulate the touchscreen above it. Occasionally, I found the touchscreen would lock up until I removed my fingers from both the keyboard and screen.
It should be something fixable in software, but BlackBerry needs to sort it out.
Next: Software