Lenovo's Yoga hybrid design is one of the simplest going. In contrast to its tablet-centric peers – Microsoft's Surface Pro 3, for example – Lenovo places the emphasis firmly on a classic laptop design, albeit one with a twist. Now, the company has released the largest Yoga yet, the 14-inch Yoga 3.
Design
The Yoga design is elegant in its simplicity. Take a standard laptop, add a touchscreen and throw in a hinge that allows the display to fold backwards through a full 360 degrees.
The flexible hinge allows Lenovo's Yoga devices to transform into a giant tablet, prop up in a "tent" mode for video playback or presentations, or contort into a "stand" mode that sees the keyboard placed face down, allowing the display to be tilted just so.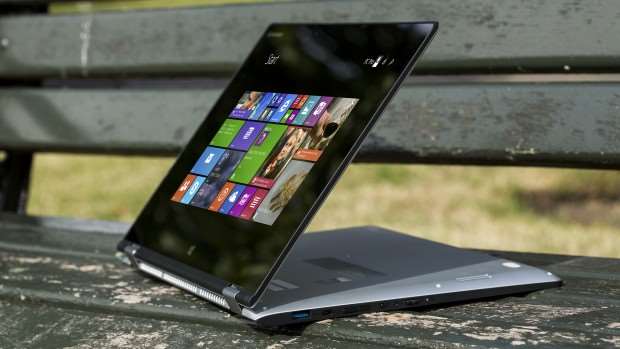 Now, close your eyes and imagine a Yoga 3 Pro that's spent several weeks on the sofa eating pizza and watching Netflix: you're looking at the Yoga 3.
Unlike the recent Yoga 3 Pro, there's no fancy watch-strap hinge, and it's put on a fair bit of weight. At 1.65kg and 18.5mm thick you can hardly accuse it of being completely out of shape - it does have a 14in display, after all - but, in all honesty, this isn't a hybrid you'll want to use in tablet mode with any regularity.
It isn't much of a looker, either. The matte-silver plastics covering the base and lid (apparently, retail models will also be available in white) do little to set the pulse racing, although things improve a little once you open the lid.
The textured, matte-black keyboard surround adds a dash of class, and the backlit keyboard and rim of chrome circling the touchpad do their bit to lift the Yoga 3 above the average.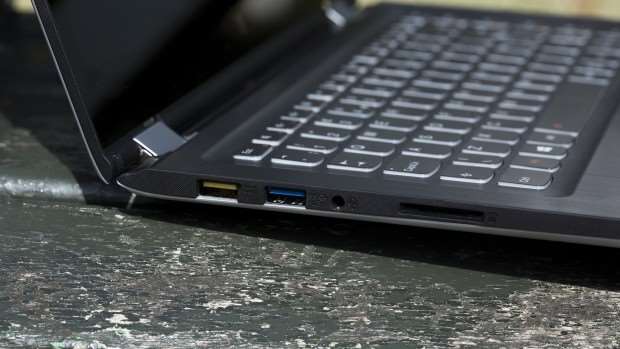 Performance and hardware
Thankfully, Lenovo has spent most of the budget on a capable selection of components. Opt for the $1,299 model and you get aup to a 2.7GHz Core i5 CPU, 4GB of RAM and a 128GB SSD. The $1,899 model on review, however, bumps the specification up to a 3GHz Core i7-5500U CPU, 8GB of RAM and a 256GB SSD.
It comes as no surprise to find that performance is, in the main, pretty good. The only quibbles that arose were a result of Lenovo's preinstalled Harmony software, which decided that hogging 25 percent of CPU resources in the background was a good idea. An update seemed to fix the issue, but it was disappointing to find Lenovo's own software causing such problems in the first place.
There are other, minor disappointments. For instance, the presence of an M.2 SSD is less exciting than it could have been. While it's theoretically capable of delivering super-fast transfer speeds via the PCI Express bus, the Samsung SSD in the Lenovo never exceeded the kind of performance I'd expect from a more humdrum mSATA drive.
Oddly, the Yoga 3 didn't exactly cover itself with glory in Alphr's suite of benchmarks, either. Given the components inside, it should have acquitted itself well, but after running the benchmarks several times it was clear that the Yoga 3 is incapable of hitting the heights of laptops housing a similar spec. With a score of 33 in Alphr's benchmark suite, the Yoga 3 inexplicably found itself around 26 percent behind the similarly equipped Asus Zenbook UX303LA.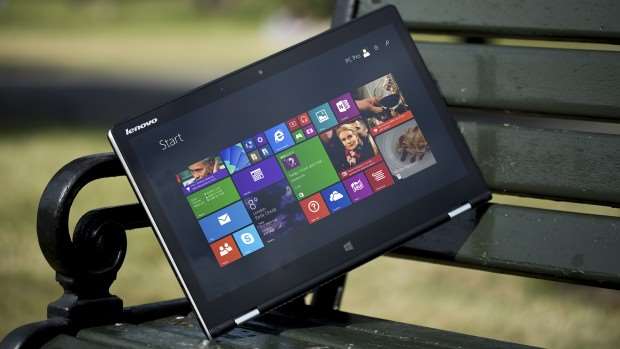 It isn't clear why the Lenovo is so far behind, either. It's right on target in the image processing section of the Benchmarks, but drops 16 percent behind the Asus in the video-encoding test and stumbles 61 percent off the pace in the multitasking tests. The CPU doesn't run hot and there's no obvious throttling; nor are there any rogue processes languishing in the background - it's thoroughly odd.
Battery life was pretty good, however. With a 720p video looping constantly, Wi-Fi switched off and the screen brightness set to 120cd/m2, the Yoga 3 lasted for a creditable 8hrs 22mins. That compares favourably with most of the competition.
Display
Clap your eyes on the Yoga 3's touchscreen display and first impressions are good. The combination of a Full HD resolution and IPS panel technology means images look crisp and colours are consistent from every angle - an essential trait for a display designed to be used in laptop, tablet and stand modes. The high-gloss finish also does its bit to make images pop off the screen.
Look with a more discerning eye, however, and it's clear Lenovo has cut a few corners. Contrast hits an impressive ratio of 1,193:1, but brightness tops out at a low 240cd/m2 – not much better than we'd expect from a budget laptop. Colours don't look as punchy as we'd expect for a $1,899 device, and the tendency to crush darker greys into black doesn't help matters, either. Watch a moodily lit movie and you'll be left wondering what's happening in the shadows.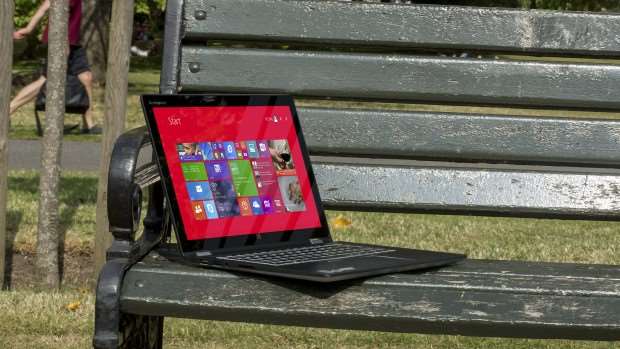 Further testing provided a solid reason for the Yoga 3's middling image quality: the IPS display reproduces only 60 percent of the range of colours in the sRGB standard. Images still look reasonably natural, and there are no horrible tints to speak of, but my usual test images looked dull and lacking in oomph.
Connectivity
It's a tad disappointing that Lenovo hasn't used the Yoga 3's size to its advantage; connectivity is no better than on more compact devices, with only two USB 3 ports available for connecting peripherals.
There is one small consolation. Since the power supply connects via a proprietary USB cable, you can use the socket as a supplementary USB 2 port when you're not charging the device. The micro-HDMI connection seems silly, though. There's no shortage of space for a full-sized port and, just like Apple's MacBook Pro with Retina display, the Yoga 3's SD card reader leaves the card jutting out by a centimetre or so.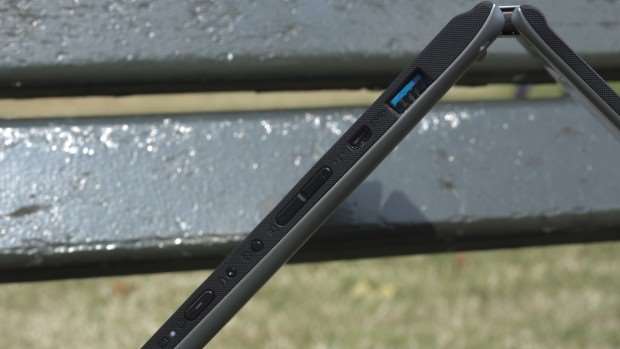 There's nothing to complain about elsewhere, though. The presence of 802.11ac and Bluetooth 4 is welcome, and even the 0.9-megapixel webcam is usable. Its tendency to underexpose images is easily fixed by tweaking the Exposure control in Windows, and images are crisp enough for video chats – even if they do fizz with noise and edge-enhancement artifacts.
Keyboard, touchpad and touchscreen
The Yoga 3's keyboard and touchpad are hardly the best of breed. The keyboard feels good thanks to the snappy feedback from the rubberised, backlit keys, but they're also a touch on the small side. The layout takes some getting used to, primarily due to the row of buttons to the right of the Enter key. I often found myself hitting the End or PageUp keys by mistake.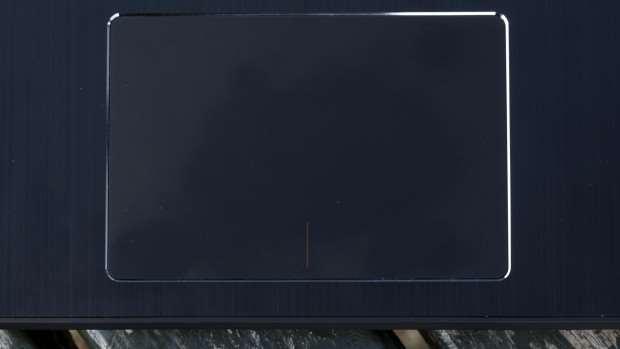 The touchpad is mediocre at best, with a surface that has a little too much friction to deliver smooth cursor control, and a buttonless design that's plain aggravating. It's so bad I frequently resorted to using the touchscreen instead. Thankfully, the touchscreen is more sensitive, responsive and accurate.
Verdict
I'm something of a fan of Lenovo's Yoga range, but the Yoga 3 falls a long way short of my expectations. On a $1,899 laptop, I'd expect a great display and good ergonomics as standard - the Yoga 3 simply doesn't deliver on these fronts.
It's too bulky to use effectively as a tablet, and the ergonomic shortcomings and middling screen leave it flailing as a laptop substitute. My advice? Buy the Asus Zenbook UX303LA instead. It's faster, better-looking and far more refined.