Let's take a moment to mark the passing of Windows RT. As the Surface 2 – Windows RT's swansong – trudges to an early grave, haunted by the spectre of embarrassing sales figures, the Surface 3 is tasked with getting Microsoft's Surface family back on track.
And it looks like it might just have succeeded. With full-fat 64-bit Windows finally taking the place of the not-so-sadly departed RT, Microsoft has redeemed itself by creating one of the best Windows tablets yet.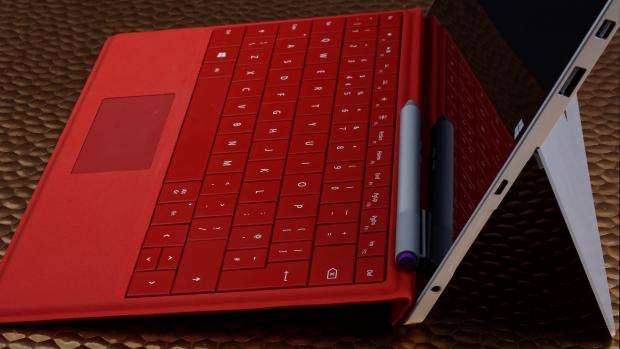 Building a new Surface
The Surface 3 impresses from the off: it's just as classy and lovingly crafted as we've come to expect from Microsoft's Surface brand. There's the same VaporMG metal construction – all bevelled edges, elegant straight lines and brisk curves – and it feels solid and tautly constructed. It turns out that a miniaturised Surface Pro 3 is a very lovely thing indeed.
The Surface 3 is just as attractive as its big brother, then, but it has other talents. Far easier to grab and carry around in one hand than the Pro, the Surface 3 is a device that demands to be taken everywhere. Sure, it isn't as portable as an iPad Air 2, but at 9.3mm thick and weighing 622g, it's still light compared to many full-sized Windows tablets.
Clasp on the optional Type Cover, meanwhile, and the pair weigh in at a creditable 884g – a combination that's a touch lighter even than the feathery 923g Apple MacBook.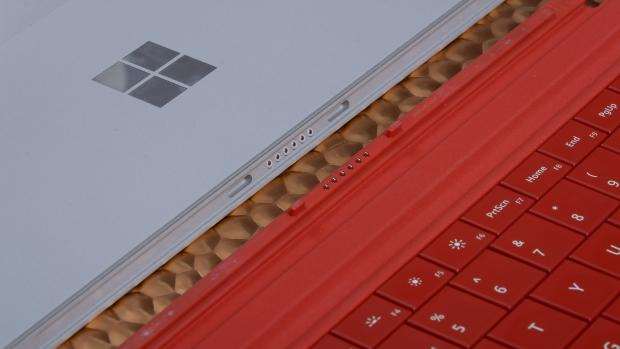 All the features in a smaller case
Microsoft has done a cracking job of shrinking the Surface 3 without diluting the qualities that made the Pro so special. Retaining the 3:2 display ratio employed on the Surface Pro 3 is a masterstroke: there's no doubt a taller, squarer-shaped screen makes for a more spacious, usable display in both portrait and landscape orientations. It's a canny choice for a hybrid device designed to flit seamlessly between tablet and laptop roles.
The kickstand hinge is not infinitely adjustable as it is on the Surface Pro 3, instead offering three positions to choose from. This is no great loss, however, with two of the positions suitable for working at a desk, and the third ideal for use on your lap. In the crush of a commuter train or economy aeroplane seat, the Surface 3 remains an accommodating travel buddy.
Likewise, the slightly smaller Type Cover is superb, with keys that are exactly the same size as that of the Surface Pro 3's version. Microsoft hasn't worked some TARDIS-like magic here; there's simply a smaller border around the cover's edges.
Just like its big brother, the smaller Type Cover uses magnets to snap into place along the Surface 3's lower bezel, a feature that tilts the keyboard forward a touch, making it more comfortable to type both on a desk or your lap.
Even the slightly shorter touchpad works well, something you can't always take for granted on smaller Windows devices. It's a shame you still have to pay £110 extra for the privilege of owning the Type Cover, though.
Thankfully, Microsoft hasn't been tempted to adopt Apple's less-is-more approach to connectivity. There's still 802.11ac Wi-Fi, Bluetooth 4, a full-sized USB 3 port, mini-DisplayPort, a 3.5mm headphone jack and, hidden away beneath the kickstand, a microSD slot. One major change is that the Surface Pro 3's magnetic charging socket has made way for a micro-USB port – there's a charger bundled in the box, but the big news is that the Surface 3 can now be charged from any USB source.
Next: Display quality